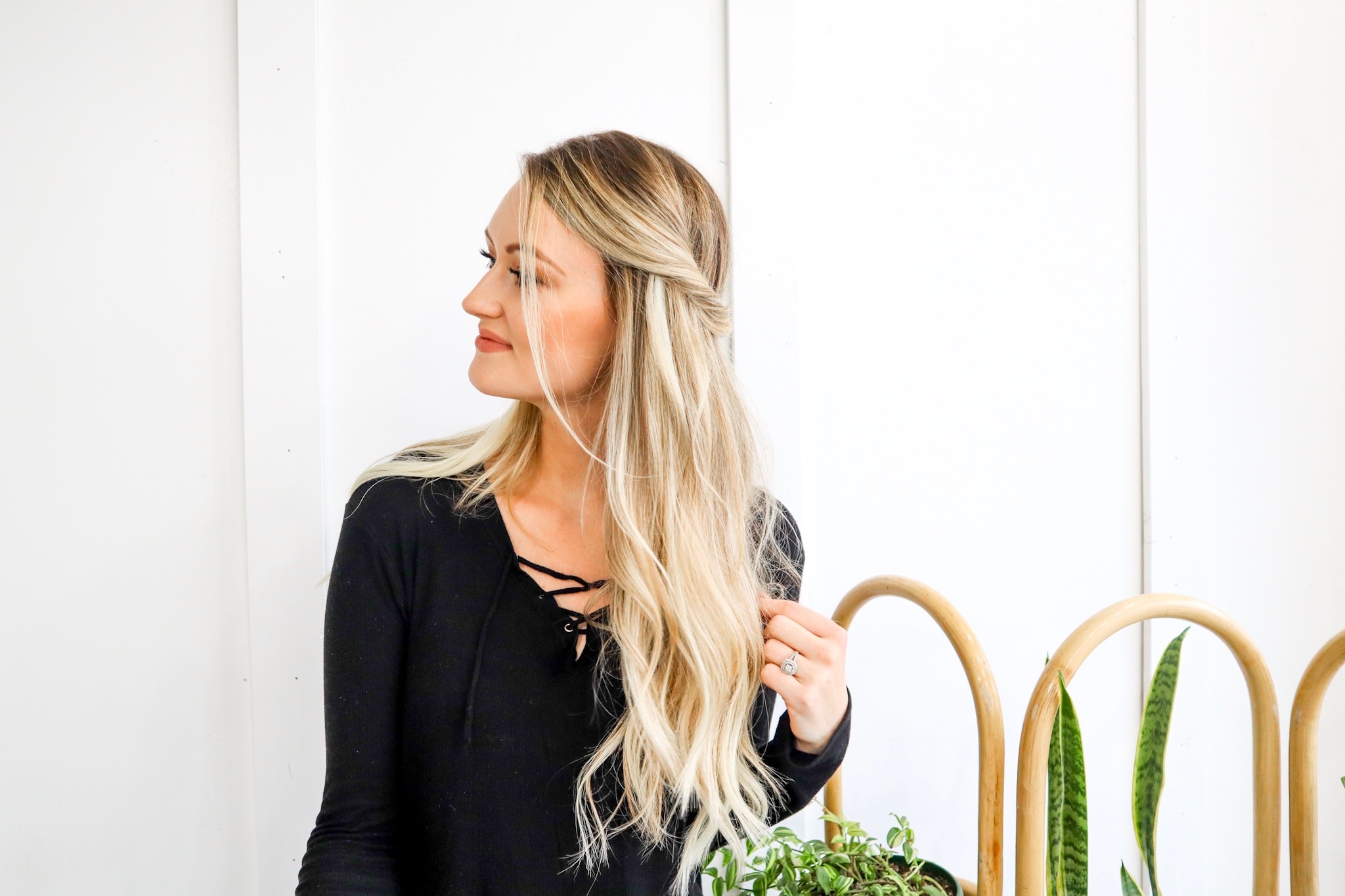 Let's settle some questions and debunk the top 5 most common myths when it comes to hair extensions! 5, 4, 3, 2, 1.... let's go!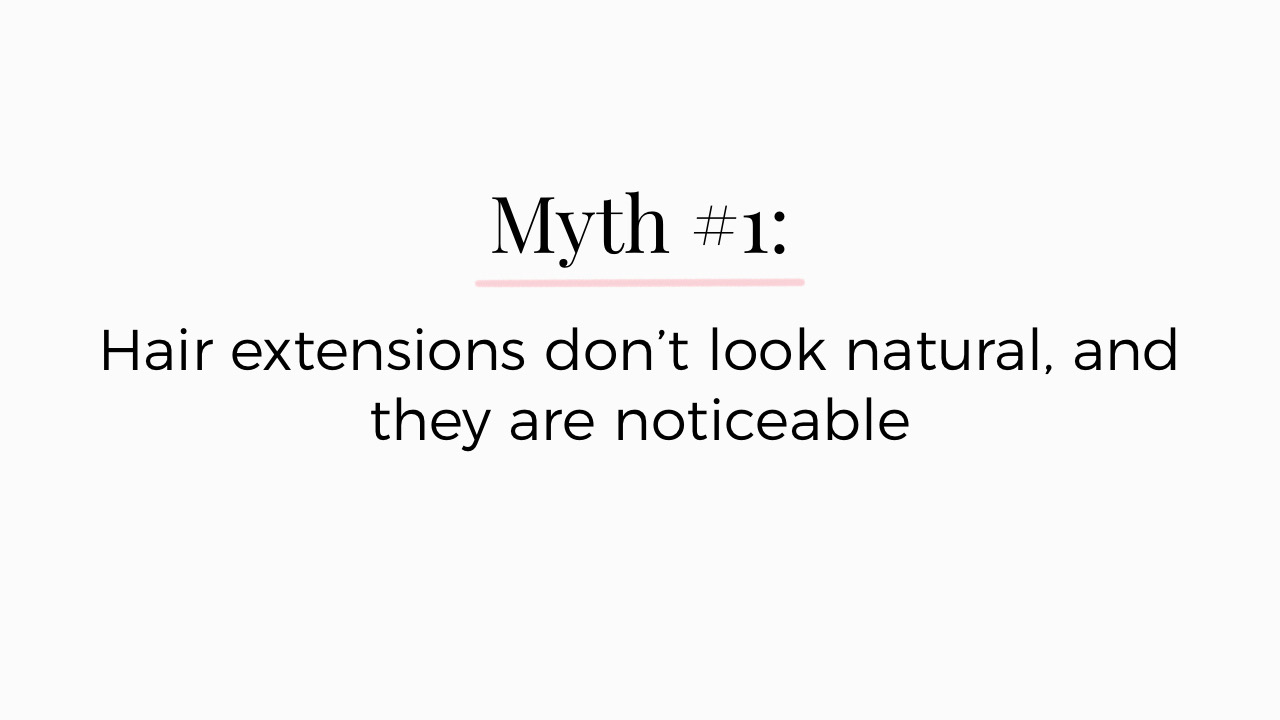 Myth: Hair Extensions Don't Look Natural and Are Noticeable
We've all seen it, hair extensions gone wrong. Awfully noticeable, overly thin or an obvious different texture from the natural hair. Go ahead, take a deep breath and rest assured - while there may be many poor quality hair extensions out there, Cashmere Hair is not one of them. Since Cashmere Hair uses 100% Premium Real Human Hair Extensions, the hair quality far surpasses other extensions that are on the market.
A common thing we hear from our customers is they are shocked how natural our hair really looks and feels! Since it is thick from top to bottom, and doesn't thin out like crazy at the ends (like the cheaply made ones do) they offer a completely natural look as the texture is consistent throughout. With 100% human hair extensions, you can also be at ease that the hair is the right texture and sheen - not overly shiny and not fried or dull. It will come as a natural healthy hair texture with just enough shine to keep the hair healthy!
There are a few things as far as styling goes that will help to make the clip in hair extensions and natural hair a seamless blend. For one, if you have a hair cut that is a very blunt line with thick hair, that will be more difficult to blend. Often we suggest softening up the hair line or having a few layers, though if you want to keep the blunt hair cut I would suggest only adding 1-2 inches of length to keep things as natural as possible. Curling the hair will also help this tremendously!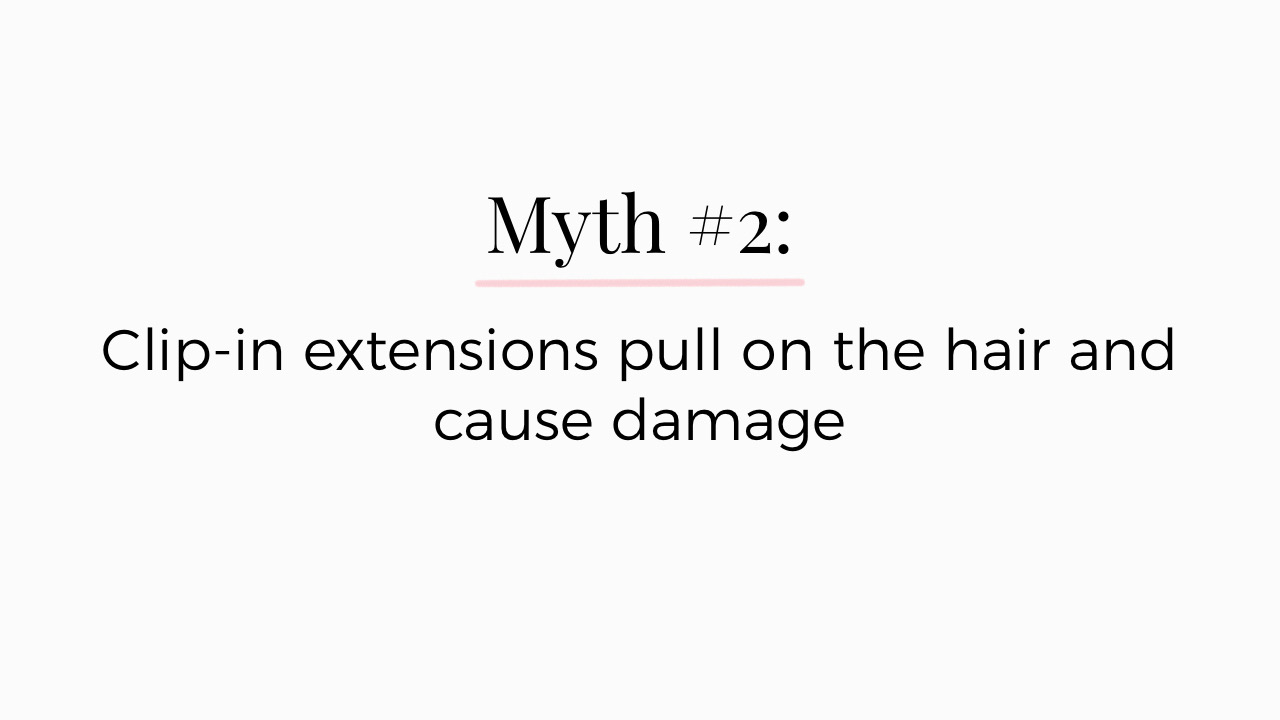 Myth: Clip-in Extensions Pull On The Hair and Cause Damage
When choosing clip in extensions it is important to choose ones that will not damage your hair, so how do you know if they will or not? You want to make sure to choose ones with high quality clips and weight dispersed evenly. The iconic Cashmere Hair Extension clips are specifically ensure a non-slip grip that does not pull on the hair! This is one of the many reasons Cashmere Hair has the incredible reputation of carrying the best clip in hair extensions. When using cheaper clips, often you'll have to back comb, or "tease" the hair to get the clips to stay put.

With Cashmere Hair's high quality, non-slip clips, then ensure there won't be any snagging or pulling on the hair throughout the day, leaving you will damage free hair extensions!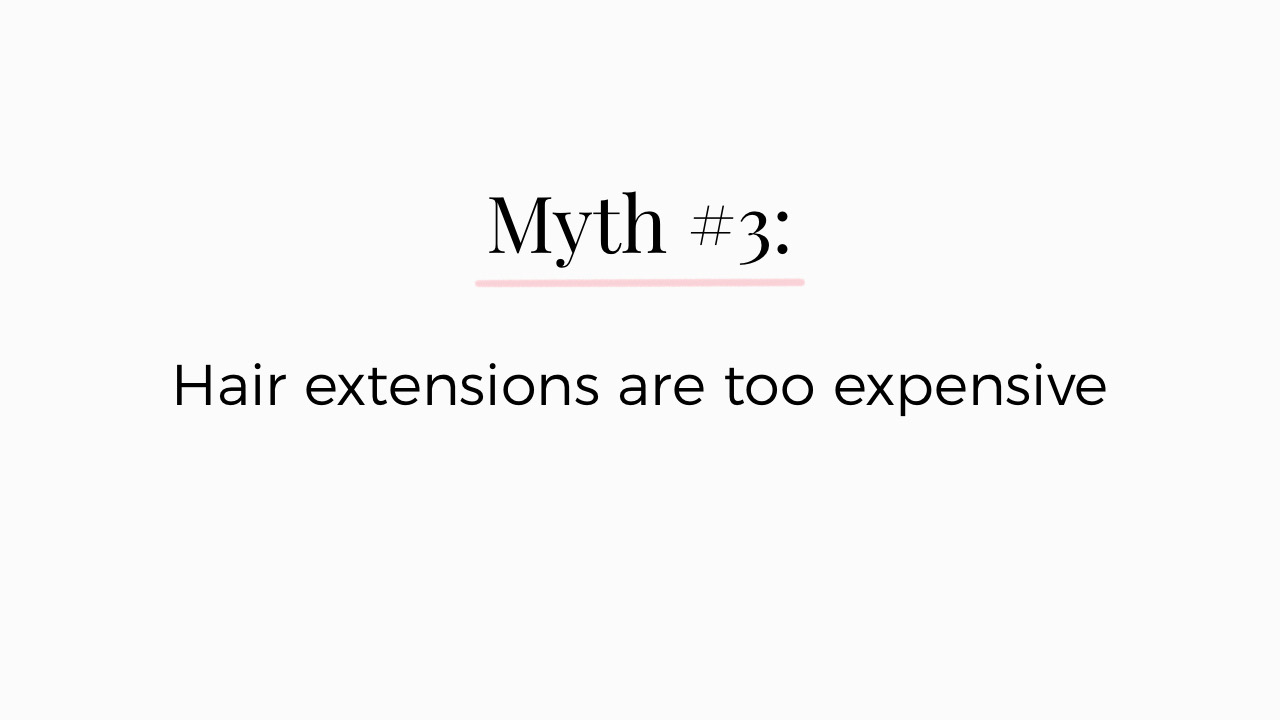 Myth: Hair Extensions Are Too Expensive
The phrase, "you get what you pay for", really is key here! While you may not want to spend an arm and a leg on extensions, you also don't want to buy the $30 option off Amazon. This is where Cashmere Hair Extensions are the perfect middle ground.
When purchasing real hair extensions, remember that these are an investment and it's always best to invest more into something so that it will be higher quality and last much, much longer! Our extensions are made to last 6-12+ months depending on how well you take care of them, how often you wear them, etc. So while the cheap options may seem tempting... trust us, when your luxurious high quality extensions arrive in the mail and all your friends are commenting on your gorgeous, natural looking locks, you'll be happy you didn't go with the other options that you'd probably end up throwing away in a month.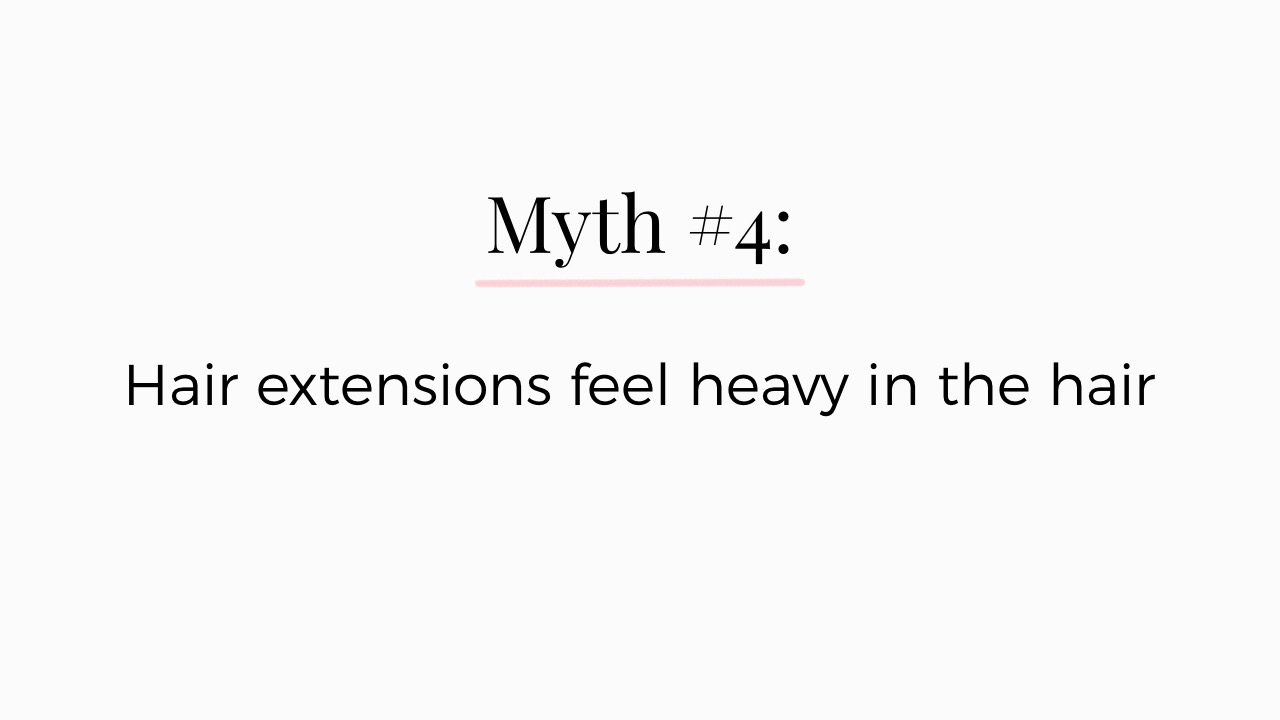 Myth: Hair Extensions Feel Heavy In The Hair
To bust this myth, you'll need to know your hair type and what type of extensions are best suited for you! The seamless extensions are so light weight and easy on the hair, they are made for any hair type but especially thin-moderate hair! If you have moderate-thick hair our classic clip in extensions are an amazing option for you. You could also feel glamorous with our ponytail extensions and won't have any issues with being too heavy!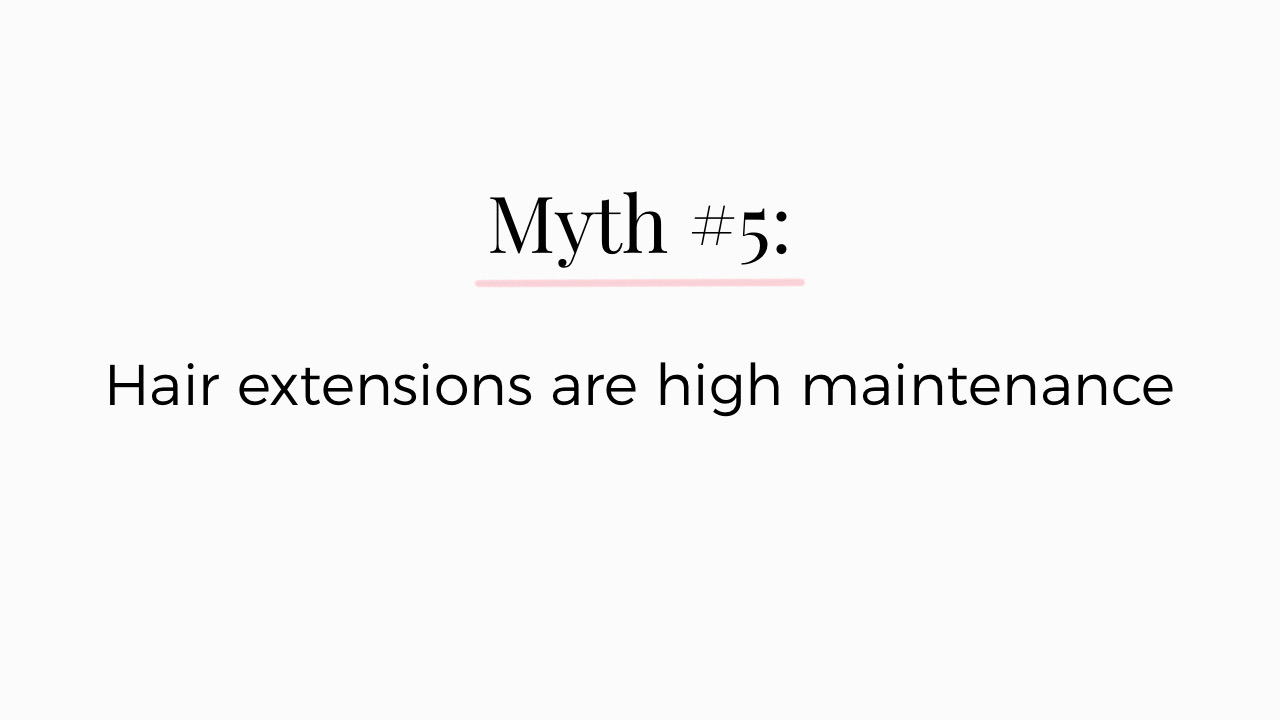 Myth: Hair Extensions Are High Maintenance
While extensions may seem high maintenance to some, you may be pleasantly surprised to hear that clip in hair extensions are quite the opposite! With clip-ins, they don't require any salon maintenance and are available when you want them and away when you don't!
The upkeep on the clip in hair extensions are very simple, simply wash when they have excess product on them or it's been a while and they need a refresh. This ranges for people depending on use but you can really wash extensions every 1-3 weeks. Simply wash your clip ins like your normal hair, using our Cashmere Hair Extensions Hair Care Set, let them air dry if possible, and you're good to go!
PRO TIP: Wash your extensions at night so they are dry in the morning and ready to use!
Hair extensions can make your every day "get ready" routine quite faster because the extensions will hold curl or heat styling for much longer than your natural hair. Since they stay curled when put away properly, you can simply clip them in (in under a minute) and touch up any pieces of your natural hair. Hello gorgeous locks! PLUS: You'll only need to style your extensions when you are switching up styles or need a few touch ups.