Wondering how to care for your gorgeous seamless clip in hair extensions and make them last? In this post we are covering my top 5 tips for maintaining, and caring for, clip in extensions. These must have maintenance tips will get you the longest possible wear out of each set of clip in extensions. Cashmere Hair Extensions are made to last a long time due to the extremely high quality of hair. When your luxury classic, and seamless hair extensions, are taken care of well, your hair extensions will continue to shine and feel Cashmere soft. The Cashmere Hair Team care about you and your Cashmere Hair Extensions -- so we are dishing out some of our most vital tips in making your investment last as long as possible! And of course, find the best seamless hair extensions.
Seamless Hair Extensions
What Is The Best Quality Human Hair Extensions?
I am so proud to say that the iconic Cashmere Hair Extensions are made from 100% Remy Hair, also known as, the highest quality you can get when it comes to finding the best seamless clip in hair extensions. Many clip in extensions are made from blended hair, synthetic hair, or a blend of low quality hair. Low quality hair extensions may last a month, two months, or even less. Cashmere Hair Extensions, with the proper care, will last 6-12 months depending on how often you wear them!
How Long Do Seamless Hair Extensions Last?
So, let's go over these 5 tips that will make your clip in extensions stay shiny and healthy -- AND last longer!
The secret to flawless seamless hair extensions is the Cashmere Hair Extension Brush. This must-have brush focuses on the prevention damage and breakage to give you the best seamless hair extensions on the market. If I was to personally compare my Cashmere Hair Brush to other brushes I have used in the past, I can hands down say that this amazing brush helped to prolong the life of my Cashmere Hair Extensions. Using a brush that is specifically for seamless hair extensions can also easily be used as a great tool to use to blend your own hair. Recommended for all hair types, fine, medium, and thick hair. This is the ideal brush for any length of hair; from short to long hair, we have you covered. This overachiever is not only amazing for your seamless clip in hair extensions, it is perfect for your natural hair as well. Discover maximum shine and control with this perfect brush that detangles all hair lengths while avoiding breakage and preserving the hair's natural moisture barrier. The boar bristles help keep static at bay and gently brushes through even the most fragile hair. When using brushes that are not made for clip in extensions, they can tug at the hair more harshly causing breakage or fallout. You want to make sure you're brushing your extensions with care and not racing through the haircare process. Keeping your seamless clip in hair extensions tangle free is essential in maintaining the life and softness of your luscious Cashmere Hair Extensions. Want to keep your extensions soft and shiny? The Cashmere Brush will be your new best friend.
PRO TIP: Use this brush for the most effortless teasing! It will give you the best volume, with just a small amount of effort, for the best seamless hair extensions yet!
Take care of your seamless clip in hair extensions by properly storing them away when they are not in use! Instead of throwing them into a drawer tangled and mangled, store them in the Cashmere Luxury Bag to help prolong the wear. By properly storing your seamless hair extensions this helps avoid tangles and getting unnecessarily ratted to the point where you have to brush and brush to get the tangles out.
Hanging your clip in extensions in a luxury storage bag prevents them from tangling and it preserves your hairstyle so you don't have to restyle them every day. If you are taking your extensions on the go, or on your next vaca, the Cashmere Luxury Bag keeps them safe and secure. Do yourself, and your extensions a favor, and display them like the perfect accessory!
How Do I Protect My Hair With Clip In Extensions?
When styling your natural hair, along with your seamless hair extensions, try to avoid getting excess product on your hair extensions. You especially want to avoid using products with high alcohol bases which can be very drying on the hair. Since extensions don't have the oil being reproduced like our natural hair, these alcohol base sprays will dry out extensions faster than your natural hair.
Another product to avoid using on your extensions prior to heat styling are hair oils. Hair oils are a great way to keep the hair nourished; but if you mix an oil, with a high degree heat styling tool -- it can cause damage to not only your extensions but also your natural hair. So keep this tip in mind, hair oil is a finishing product not a styling safe product!
If you are looking for something like an oil to keep give your extensions that extra shine boost, consider the Cashmere Hair Extension Shine Spray made safe for our extensions! This spray will bring life back to seemingly dull extensions.
Since seamless clip in hair extensions are the highest quality European hair, they will look shiny and healthy longer, and you can opt to wash them as little as possible! A good rule of thumb is to wash only on an as-need basis.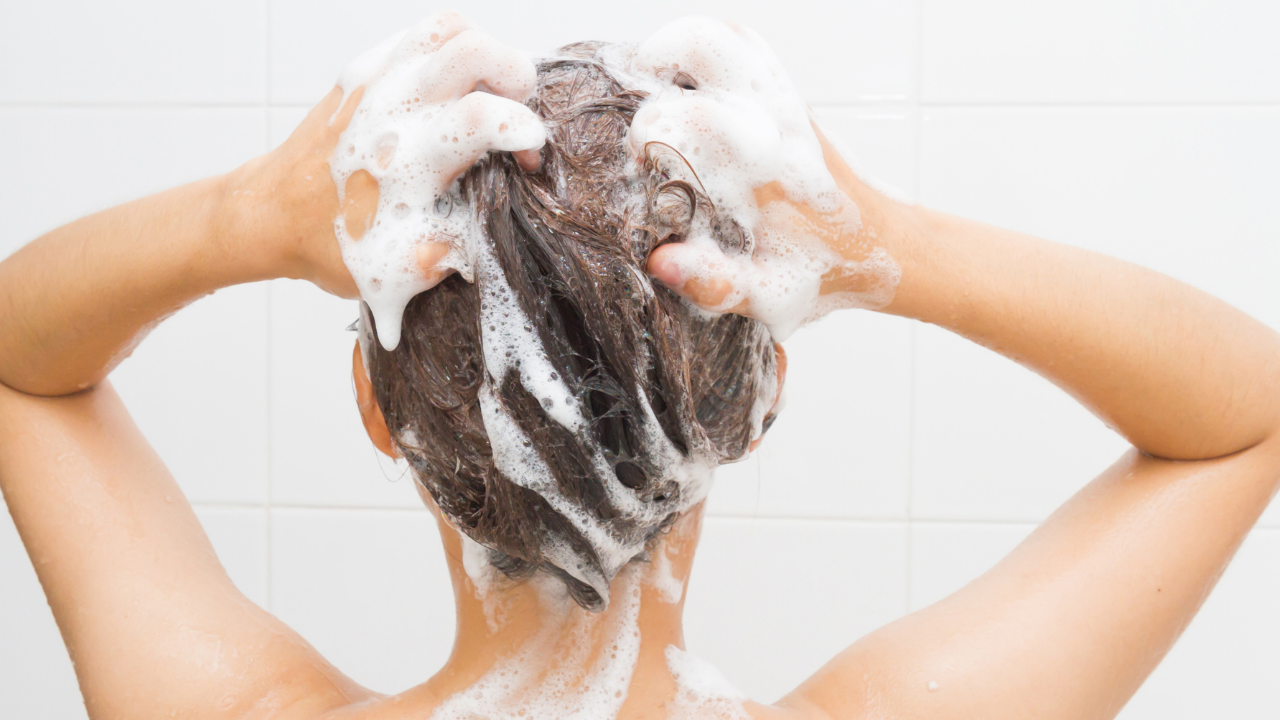 So how do you know when to wash?
-When the extensions did get product in them
-If a hair oil was used and you're wanting to use heat to re-style
-If they were worn in any type of pool or swimming outing
-If you are wanting to re-style from curled hair to straight
-If they are becoming dull and it's been a long time since their last wash
The awesome thing about our seamless clip in hair extensions is that they can take high heat, but you don't want to over do it. The extensions will stay styled very well, which means less times having to touch up for you. Hello time saver! So what do we mean by "over styling"?
To illustrate, imagine that your extensions are curled and you're wanting to switch to a straight style. It will take a good amount of heat to get those curls to a sleek style, that it would be more beneficial to give your seamless hair extensions them a quick wash with our Extensions Hair Care Set, let them dry, then straighten from there! When you're having to really work the hair multiple times with heat, consider washing and deep conditioning your clip in extensions to give them a fresh slate to start from. This will make it so you have to use less heat for a smaller amount of time than having to go over the same piece multiple times with high heat.
Which Extensions Last The Longest?
It is safe to say that 100% Remy Clip In Hair Extensions are the highest quality. Luxury hair extensions such as Cashmere Hair are life changing. The best news is: if you take proper care of them, they will stay soft, shiny, and Cashmere soft.
Check out this blog post here for detailed instructions or consider watching this video for a great step by step and pro tips on how to wash your luxury Cashmere Hair Extensions!