The One Step Wonder: Cashmere Hair Extensions Volumizer One Piece
What is the Volumizer One Piece?
If you love the halo extensions design, we have something even better! The Volumizer One Piece is an easy and fast one-and-done clip-in track for instant volume with no halo string. It is a one-piece, six-clip weft that is eight inches wide, and the extension comes in our popular 20-inch length.
It has no obvious and unnecessary string, making it more comfortable and easier to conceal. It can be worn alone or along with tracks from other clip-in hair extension sets. It is so simple to clip in and stay secure with only six clips to attach, and two of them are optional. Its design makes it comfortable to wear all day. Plus, it's the quickest product to achieve instant fullness and length.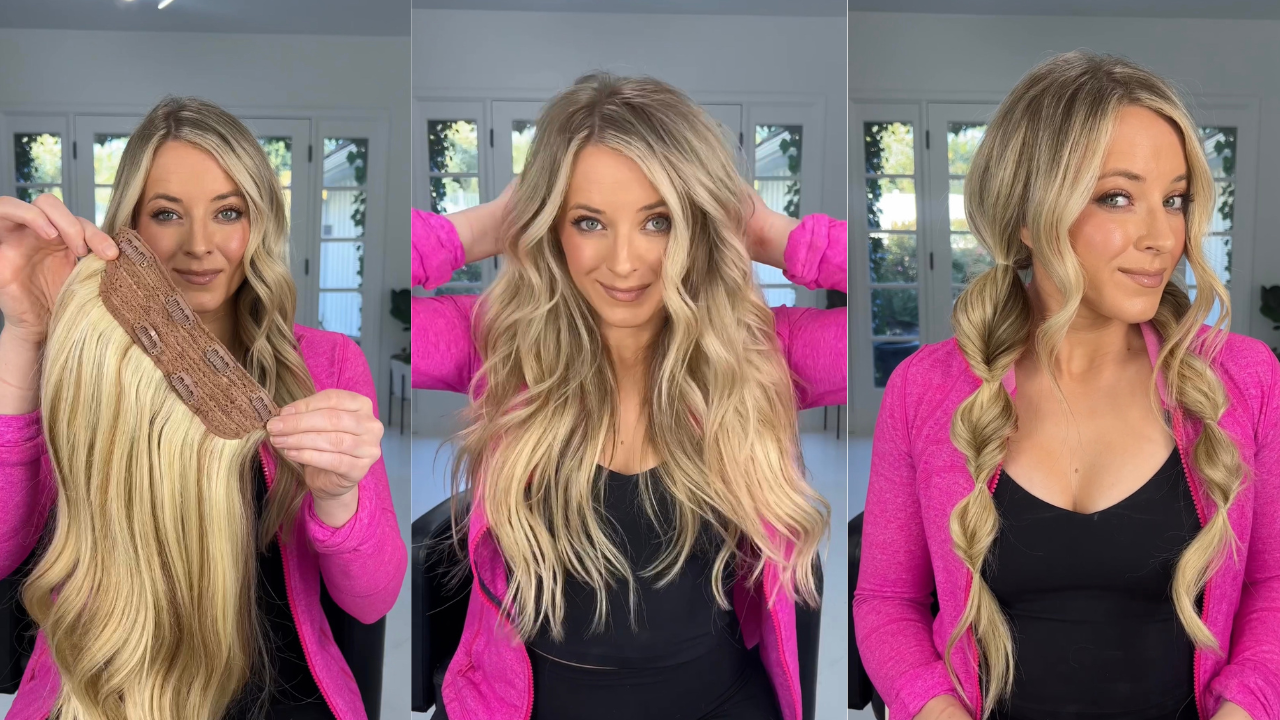 Who is it for?
It's best suited for medium hair and blends best with hair that is longer than shoulder length because it adds major volume and length to the back of your head. Short hair can wear it too, but you may need to trim layers to blend with your natural hair. It can be worn alone. You can also use our Fill-in extensions on the sides of your head. Get heavenly hair with our easy, one-and-done Volumizer piece for gorgeously thick hair in just seconds.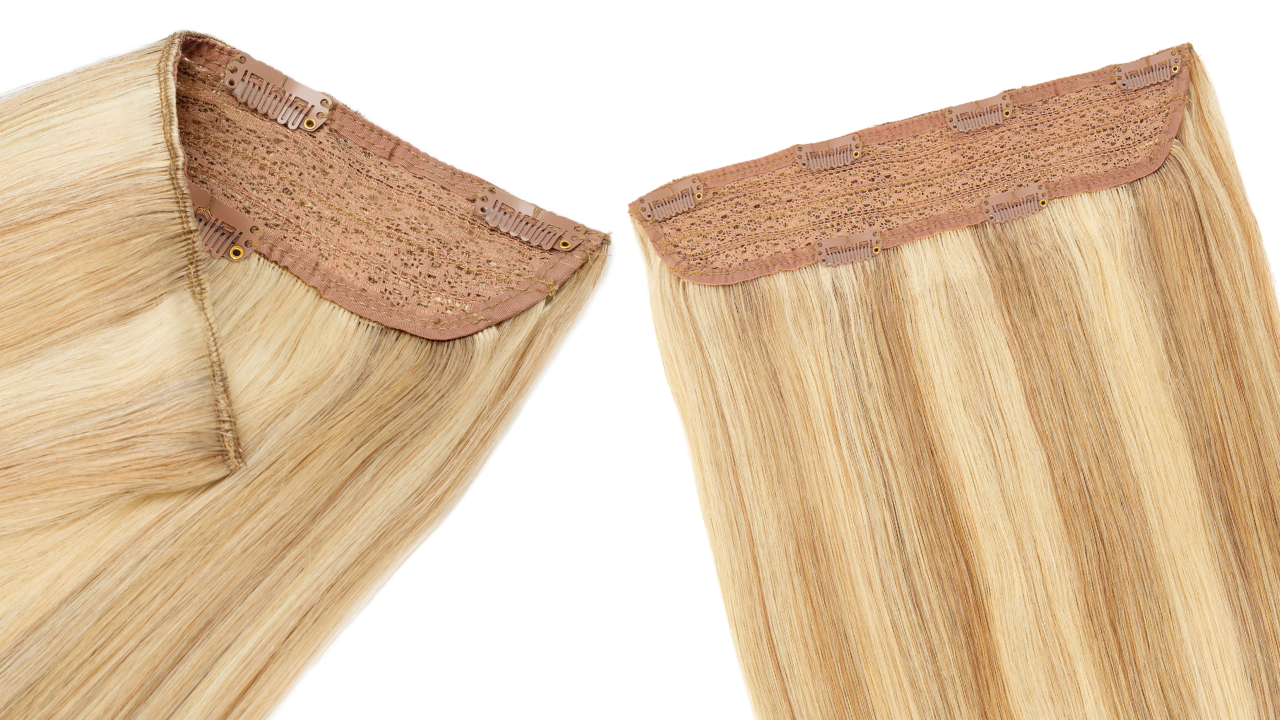 The Design
On the backside of the One Piece Extension, it is super easy to conceal because you only have this small stitched section. And then on the other side, we have this beautiful, soft lace material that all of the wefts are sewn to on the back of that to conceal all the weft and just make this really comfortable and easy to wrap around your head, making it really flexible and easy to wear.
If any of you guys remember when we first launched the Volumizer One Piece, we actually made ours 10 inches wide. And we discontinued that, and we made it actually only eight inches wide because we got a lot of feedback from customers saying that it was too wide for their heads. And for the purpose of this, really wanted to make just a piece that is easy to clip onto the back of your head, that can be layered, and blends really well with longer lengths of hair.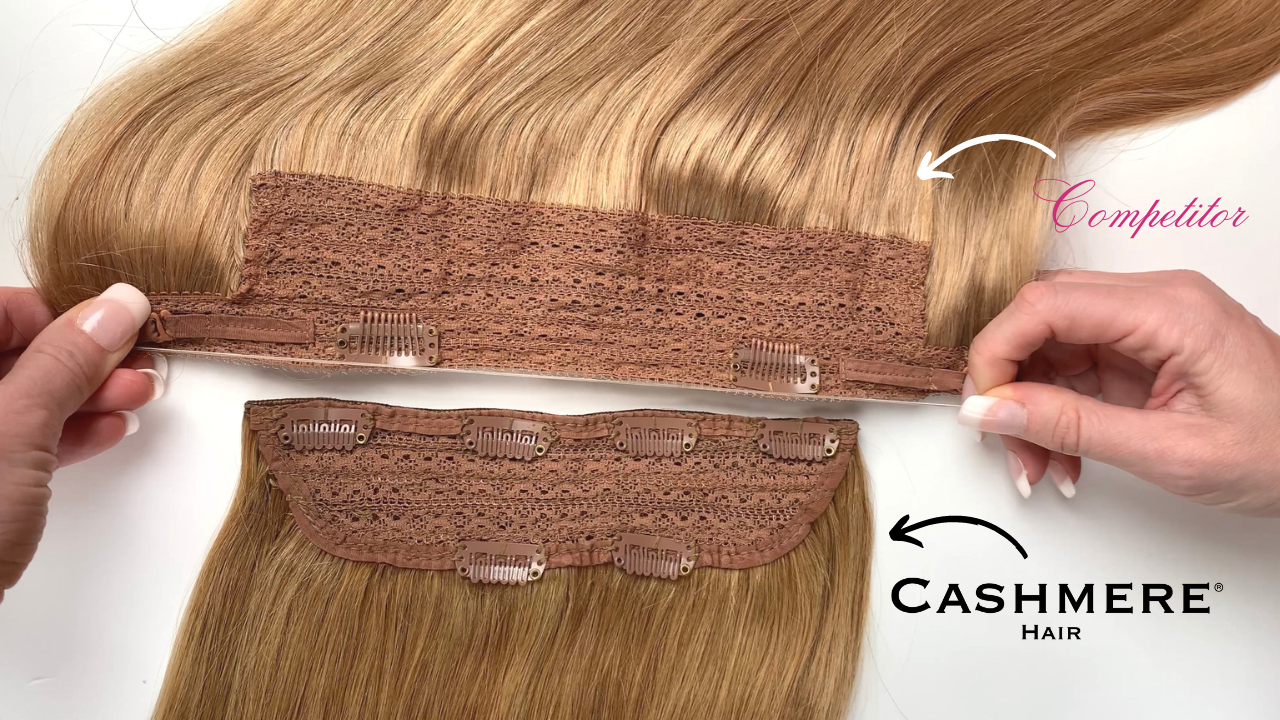 If you compare this to one of our competitor's halo-style extensions, you can see this one is really wide. So, if you don't want something that wraps all the way around your head, our One Piece Volumizer is amazing for that.
And as you see, the clips of our competitors are very large, and there are only two of them whereas ours has six clips. The bottom two clips are optional if you want extra security when you're wearing it. It also helps to distribute the weight of this evenly where the four clips on top help to really secure it to your head. Only having the two very large combed clips, you're not going to get as secure of a fit.
Our competitor's design also has this string, which is adjustable, but again, you have to conceal this string on the top of your head, and it's usually very obvious. After wearing it for hours, it can become very uncomfortable having that wire string on the top of your head. They don't have any clips on the sides, so unfortunately you don't have the option to remove the string and just wear it like that.
So, our One Piece Extension is just really easy to conceal on the back of your head, no wire but really stays secure, and it's great if you have a small head or just want volume on the back of your head.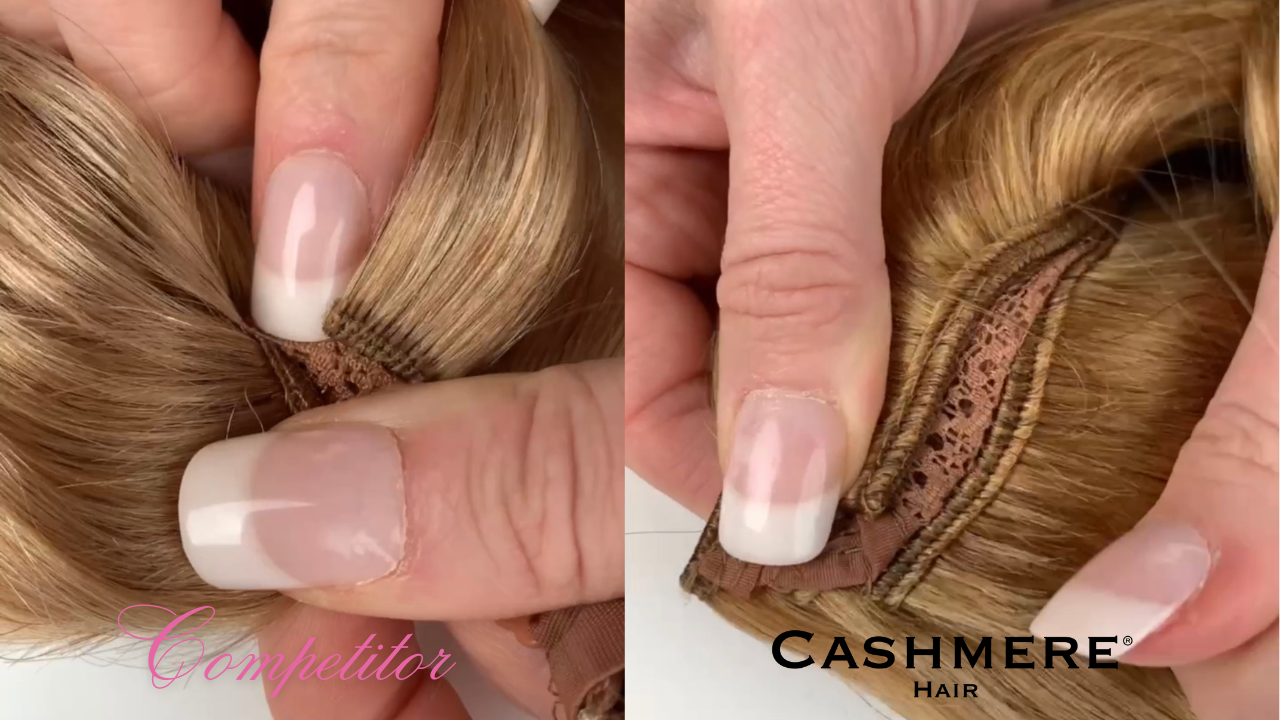 When you look a little bit closer at our competitor's hair extension piece, you can see that the hair is folded over on the corners to conceal and make it more secure, but it only goes across a short distance, and then they end it. Whereas, if you look at the Cashmere hair extensions Volumizer Extension, it goes all the way across, and then it's folded over all the way across here. So, you're getting a double weft of hair. The way it's stitched is really nice and neat making it super secure underneath, you're not going to get any shedding on these. The hair is folded over, so that's why you see those little pieces, but the hair is folded over is really stitched in good, so you're not going to get any shedding on these, and it's just really nice and thick. We border our lace with a nice piece of fabric all the way around, which makes it really secure, and you're just going to get a much higher-quality product. Overall, this one-step-wonder extension piece is truly the best hair extension and is so underrated! This luxury hair extension is great for everyday use and incredibly user friendly for even the most inexperienced of users.