Washing Instructions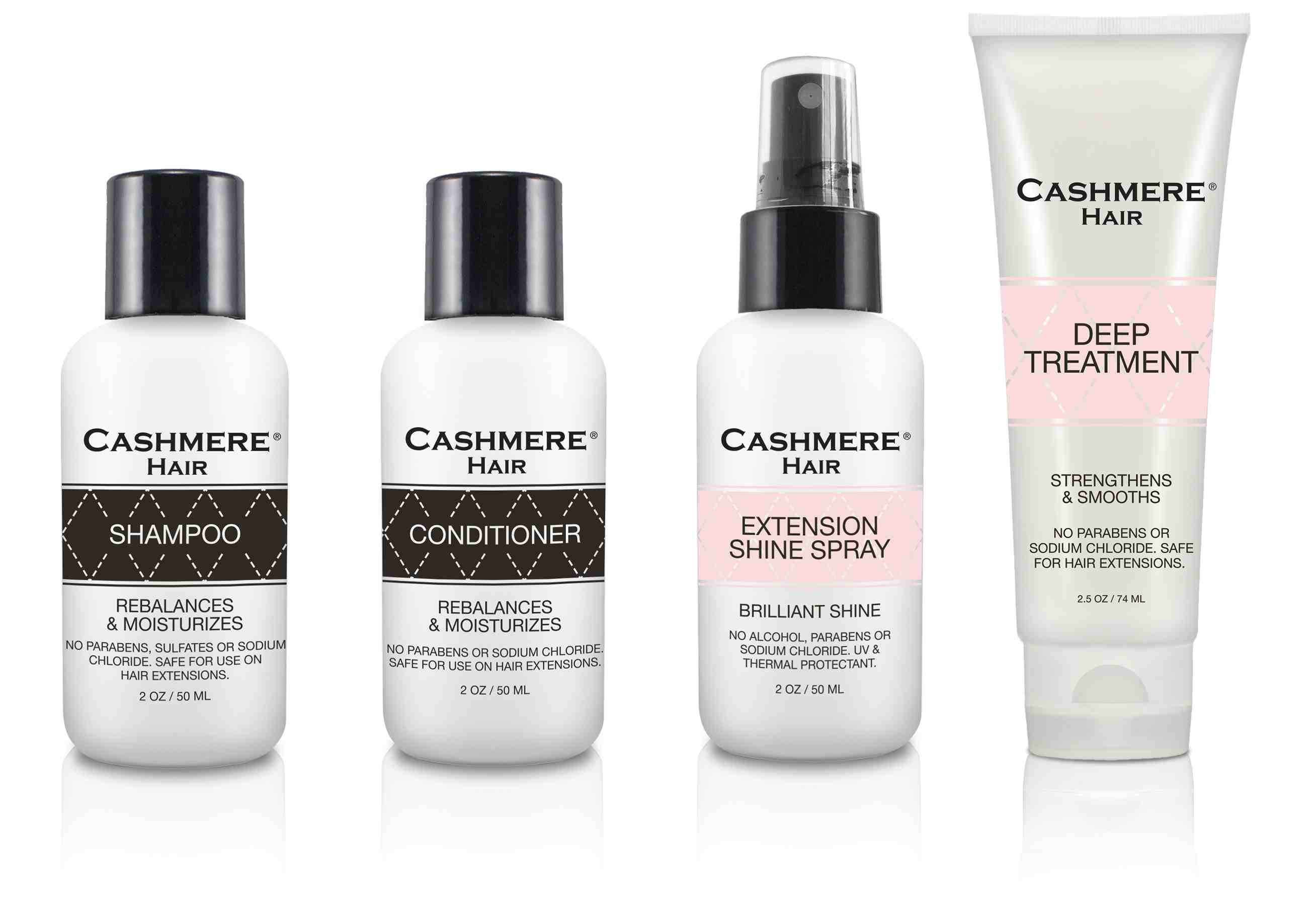 The Extension Care Set is the only product line we recommend to safely care for your Cashmere Hair Clip-in Extensions.

Each product was designed to refresh, restore and protect our 100% Remy Human Hair. It's specifically formulated to extend the life of your Cashmere Hair extensions!
For most people is not necessary to wash your extensions after every use. If you find that your extensions are tangling or frizzing up, please wash, condition, and use our Extension Shine Spray after they have dried to add extra shine and prevent tangles.
Wash Schedule

If you have oily hair / scalp: Wash & Condition every 3 - 5 wears
After using hairspray or styling products: Wash & Condition 1 - 2 wears

Dry hair / scalp: Wash & Condition 10 - 15 wear

Normal Hair / scalp: Wash & Condition 5 - 10 wears

If you swim with them (not recommended): Wash, condition & use Cashmere Hair ® Deep Treatment immediately
1. Gently brush hair with the Cashmere Hair ® Brush before washing to remove excess tangles. Starting from the ends and work up towards the clips
2. Wash hair extensions using only the Rebalancing and Moisturizing Shampoo
3. Tip: Using distilled water keeps the minerals off of your hair extensions and can be found at your local grocery store, you will need 1 - 2 gallons
3. Fill sink with water and mix in Rebalancing and Moisturizing Shampoo. Gather hair in a ponytail at the top by the clips, and fastening with a hair tie to keep hair together in the same direction

4. Then gently immerse hair in water with shampoo until well saturated, work extra shampoo into extensions if needed

5. Rinse thoroughly in clean water
6. Squeeze out excess water gently, Do Not Rub or Twist Hair
7. Fill sink with fresh water, and add Rebalancing & Moisturizing Conditioner to hair working into hair with fingers. Immerse hair into water, and work conditioner into hair gently finger comb out tangles while under water
8. Rinse thoroughly, and follow with the Cashmere Hair® Strengthening & Smoothing Deep Treatment, leave on for 5 minutes & rinse with water
9. Towel blot hair extensions to remove excess water & hang or lay flat to dry. Do not wring out the hair or squeeze it too hard. Using a towel, gently press to absorb moisture. Do not rub your hair with the towel, this may cause frizzing or damage
10. After hair has dried, use the Cashmere Hair ® Brilliant Shine Extension Shine Spray sparingly on ends of hair to protect, de-frizz and smooth hair before styling

11. Since the natural texture of Cashmere Hair® Extensions is wavy, you may need to use a flat iron to straighten and smooth hair extensions after washing

12. Style as desired
STYLING TIPS
Cashmere Hair extensions are 100% human hair. Cashmere Hair Extensions should last you 6 to 12 months or more, with everyday wear & proper care and maintenance. Keep in mind, just like our own hair, any type of heat and styling products damages hair. Avoiding hairspray and other hair products will also prolong the life of your Cashmere Hair. You can curl them, straighten them and use styling products on them. The better you take care of your clip-ins, the longer they will last.
More styling videos
HEAT STYLING PRODUCTS
Since Cashmere Hair comes straightened, you may need to wash Cashmere Hair before curling to help it hold curl longer for the first time. Cashmere Hair is real human hair and can be flat ironed, curled, blow dried or air dried just like your own hair. You can also use styling products on Cashmere Hair, but keep in mind that use of heat styling and products will cause damage to your extensions over time. Do not leave on heat for extended time periods.
If you need to cut them remember that this hair doesn't grow back so we suggest you take them to a professional so you get better results.
WHAT ABOUT TANGLING?
Because Cashmere Hair Extensions are made from real human hair, it may tangle just like your own hair and may tangle slightly with your natural hair during wear. If this happens we recommend using the Cashmere Hair ® Brush to detangle the hair starting from the bottom (ends) in small sections and working your way up to the top before removing.
DRYING HAIR EXTENSIONS
Air drying Cashmere Hair will prolong the life of your extensions. Blow drying your hair extensions on low heat for faster and smoother drying using the Cashmere Brush in small sections. Always dry them with a low heat setting and be careful not to over dry.
SHOWERING WITH HAIR EXTENSIONS
DO NOT shower, swim or bathe with your hair extensions on. This can cause damage to hair, clips, your own hair/scalp, and tangle the extensions.