1. Check out our colors suggestions online HERE
2. Look at the suggested shades in our online store HERE
3. Watch our Color Matching Video HERE
4. Email us at info@cashmerehairextensions.com with several good photos of your hair color for our professional recommendations.
5. Order the desired color of Cashmere Hair & when you receive it, use the tester piece & follow the instructions to check and make sure it is the correct color match with your hair.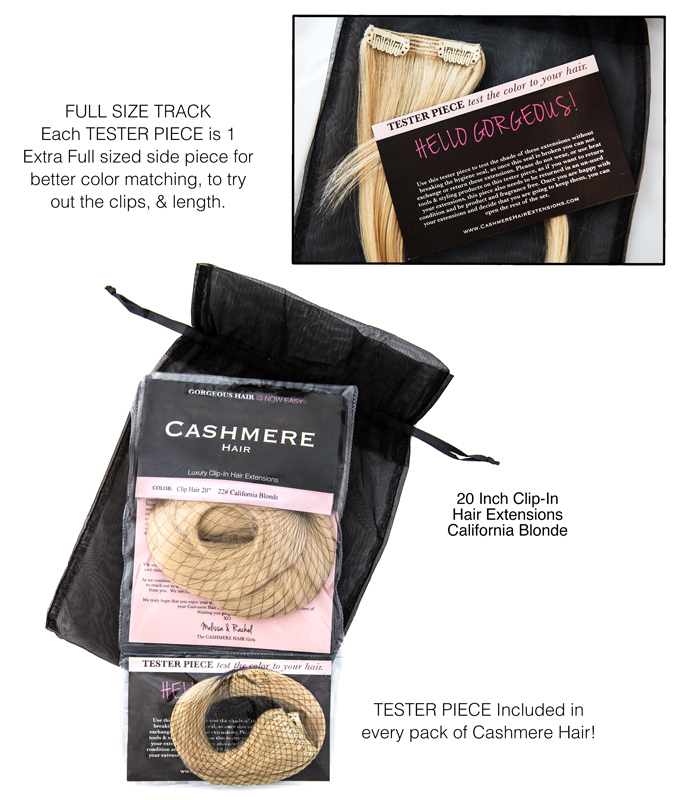 New Packaging Design // Easy Color Matching & Exchanges
Our new packaging makes it easier than ever to get the correct shade of Cashmere Hair.
OPEN THE TESTER PIECE FIRST

The tester piece can be clipped in to your hair to see if the color matches and if you are happy with the length.

The tester piece is a full sized side piece (3 inches) with 2 clips that can be clipped onto the side of your head.

This is the perfect way for you to test the shade and length of your extensions without having to break the hygiene seal.

Please do not wear, or use heat tools & styling products on this tester piece, as if you want to return your extensions, this piece also needs to be returned in an un-used condition and be product and fragrance free.

Once you are happy with your color selection, you can open the rest of the set and add this piece to it as a little extra bonus! Perfect to add to your ponytails!
SECURITY SEAL

A SEALED section with the FULL SET of Cashmere Hair Clip-In Extensions can be opened when you are sure it's the right color match by using the individual Tester Piece.

Once this section has been opened, they cannot be exchanged or returned. This section also contains the clip-in and care instructions, weft details & diagram.