Top 5 Reasons Why You Need Clip-in Hair Extensions from Cashmere Hair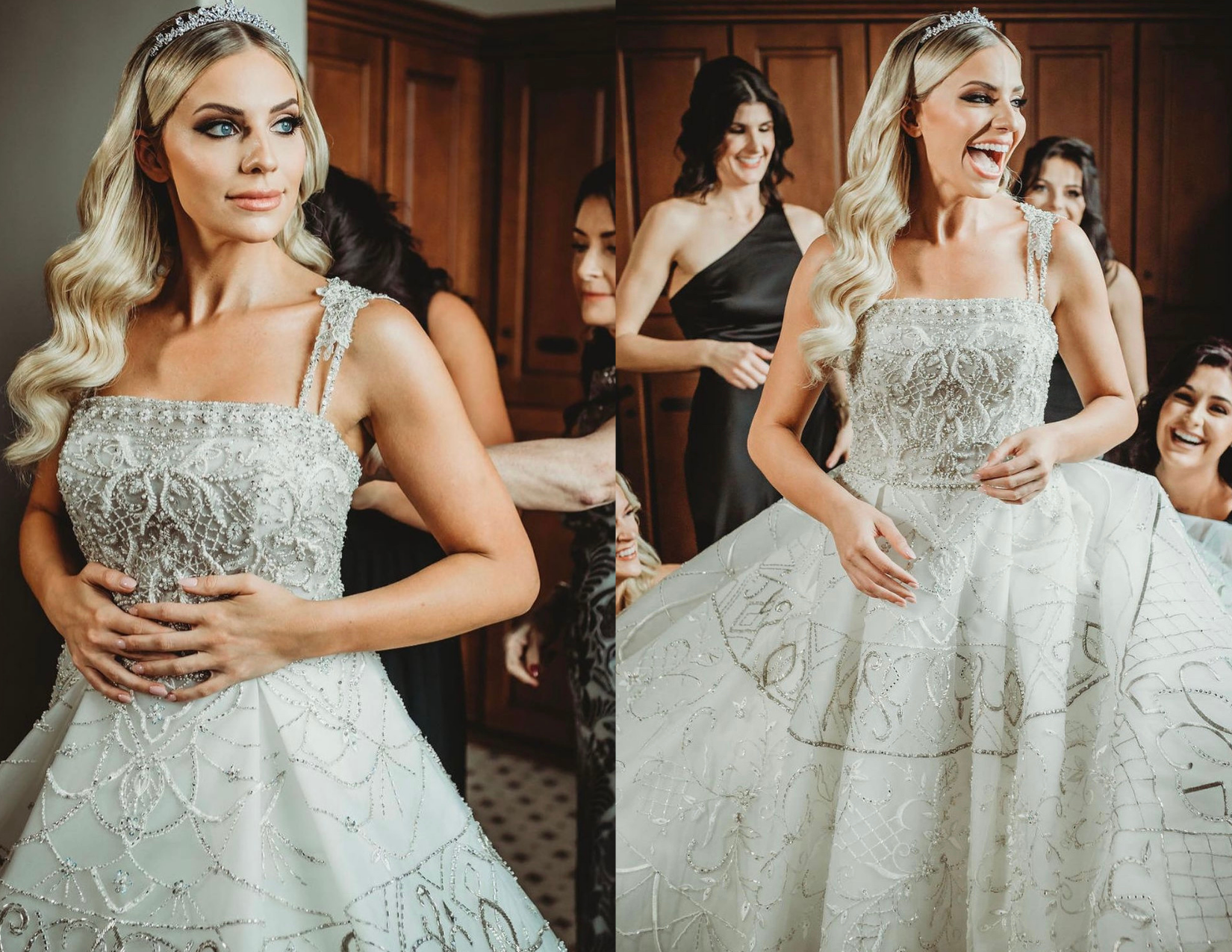 Whether it's for your wedding day, a special occasion, or just grabbing coffee with some friends, you want to feel confident with your hair and there is no shame in calling in some extra help from clip-in hair extensions. If you are anything like me, I have a million and one boards on Pinterest and am always so envious of those girls with super long thick hair that can do all of these super cute hairstyles. Psst, guess what? Odds are they're using extensions babe. With Cashmere Hair Extensions being created to look effortlessly natural and blend so seamlessly with your natural hair, those hairstyles are within reach in just a snap. Whether you need more length or thickness to achieve the style, Cashmere Hair has got you covered
1. Our Designs are Unlike Any Clip-ins Out There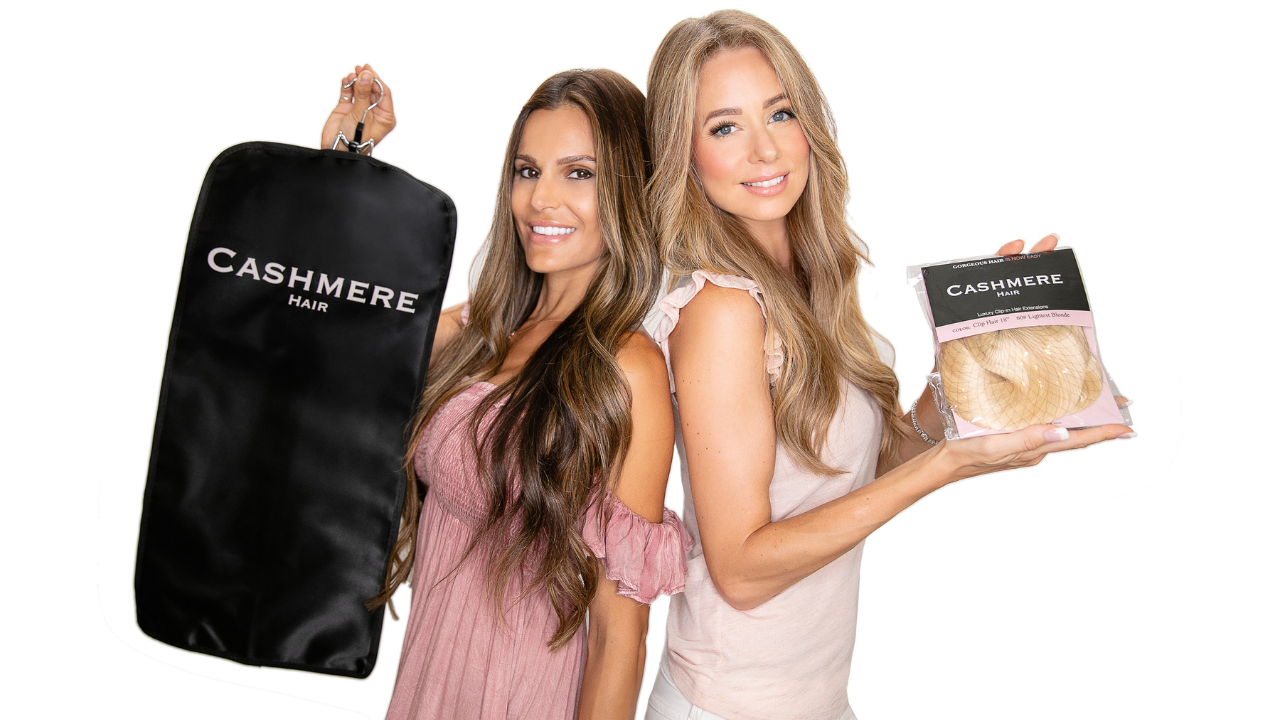 With a serious passion for beauty, hair, and helping other women feel gorgeous, Rachel and Melissa created their luxury clip-in hair extensions brand right in the heart of Beverly Hills. Rachel was a model in Los Angeles and Melissa was a successful celebrity hairstylist working in several Beverly Hills high-end salons. The friends couldn't find any clip-in hair extensions that worked great with their hair and achieved that effortless look they were going for. Only mediocre clip-ins from local hair shops, or handmade ones. Rachel & Melissa began to make their own hair extensions by sewing on clips, designing the track placement that looked the most natural, and even mixing colors of hair to customize it just right. Everywhere they went they received so many compliments on their hair. The girls began working together to find a source for the best hair, they designed an amazing range of shades to match, and voilà! Cashmere Hair was born.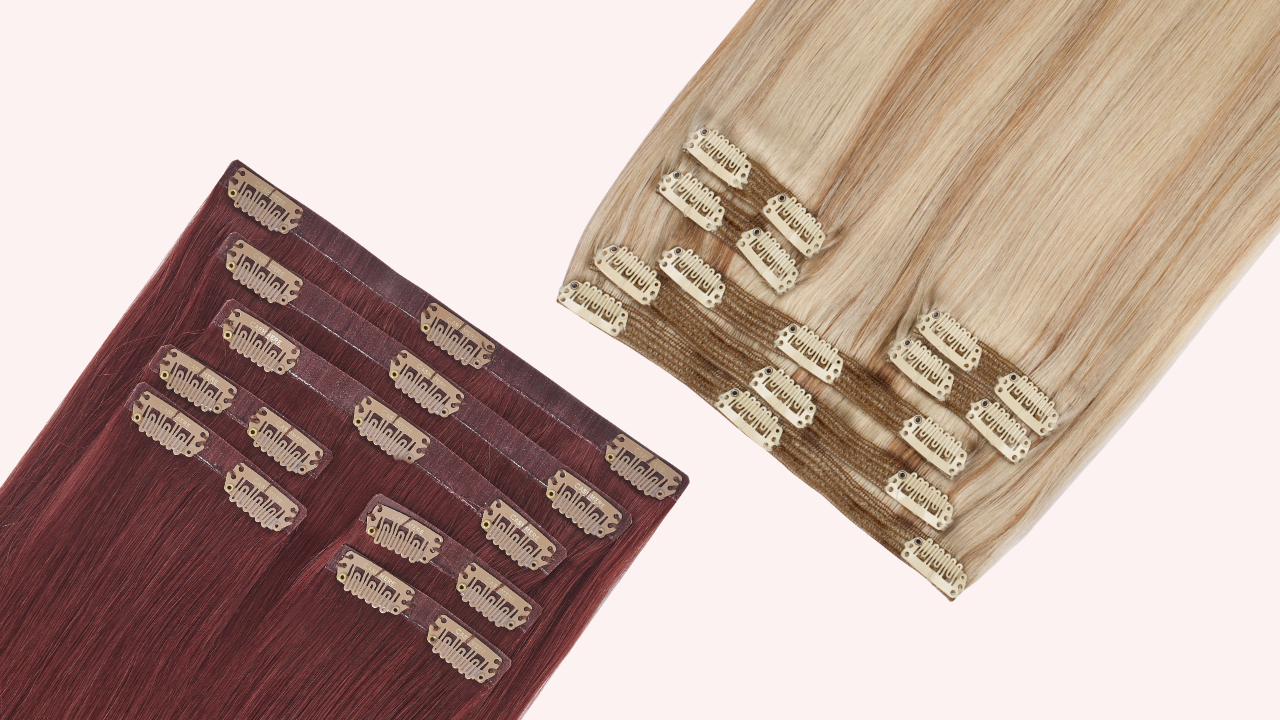 Each and every style, shade, and design of all the clip-in extensions were given so much thought and attention to detail to ensure that these extensions were unlike anything else out there. They were designed to solve the problems that most other clip-in extensions out there on the market have caused. A few examples; Cashmere Hair Classic clip-in hair extensions are made from 100% Indian Remy human hair and come in a full-head set. They are made with a flexible, stitched band and have a minimal amount of clips for the most comfortable wear. These extensions contain a lot of hair but are very thin at the top of the weft. When compared to the Seamless hair clip-in extensions, the Seamless hair extensions are even thinner and fused together with a silicone band to blend naturally with your hair and make for a seamlessly concealed extension. The Volumizer One Piece is similar to the halo hair extension design, but instead of an uncomfortable and unstable string that goes over your head, the One Piece can be clipped onto the back of your head with 6 clips to create balance and a comfortable grip. The new design consists of several wefts sewn into one breathable lace piece. The hair is +AAA Superior Grade human Remy hair that is full from top to bottom The One Piece comes complete with metal clips attached to the weft with silicone tubing for a secure grip when attached to your natural hair. This design keeps your extension secure, discreet, and comfortable.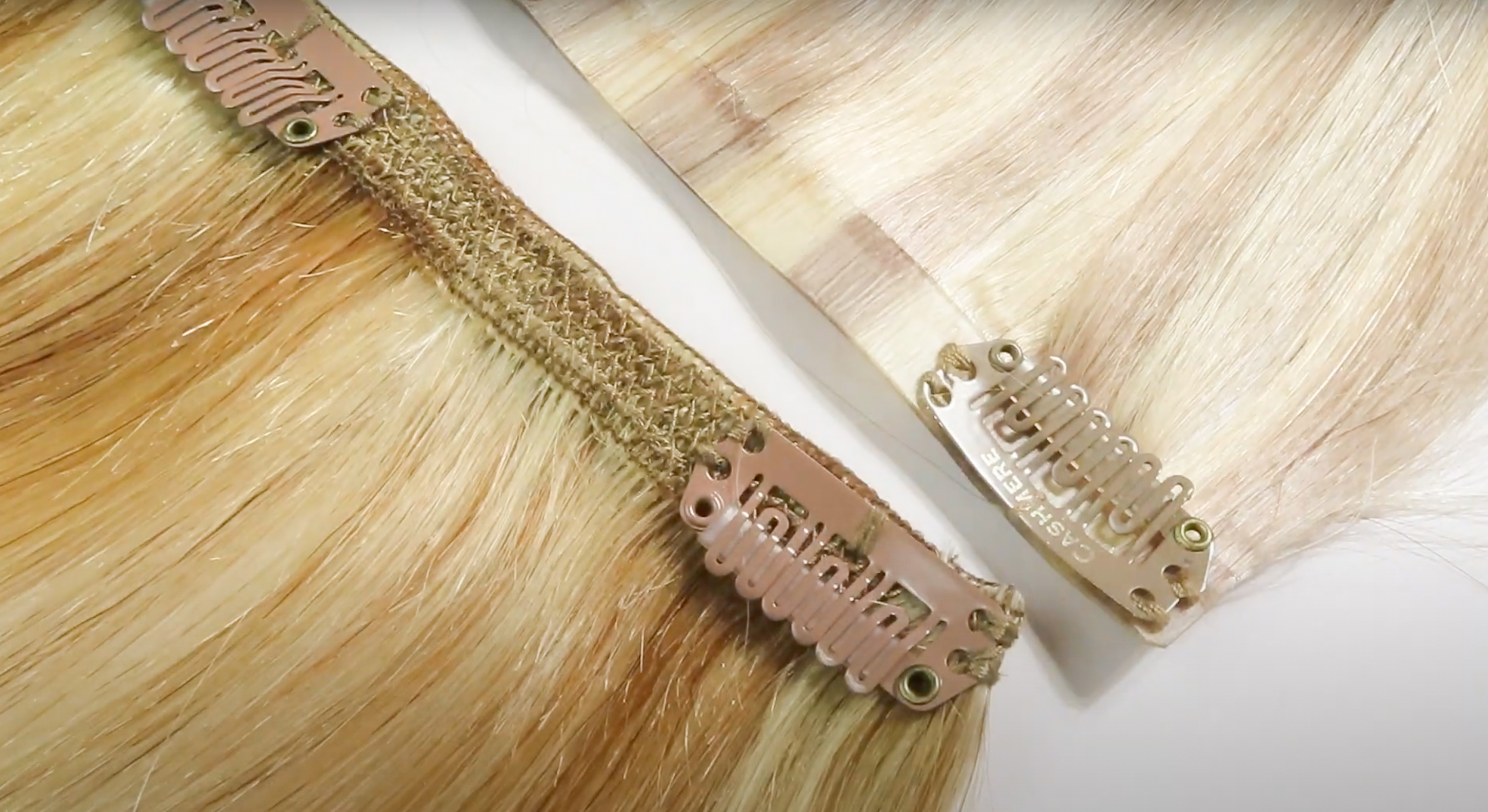 Cashmere Hair's hair extensions focus on every minute detail there is to create the best possible extensions on the market, and I mean down to the clips. Cashmere Hair uses the best clips for hair extensions, and the way we attach them to the weft is a factor in the quality of our extensions. Sometimes underestimated, clips play an important role in the comfort, durability, and safety of clip-in hair extensions, as well as the ease of concealing the tracks. No matter the quality of the hair, the quality of the clips plays a role in the length of time you can wear your clip-ins, the comfort level, and how well they stay put. Cashmere Hair's metal clips are small, with a silicone-covered band to prevent slippage, and painted for maximum comfort & safety.
2. They Give You Natural Looking Results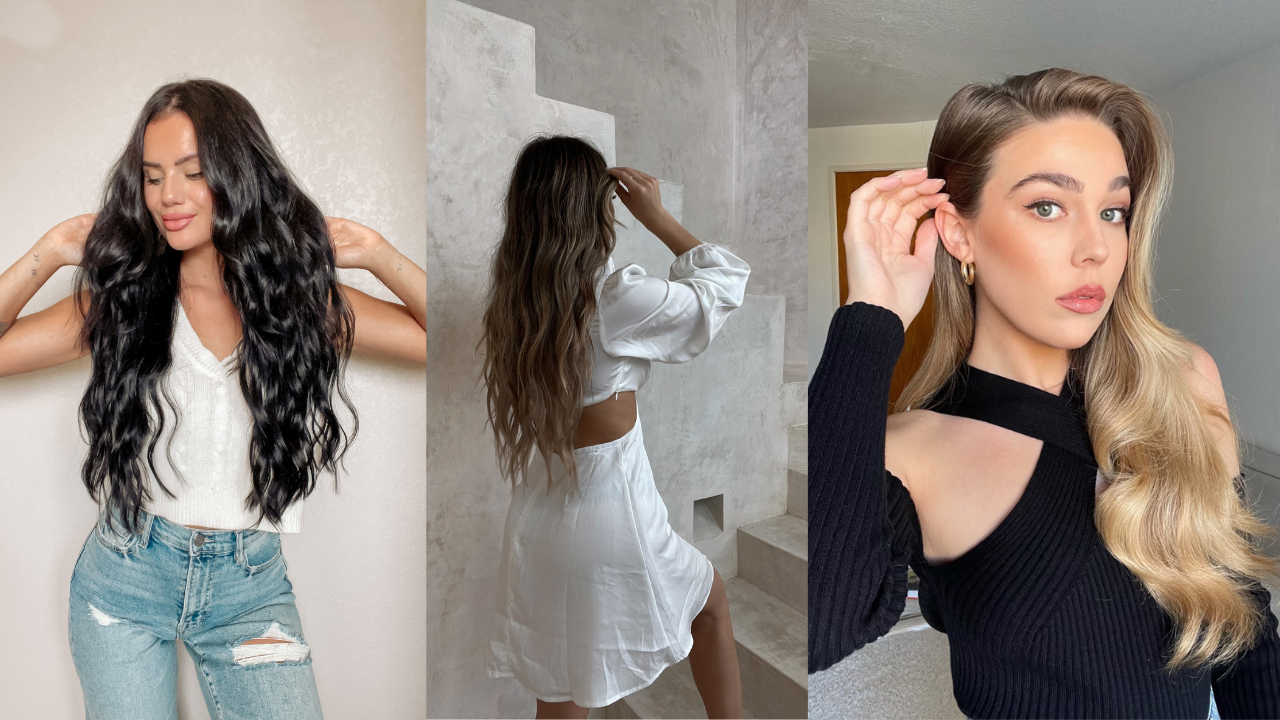 Aside from the incredible design of these extensions, the hair quality truly speaks for itself. It doesn't get any better than 100% Real Remy Human hair. With Remy human hair, the cuticles are kept intact and not stripped meaning the hair follicles all go in one single direction. This preserves the hairs' cuticles and aligns them in a unidirectional fashion creating extensions that are completely natural in appearance. Remy hair is collected in a method in which all hair strands stay aligned in the natural direction as it grew (i.e. holding the hair in a ponytail and cutting), top at top, and ends at end, to maintain the natural texture pattern and cuticle direction. This reduces friction between the strands thus reducing the tangling in the hair, commonly found in non-Remy or low-quality hair.
Remy hair appears more healthy, soft, and silky and is only lightly processed, and undamaged. Some companies claim to sell 100% Remy Hair but are mixing anywhere between 10-40% Non-Remy hair into their packs. It is said that Remy hair has a cool and silky feeling when you touch it. Non-experts will most likely not be able to tell the difference by just looking at it, but after 2 to 3 weeks of wear, when that hair starts to matte up you will know it's not high-quality Remy human hair. Cashmere Hair extensions are always made with the highest quality of Remy Human Hair which allows the texture to match natural hair flawlessly and blend so well, you won't even be able to tell you're wearing extensions. This is hands down, the biggest compliment when wearing hair extensions. These gorgeous clip in extensions are incredibly thick all the way down to the ends. You won't have hair that tapers off into nothing like other brands of lesser quality do. It will look natural and thick from top to bottom. With Cashmere Hair, you can have peace of mind knowing that their extensions will level up your hair and add to the beauty already in you!
3. There's a Clip-in Hair Extension for Every Concern
Whether you're looking for some volume and fullness, want to add some length, or just want to achieve the perfect pony, Cashmere hair offers a wide variety of extensions and colors it's guaranteed to suit everyone's needs regardless of color, texture, thickness, and more! So let's figure out which one will be best for your hair: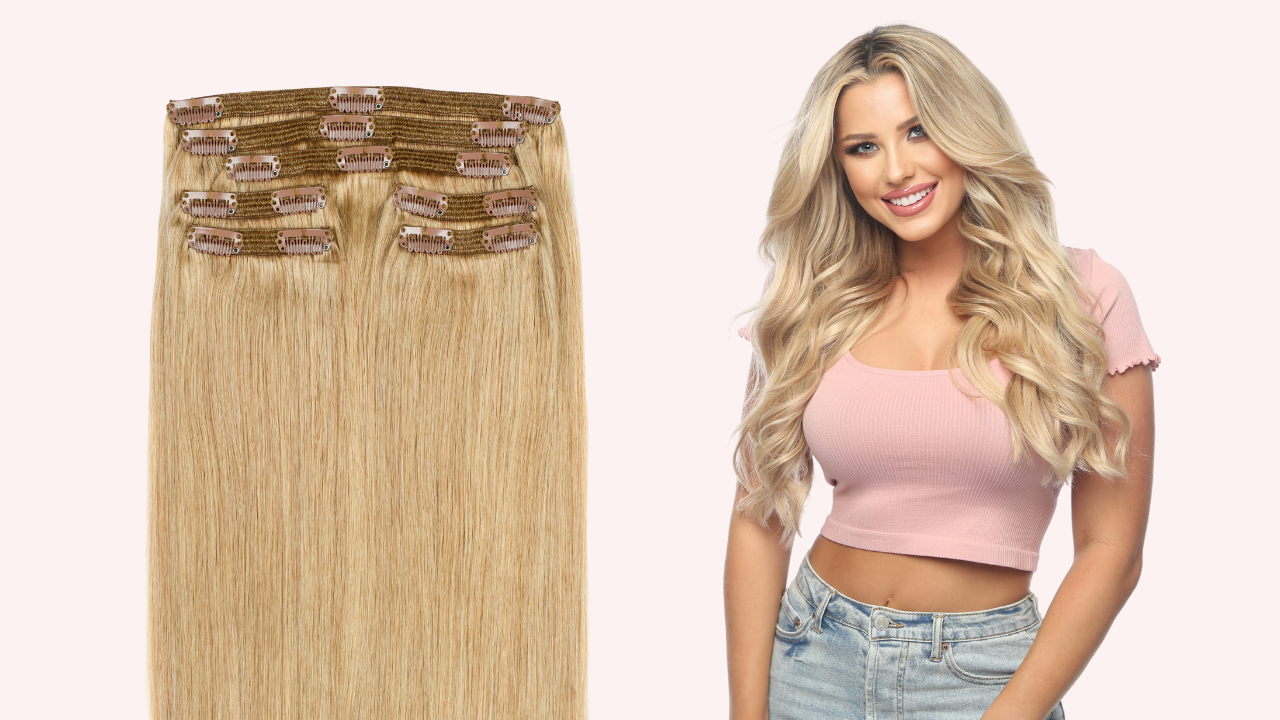 The Classic Clip-in Extension
The OG's that everyone needs! These cult classic extensions are staples to have in your beauty drawer to complete any look. Because they are made with 100% Indian Remy human hair, this allows you to style them in any way with your favorite hot tools and blend them seamlessly with your natural hair. They are perfect for all hair types and take minutes to apply and seconds to remove, giving you red-carpet hair from the comfort of your own home. The Classic clip-in hair extensions are the best extensions for adding volume and length to your own hair. Give yourself the look of healthy, beautiful hair you have been missing, and no one will be able to tell you are wearing clip-in extensions. One set of extensions comes with 7 clip-in pieces including four 3-inch pieces (2 clips on each), one 6 inch piece (3 clips), one 7-inch piece (3 clips), and one 8-inch piece (3 clips).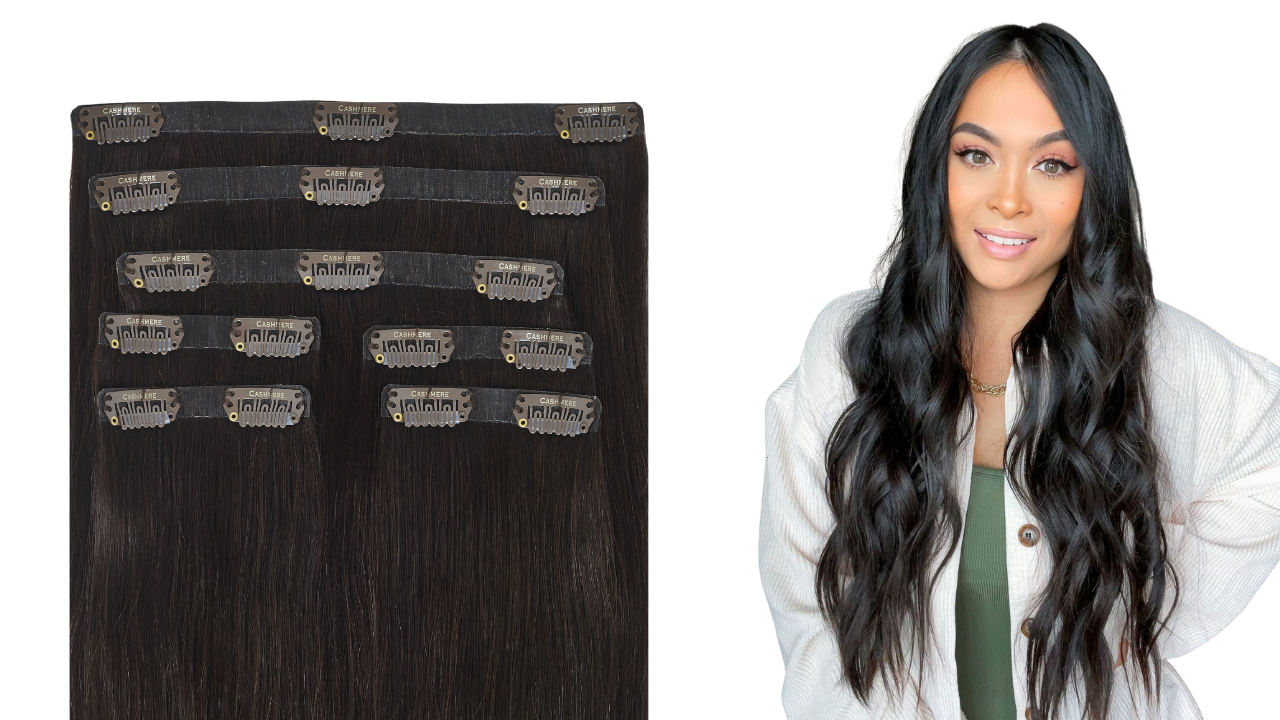 The Seamless Clip-in Extension
Now you see them, now you don't! With the super slim, silicone band, Cashmere Hair's Seamless clip-in extensions are 50% slimmer with wefts that lay flat against your head for ultimate comfort. These extensions are ideal for those with thin/fine hair, giving you an even more seamless blend than the classic clip-ins. Add some volume and thickness to your hair in minutes without damaging those luscious locks underneath. The new Seamless clip-on hair extension design makes them even easier to conceal. Made with our amazing 100% Remy European human hair extensions transform your hair from flat to voluminous for that sexy fullness you've been longing for. These extensions should be indistinguishable from your natural hair making them the best hair extension for you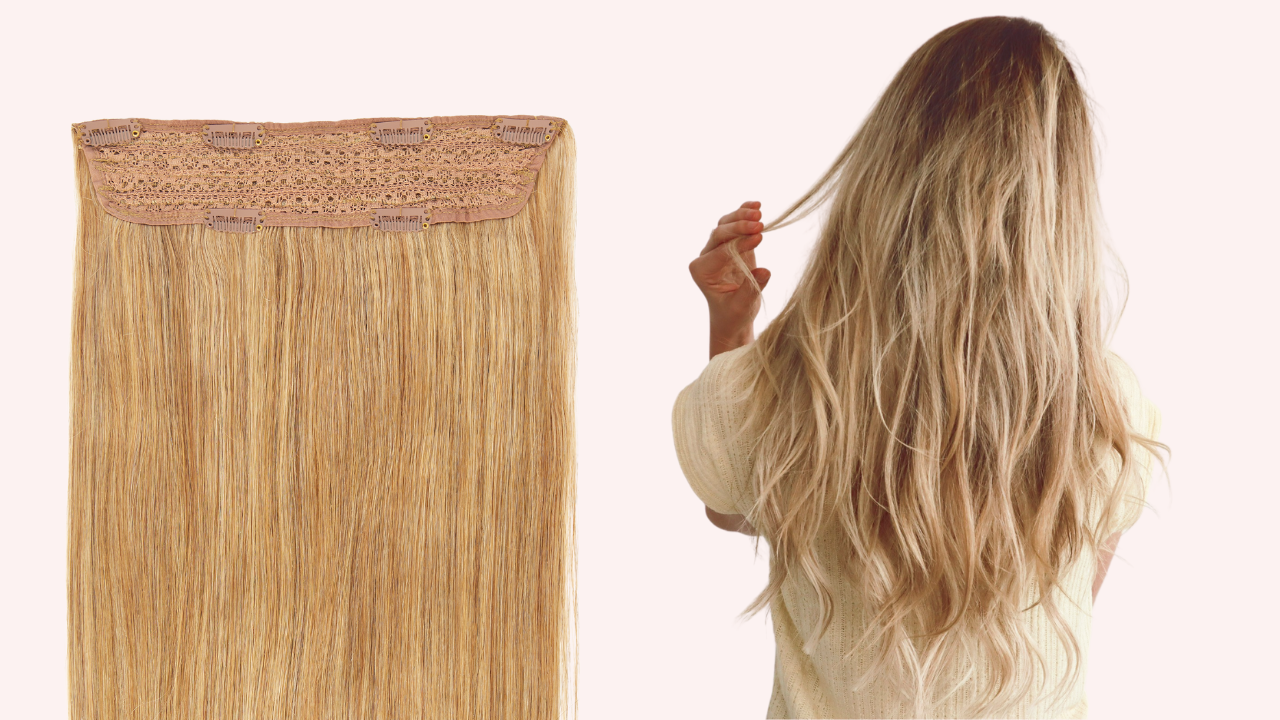 The Volumizer One Piece
The ultimate time-saver and one of our favorite extensions. This one-piece clip-in gets you luscious locks in seconds, allowing you some extra beauty sleep. Like a halo but better! No obnoxious wires, just one quick clip to blend into the crown of your head for instant volume. With only one row of extensions, this one-piece is ideal for all hair types and makes styling easier than ever. The ultra-luxe Volumizer One Piece Extension features 6 comfortable clips to create balance and a secure grip. The one-piece is best for medium to long hair lengths. Longer hair is required to blend and avoid the hair extension "seam" where there is an obvious difference between your hair and the extensions.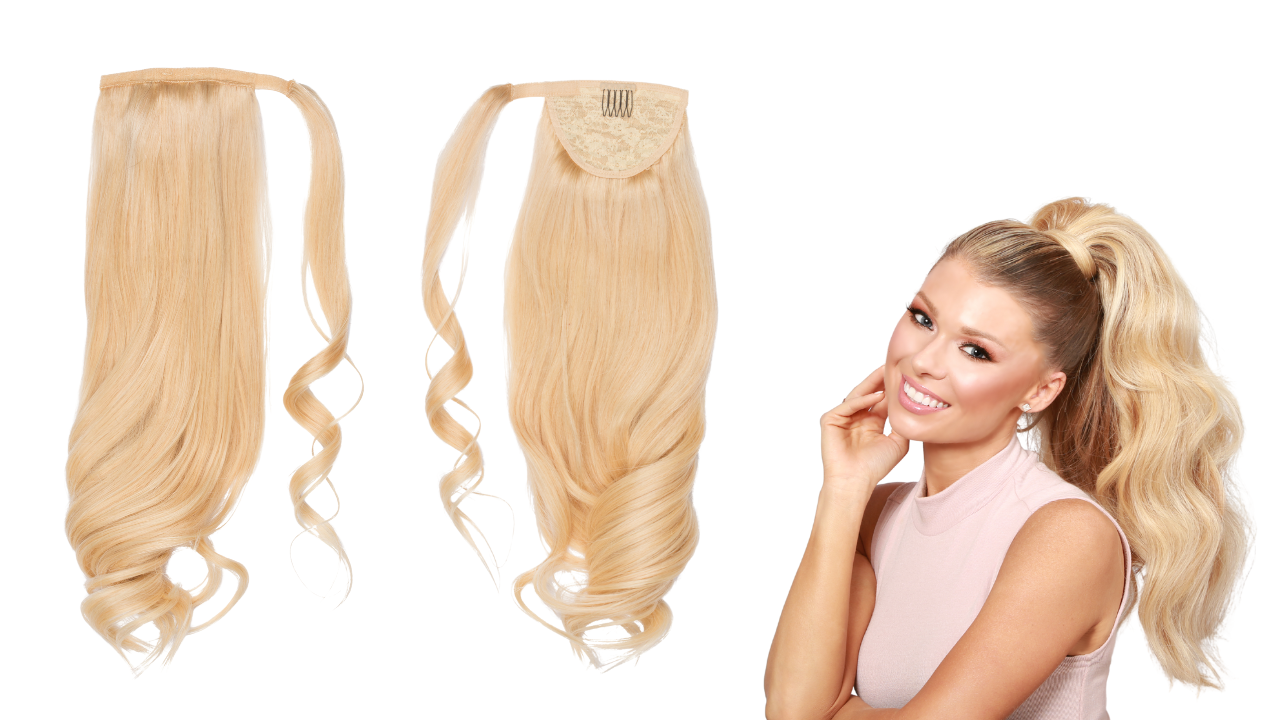 Human Hair Ponytail Extension
Nothing says "I mean business" like a ponytail. Add just the perfect amp to your pony to show the world you are ready to take on the day. No longer just for bad hair days or a time crunch, the Cashmere Hair high-quality human hair ponytail extensions will transform second-day hair in minutes. Always made from 100% real human hair extensions, and made to look like a natural ponytail. Feel like your best self with the easiest, one-piece application ponytail extension, to create the look of a longer, thicker ponytail instantly. Curl it, braid it, fishtail it, bubble braid it, the possibilities are endless!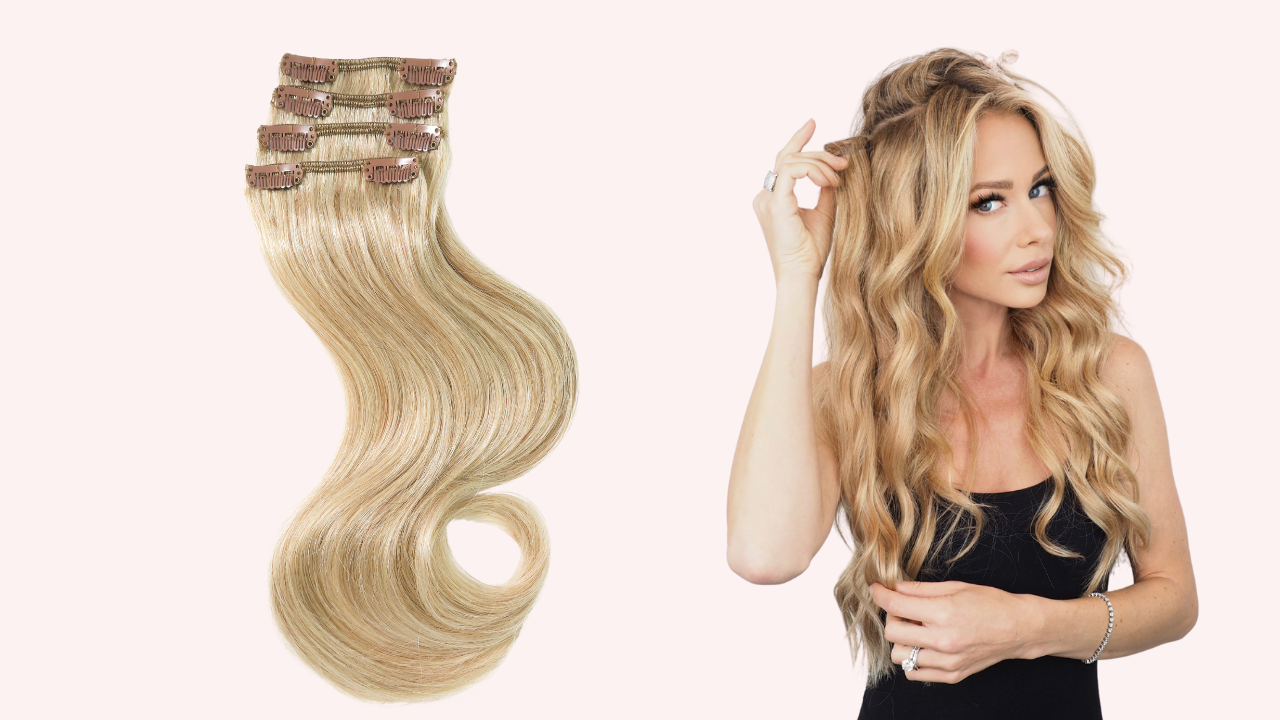 The Fill Ins
These are a recent addition to the Cashmere Hair fam! The new Fill-In extensions are the perfect solution for filling out thin hair, matching your money piece or highlighted hair, or for a boost of volume to thicken the hair around your face. This set contains 4 tracks to easily apply wherever you need them. If you are looking to fill in the sparse and thinning hair around the front and sides of your hairline, the Fill-In clip-in extensions are for you! Cashmere Hair Fill In hair extensions are best suited for those with thin/medium hair types. There is a limited shade range however, there's a definite hope of expanding to a number of shade ranges.
4. High Quality & Long Lasting
With proper care and storage, Cashmere Hair extensions can last you up to 5+ years. This is because of the attention to detail in the design and hair quality Cashmere Hair uses in their extensions. Keep in mind, just like our own hair, any type of heat and styling product does cause damage to the hair over time. Avoiding hairspray and other hair products will also prolong the life of your Cashmere Hair. How you store your extensions can also play a huge role in their longevity. We recommend storing them in the Extensions Storage Bag when not in use and never store your extensions wet. On average we have found that your Cashmere Hair extensions can last up to:
1- 2 Years - With daily wear including proper care, cleansing and maintenance, minimal heat styling and without hairstyling products (such as hairspray, gel, mousse, etc).
3-6 Months - With extreme daily wear, when heat styling tools are used frequently, when hair extensions are not washed regularly, and when styling products are used.
Although Remy human hair is more expensive because it is higher quality hair, they are longer lasting, and the hair is more beautiful. Trust me, your hair is worth the investment. Real human hair is expensive, and great hair costs even more. Remy human hair prices are constantly increasing. It may cost more to invest in Remy extensions, but the results achieved are far more stunning and long-lasting than by using synthetic or lower-grade hair. Remy hair extensions can be styled using heat such as; flat irons or curling irons, just like your own hair without causing immediate damage. It is wiser to invest in high-quality Remy hair because wear time & durability will last a longer than other brands on the market.
Low Maintenance - Low Risk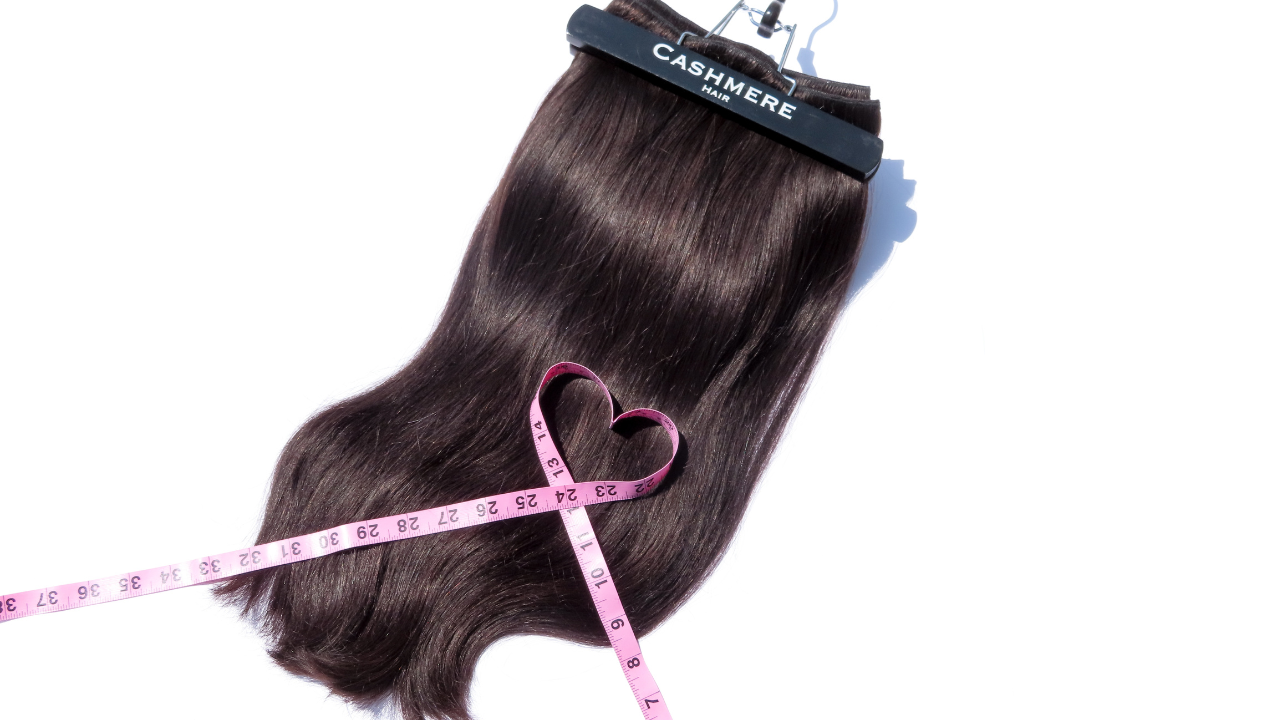 Last, but certainly not least, clip-in hair extensions are simply so much easier and more convenient which makes them a low-maintenance purchase with even lower risk. When it comes to clip in hair, you don't have to go into salons continuously and drop upward of 5x the amount of clip-in extensions. No more getting extensions moved up, re-done, etc. Which in turn, means less time and money for you to then spend and save on extensions -- and less time spent in the salon.
You have the full freedom to clip them in and take them out whenever you want. No sleeping discomfort or shower troubles when you simply just take them out, store them and proceed as normal. Even applying them takes little to no effort due to their impeccable design and high-quality hair. These luxury extensions won't cause damage to your natural hair as well, unlike traditional salon extensions. We actually advise against teasing your hair before applying clip-in hair extensions specifically Cashmere Hair extensions. It's ALWAYS better for your own hair if the extensions are pulled on, that they "slide" out of position, instead of putting any tension, or ripping out your own hair. The clips on Cashmere Hair extensions were designed with soft silicone in between the clips to add a better grip to the hair without bending, tugging, or damaging the hair, making it easy to clip in and secure without having to tease your hair
During daily wear, if a track slightly slides out of position while wearing it, reach into your hair, unclip it, and readjust the clip back into position. This is completely normal and is actually one of the benefits that make clip-in hair extensions the safest and healthiest option. Clip-in Hair Extensions can be reapplied and styled daily without causing any damage. Proper wear is important to the health of your hair, wearing them clipped in too tightly can put pressure on your scalp. To fix this, unfasten the clip and lower the location where you are clipping them and try gasping more hair in the clip. The clip should only be attached to your hair and not pulling on your scalp.
Overall, clip-in extensions have a lot of great pros that can fit anyone's needs. No matter your hair texture, length, or thickness, there is a style of extensions fit for you to help achieve those luscious locks you've always wanted. Cashmere Hair is the absolute best brand to purchase your clip-in extensions from if you decide to invest in your hair. The quality, the design, and the customization is unlike any other set of extensions out there. Nothing fake about it ;) Cashmere Hair has a lot of experience in this industry and sources the best quality hair. The hair extension designs allow for a lot of flexibility to meet your needs. Cashmere Hair offers the convenience of DIY application for even the most inexperienced user giving you salon-quality hair extensions without spending the time or the money. It only takes minutes to apply, and seconds to remove. They are easy to conceal, even with thin hair.
We really care about each and every one of you, and we want to help you get the most gorgeous hair, we want to be your hair HEROES! Call, text or email us, we are happy to help!