8 Things Every Curly Girl Should Know
1. Styling Starts With Wet Hair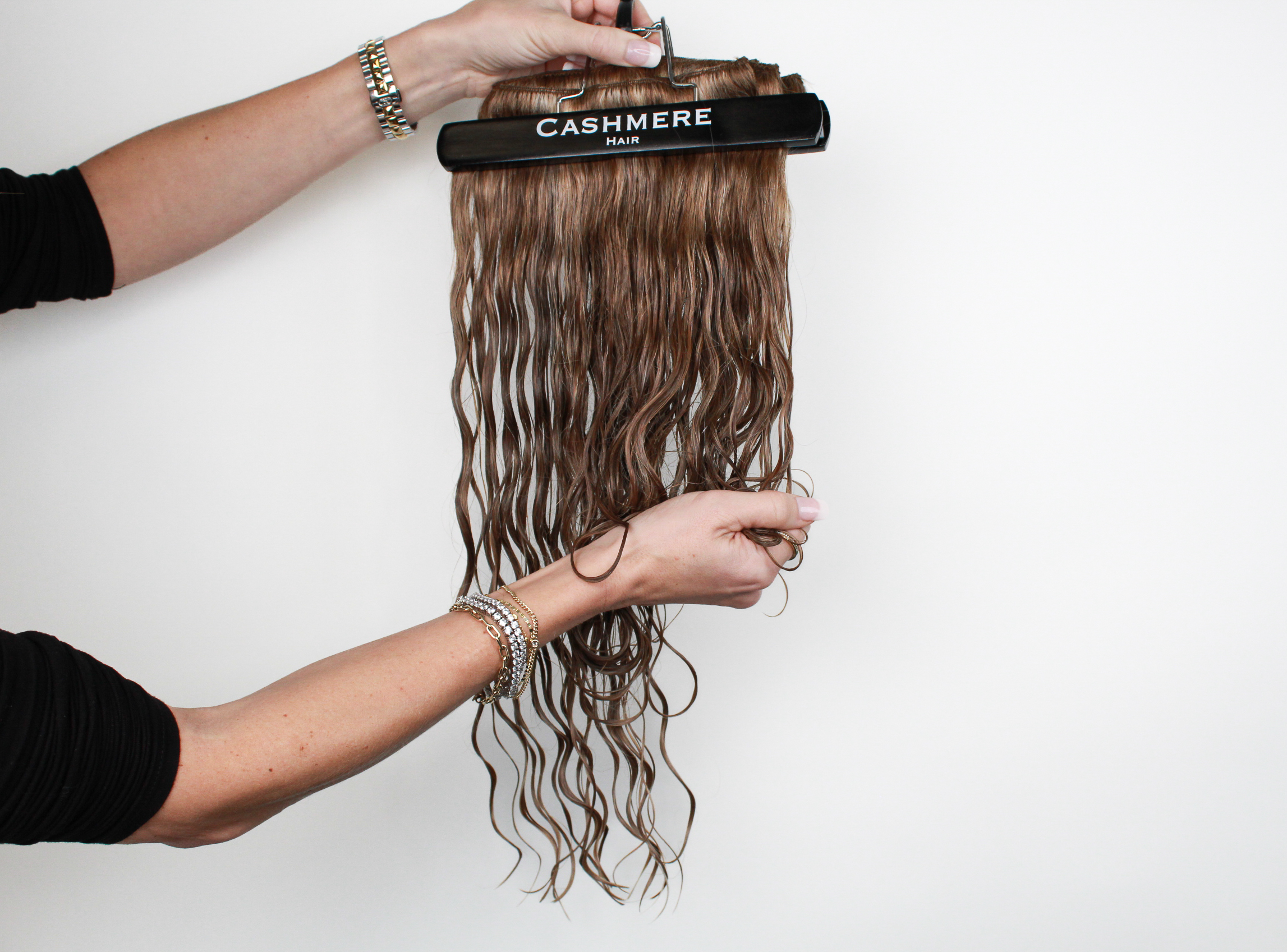 Curly hair is an art. It requires a very detailed and intricate routine to ensure the most bouncy polished-looking curls. Maintaining and styling your curls begins when your hair is still wet. Comb or brush hair (depending on tool preference) to separate or clump curls together while your hair is still wet. Add in your styling, and scrunch to help enhance your natural curl pattern. You can also use an old t-shirt or microfiber towel designed for curly hair to absorb the excess water from your hair all while preventing frizz.
2. Use a Diffuser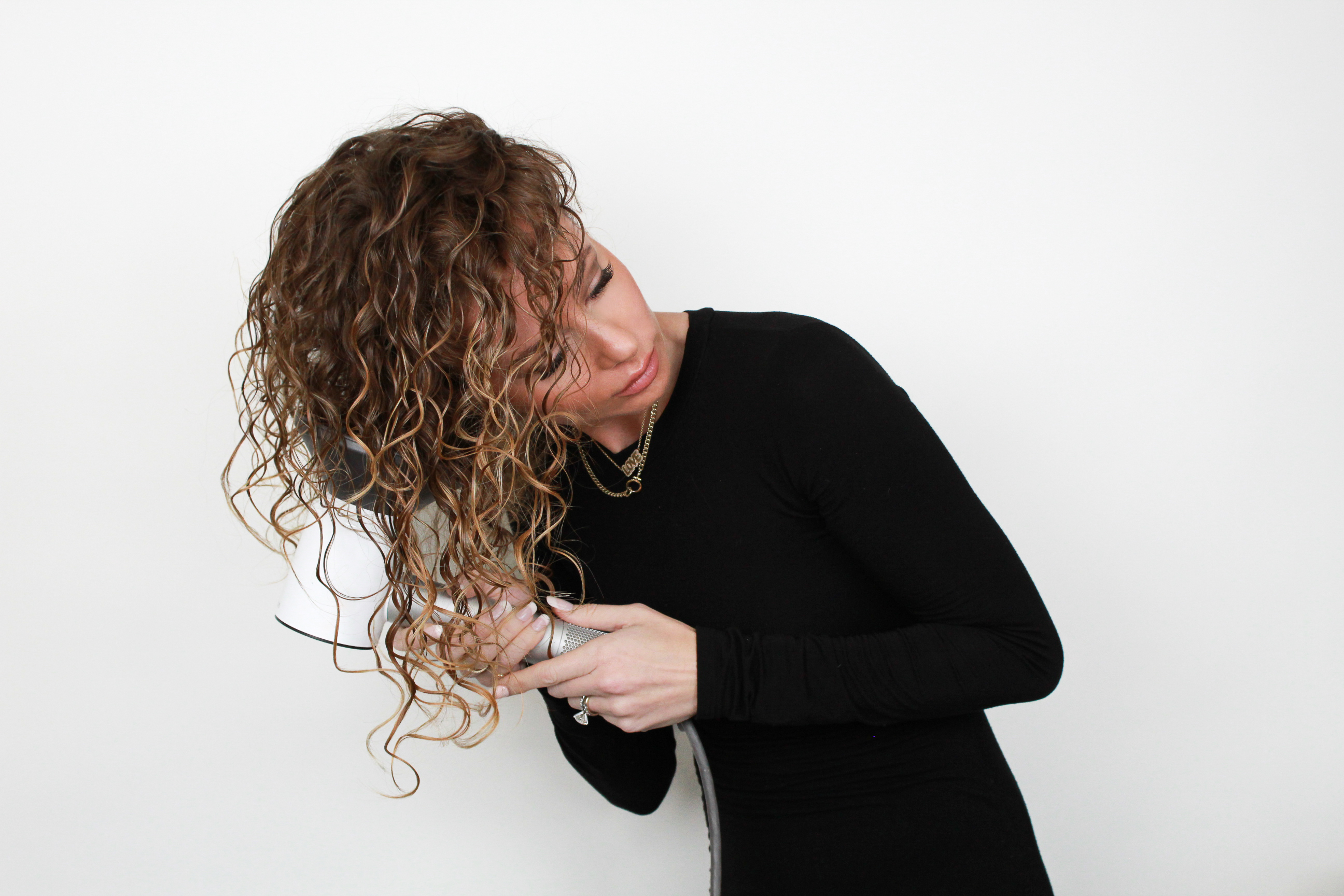 When you have curly hair, using a diffuser to dry your hair is an amazing tool to encourage evening out your curl pattern and add more body. Using a diffuser is really important to keep the airflow from creating frizz.
There are several different techniques that you can use to dry your hair. The first method is called hover drying and you hover the diffuser around your hair without touching it. The next one is called pixie or scrunch diffusing and you put the hair into the bowl of the hair dryer pushing it up to encourage those curls to be tighter.
3. Scrunch Out the Crunch with a Silk Scarf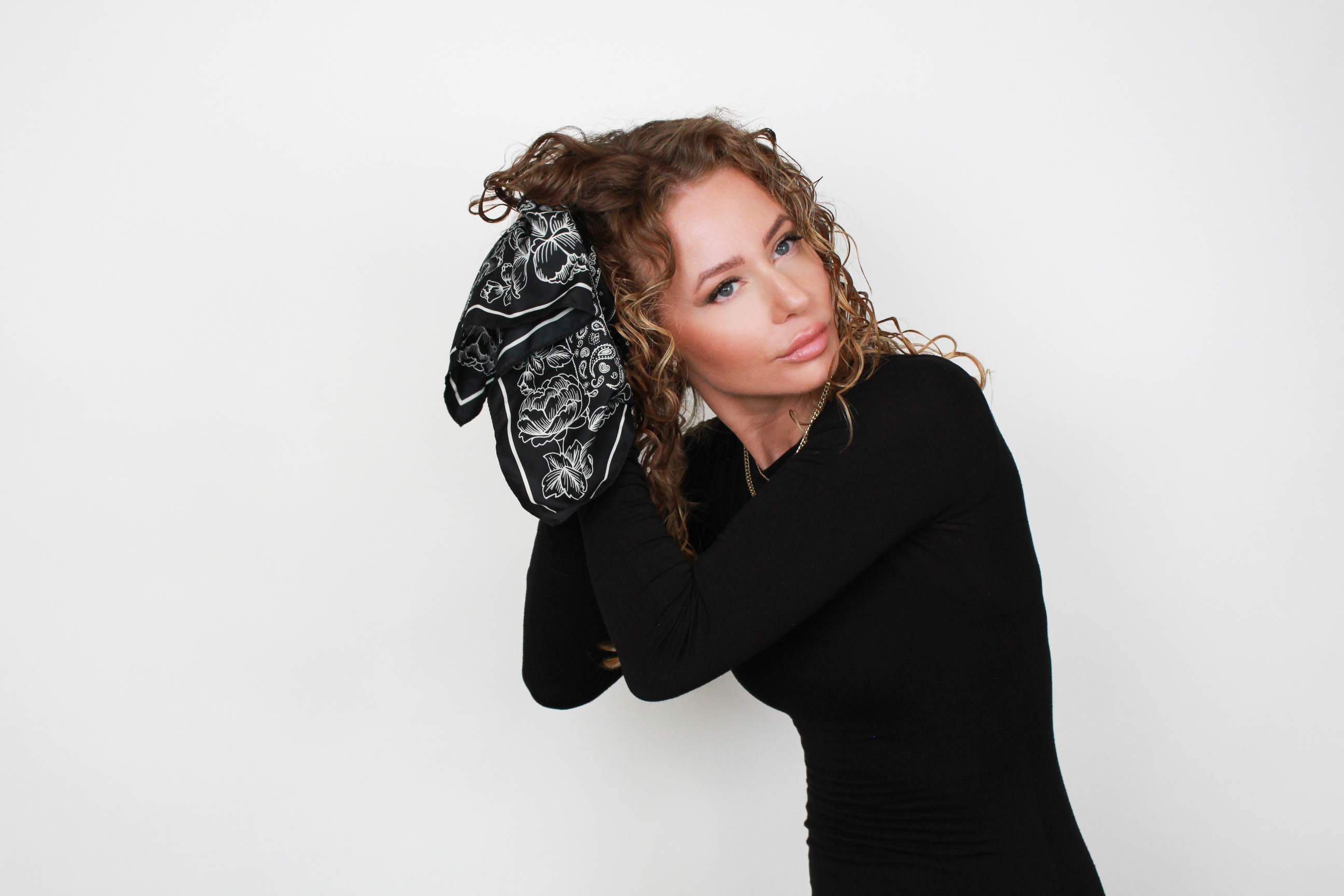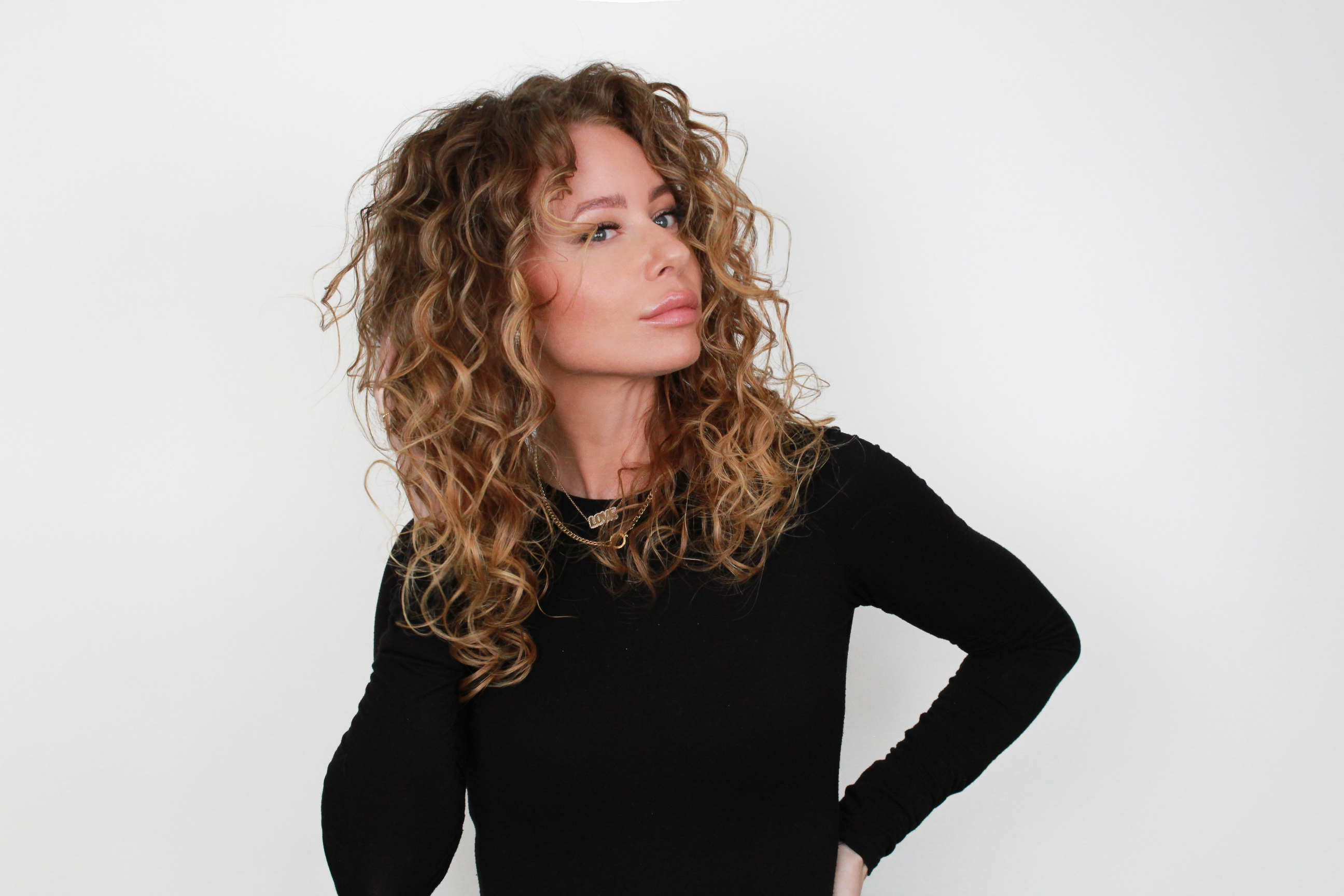 Once your hair is completely dry, the styling products can sometimes leave a crunchy residue, especially if you use a strong hold gel. Using a silk scarf when you scrunch out the crunch is a great technique to prevent frizz and to scrunch out that crunchy hair gel to soften up your curls.
You'll want to gently cup some curl clumps in sections and scrunch your curls upwards using a silk scarf to avoid frizz. Continue cupping and scrunching until all the 'crunch' has been minimized and your curls are soft and bouncy. Be sure to do this all around your entire head, you may consider flipping your hair from side to side or upside down to ensure full coverage and even scrunching.
4. Refresh Your Curls with a Curling Iron/Wand or Curling Rods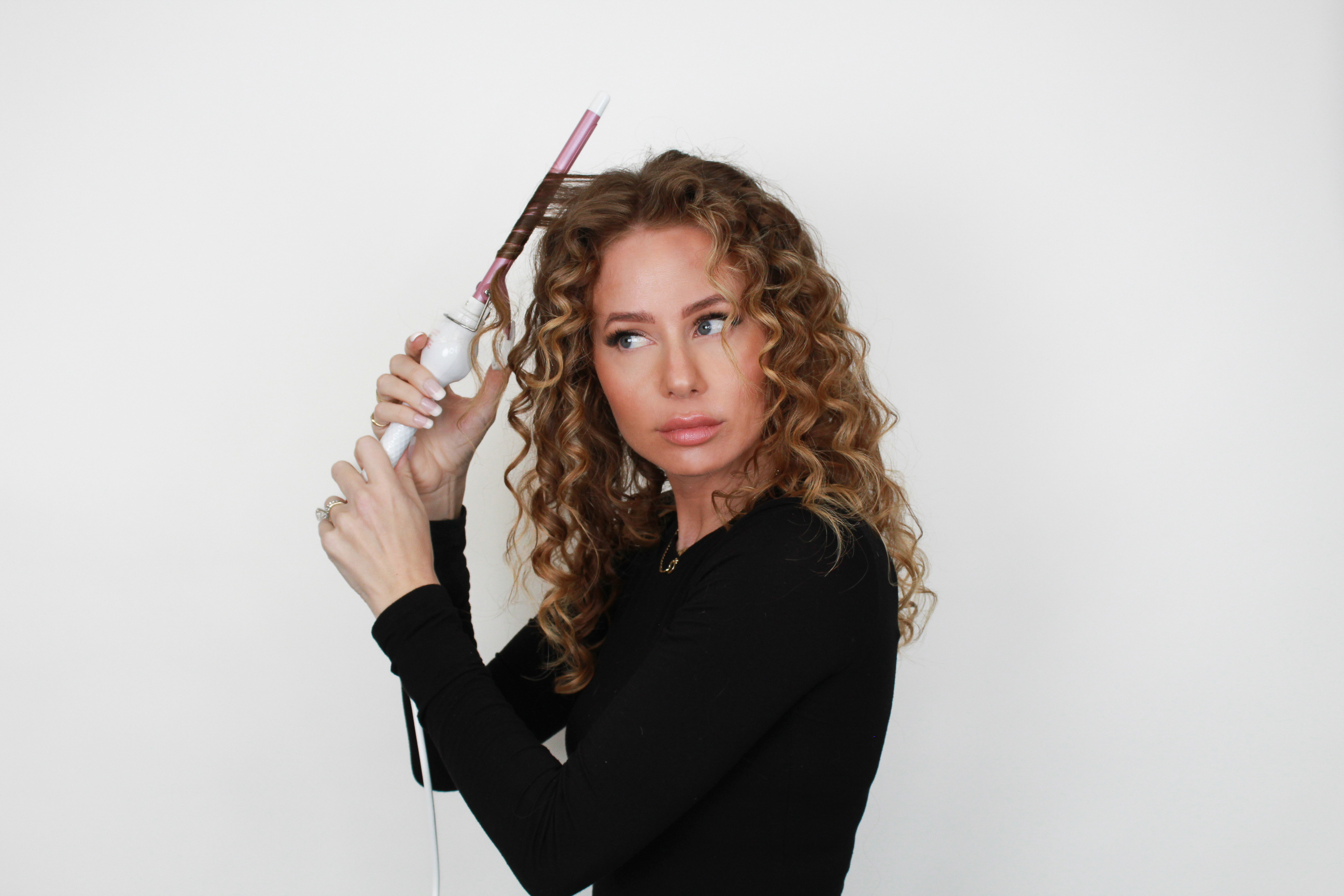 Your curl pattern will rarely be completely perfect, if you love the look of a spiral curl we highly recommend using a small curling wand anywhere between ¼-½" to help mimic the look of your and refresh those perfect spirals.
You're going to want to mostly focus on curling the front pieces and then around the crown of your head since those are the most visible portions. Start by taking small sections and wrapping them around the curling wand. Once you've given them a nice curl, you can go ahead and kind of separate them a little bit, scrunch them in with the rest of your hair, to give them more volume, and blend them easily with your natural hair.
5. Pineapple-ing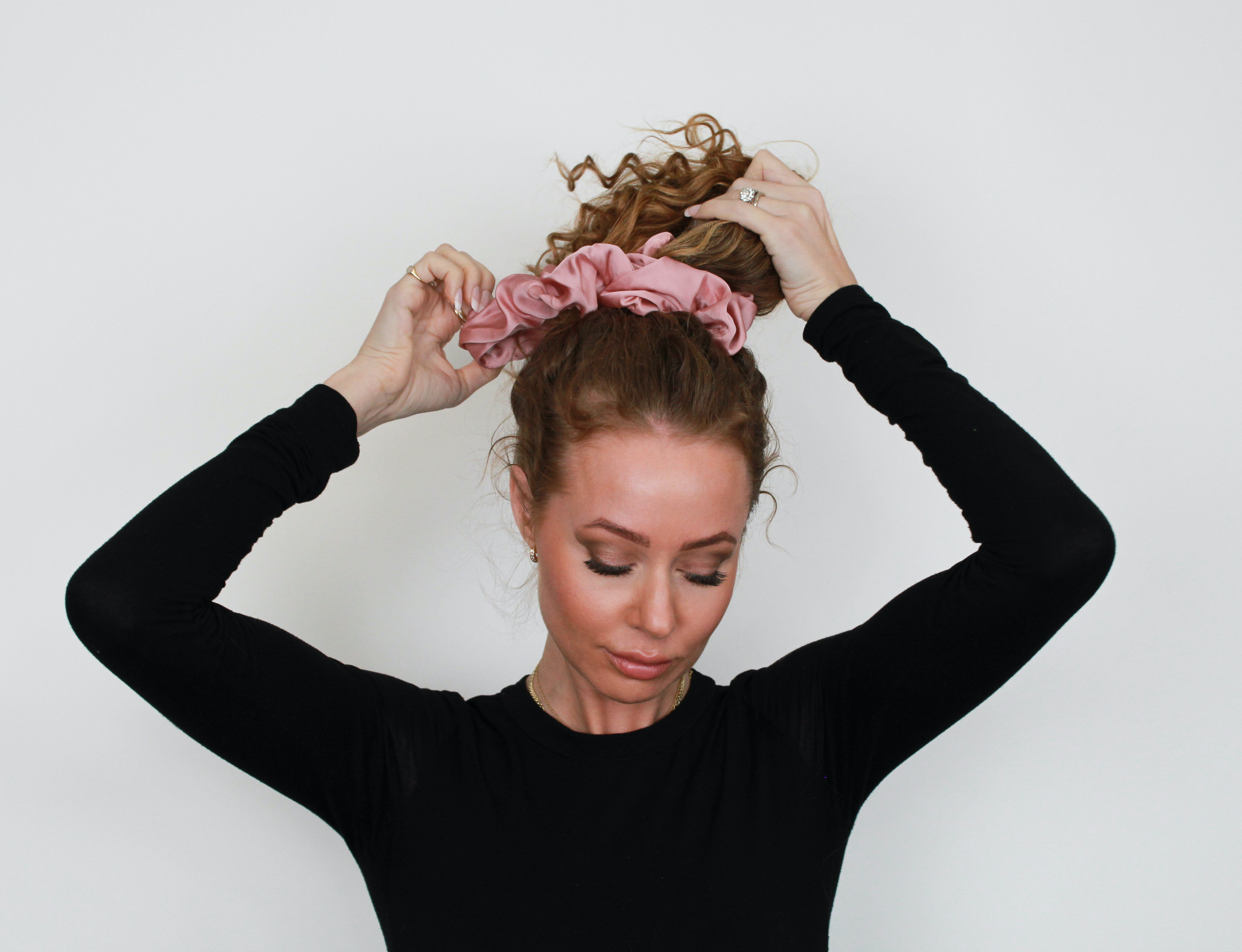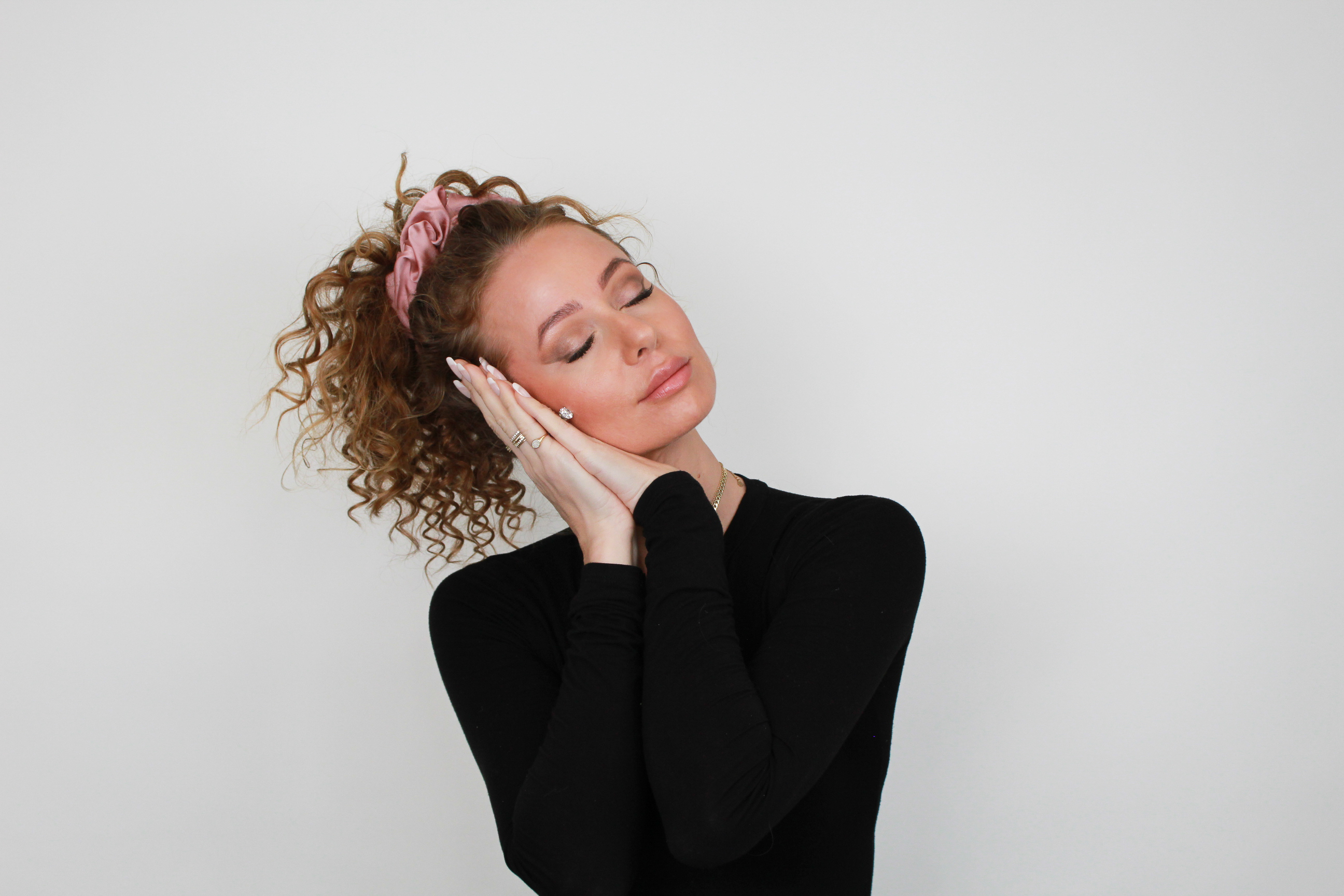 Pineapple-ing is a technique in which the hair is loosely gathered at the highest point of the head, usually before sleep. This protects the curl pattern while helping your hair maintain natural volume and also preventing excessive bedhead.
Not everybody wants to wash their hair every single day or have to restyle their curls from the beginning every morning. As you curly girls know, curly hair can be a lot of work. Incorporating this technique when you're going to sleep, can help protect your curls and preserve them for a few days before your next wash day! You'll want to put your hair up in a ponytail with a scrunchy, preferably a silk scrunchy, and you'll put all your hair up on the top of your head in a loose ponytail.
6. You CAN Wear Clip-in Hair Extensions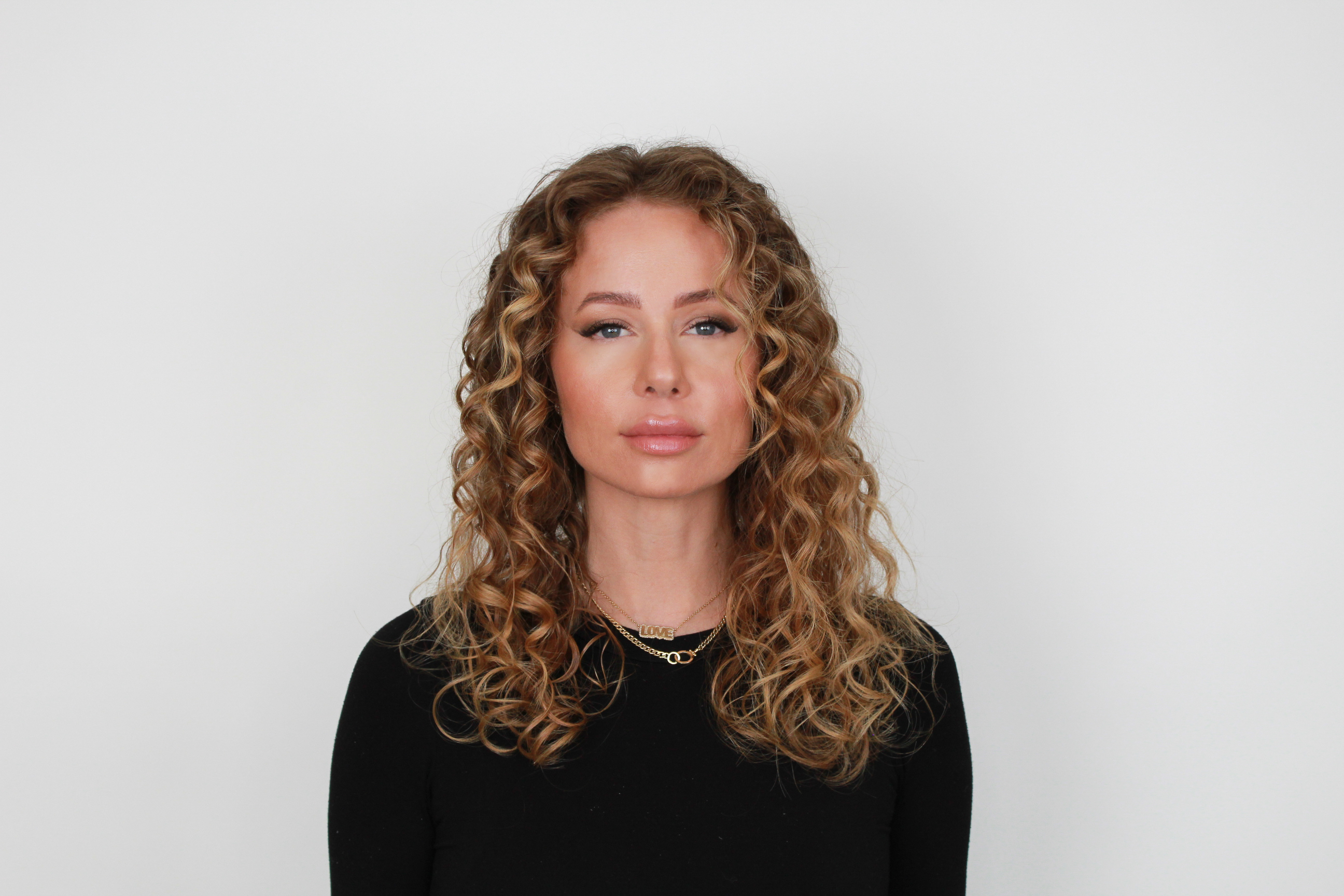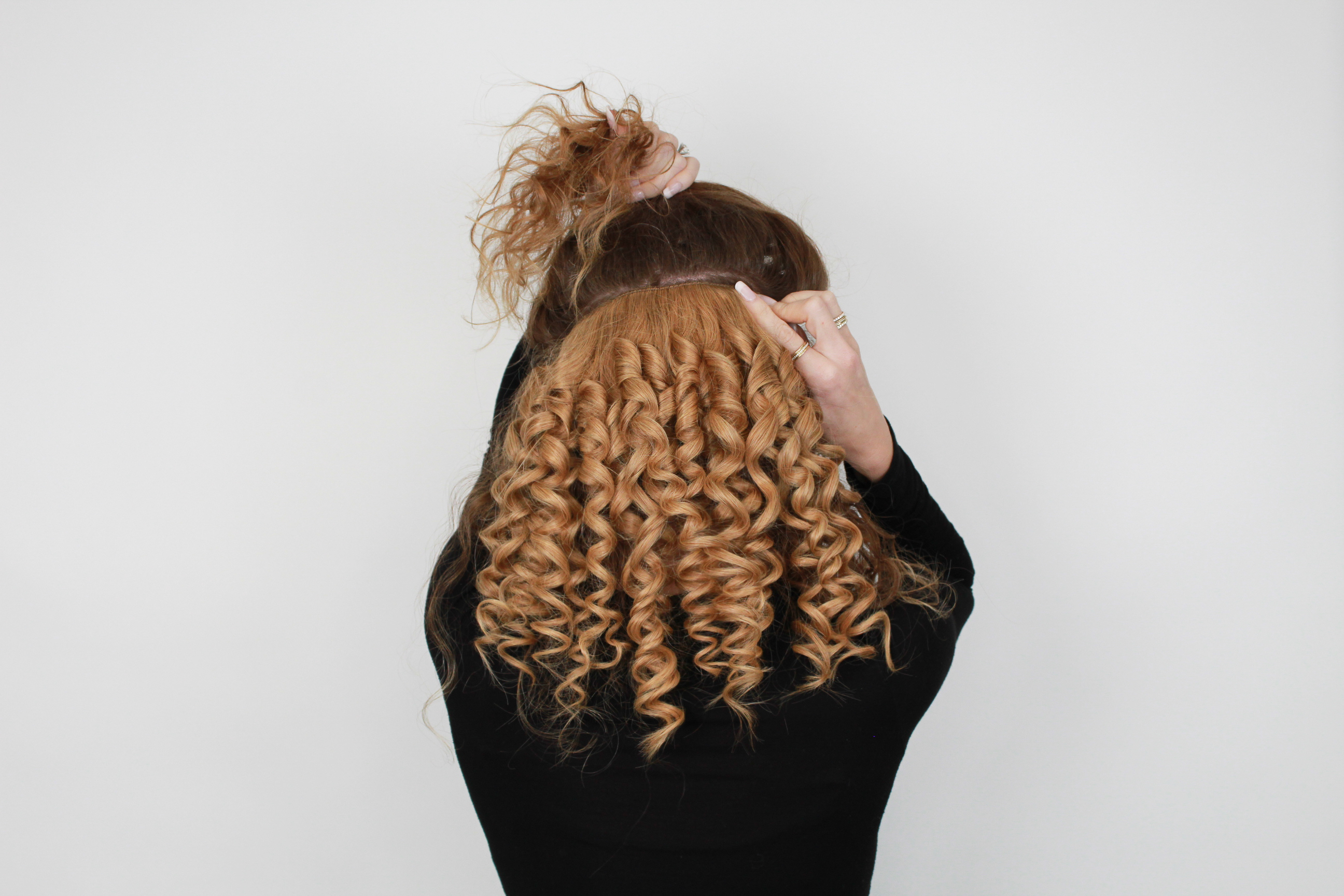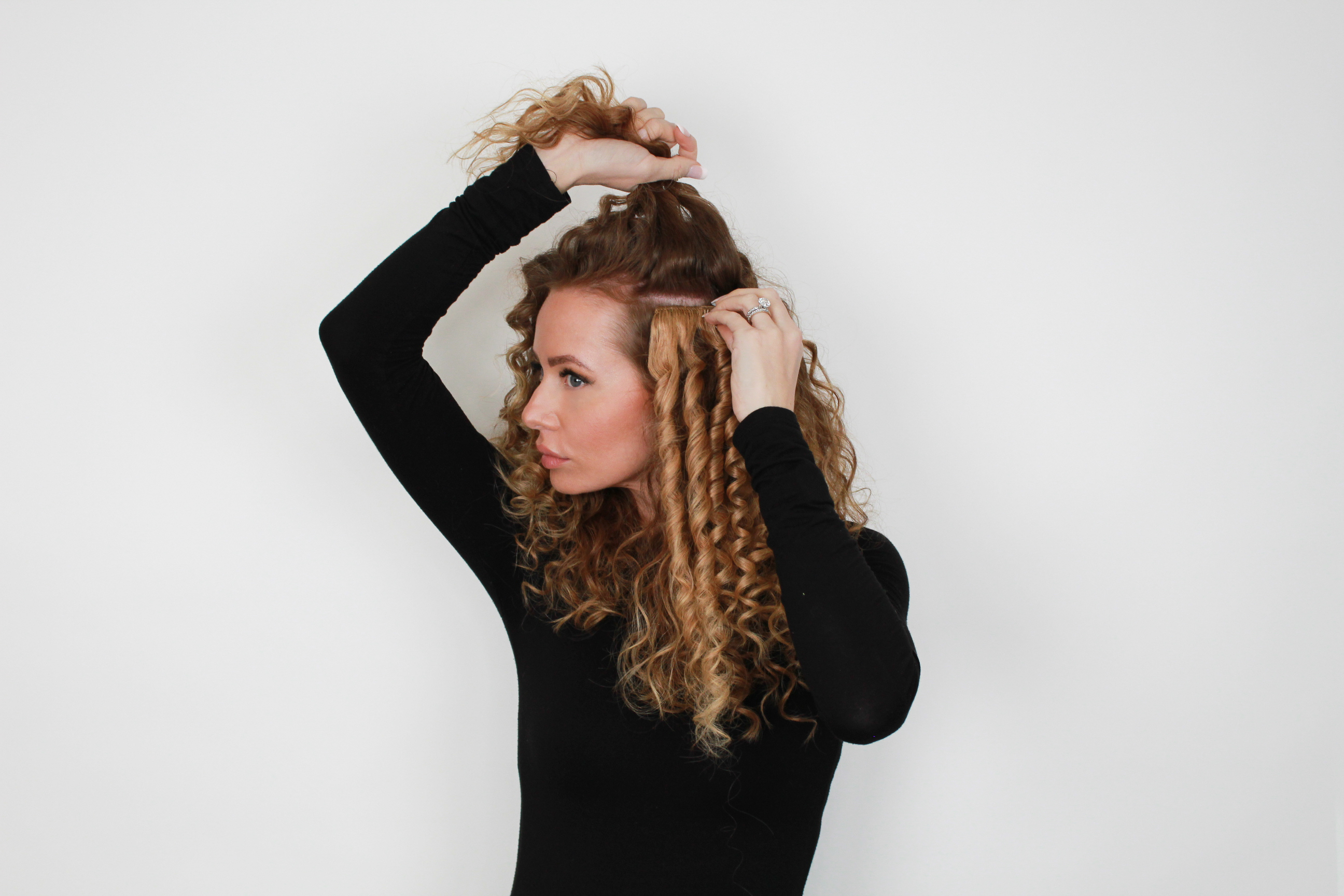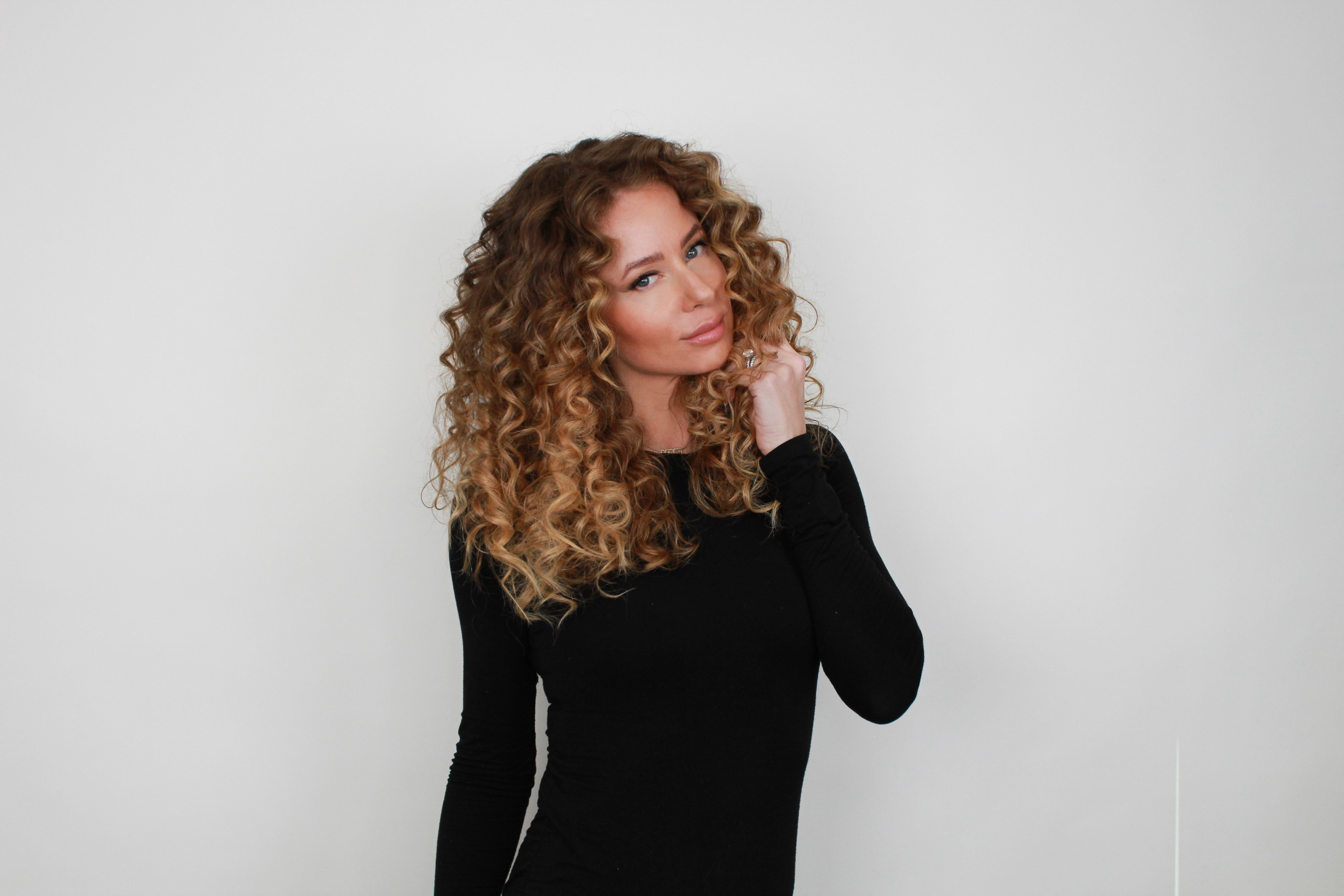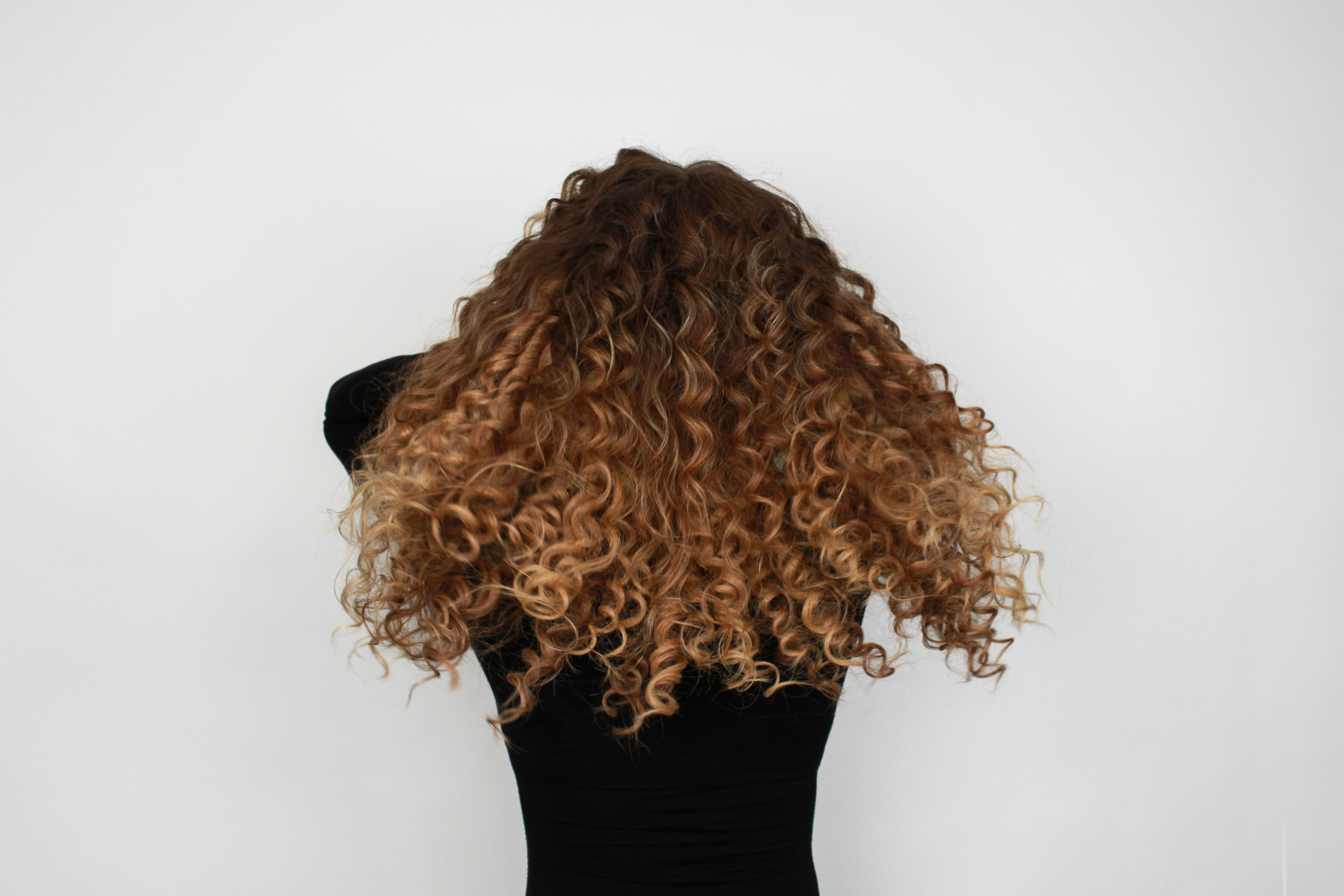 Who said curly girls can't wear extensions?? All you need to do is curl them to mimic your hair's natural texture. Because our hair extensions are made from 100% Indian Remy hair, it has a natural wave texture to the hair. We choose this Indian Remy hair for hair extensions because of its natural texture and its ability to hold curls really well. If you have curly hair, this is a great option for you because maybe you just have a light wave similar to the hair extensions' natural texture, or it can be easily styled to match your natural curl without fear of not blending in.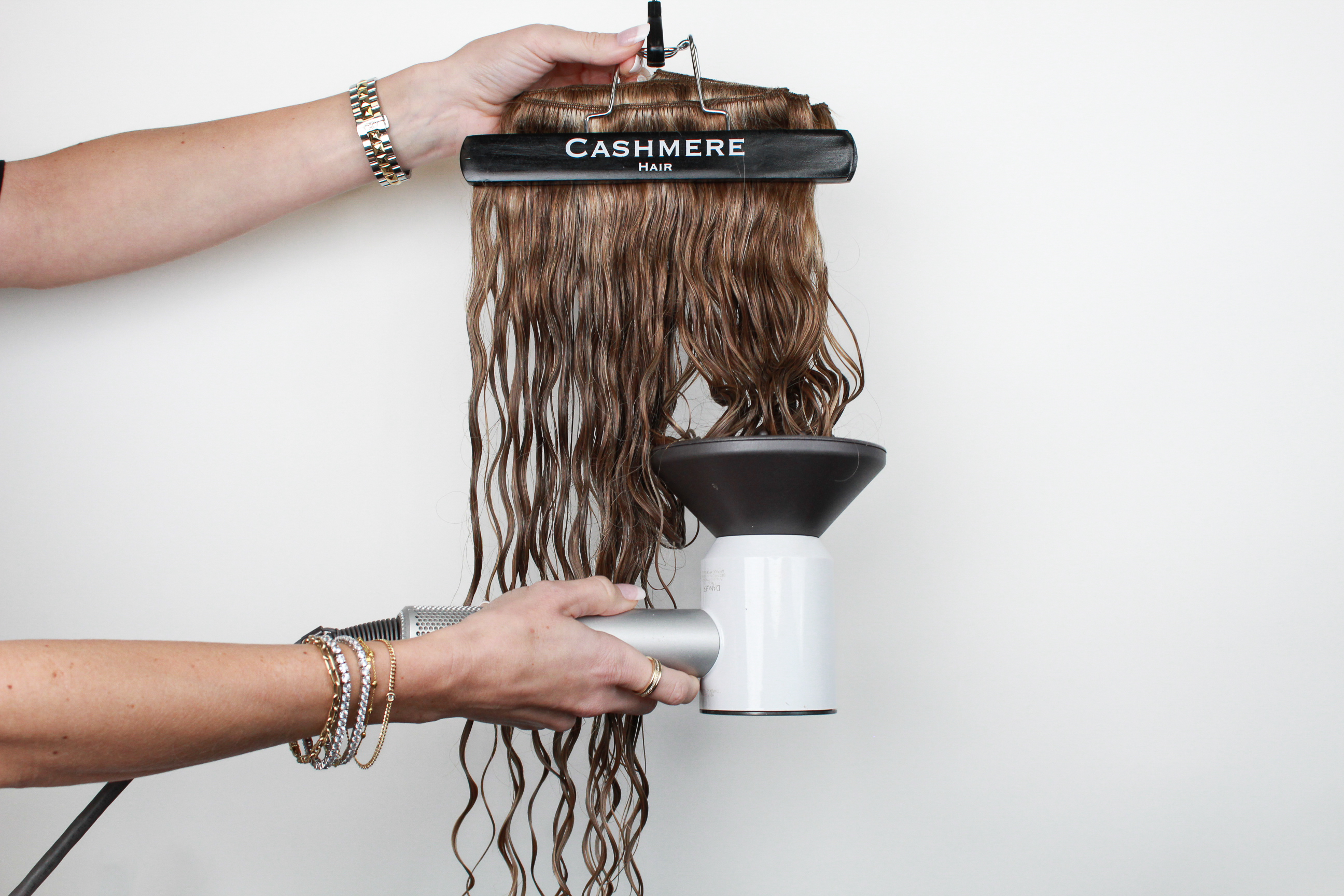 Similar to naturally styling curly hair, you can scrunch the extensions and diffuse the ends of the hair to give it even more of a curly texture. Once you have applied some hair gel to the hair extensions and scrunched them, you can either let the hair air dry overnight or diffuse them. You'll want to kind of cup the hair so that it scrunches up inside of the bowl of the diffuser and let the hair dry holding it in place, try not to move the dryer around so much which can create frizz. Once the hair is fully dry, you can scrunch any crunch left from the hair gel and clip them in.
If your hair is curlier than the hair extensions' natural texture, all you'll need are a few curling irons that match the texture of your hair. You can even alternate between sizes because a lot of times your curly hair naturally has different textures. Maybe it's different on the top than it is underneath.
In the photos featured above the extensions clipped in is actually our 20-inch Volumizer One Piece and the side tracks from a 20-inch Classic set of human hair extensions, so if you are going to be creating curls with your hair extensions, you want to make sure that you get a longer length than you think you need because this really shortens the length of the hair extension. If your hair is a little past shoulder length, curling a 20" set of extensions would be around the same perfect length for your hair. This is still a great way to add so much thickness and volume to your hair and keep the length your hair naturally falls to. If you do want to add even more length to your curls, we'd recommend getting a longer length of clip-in hair extensions.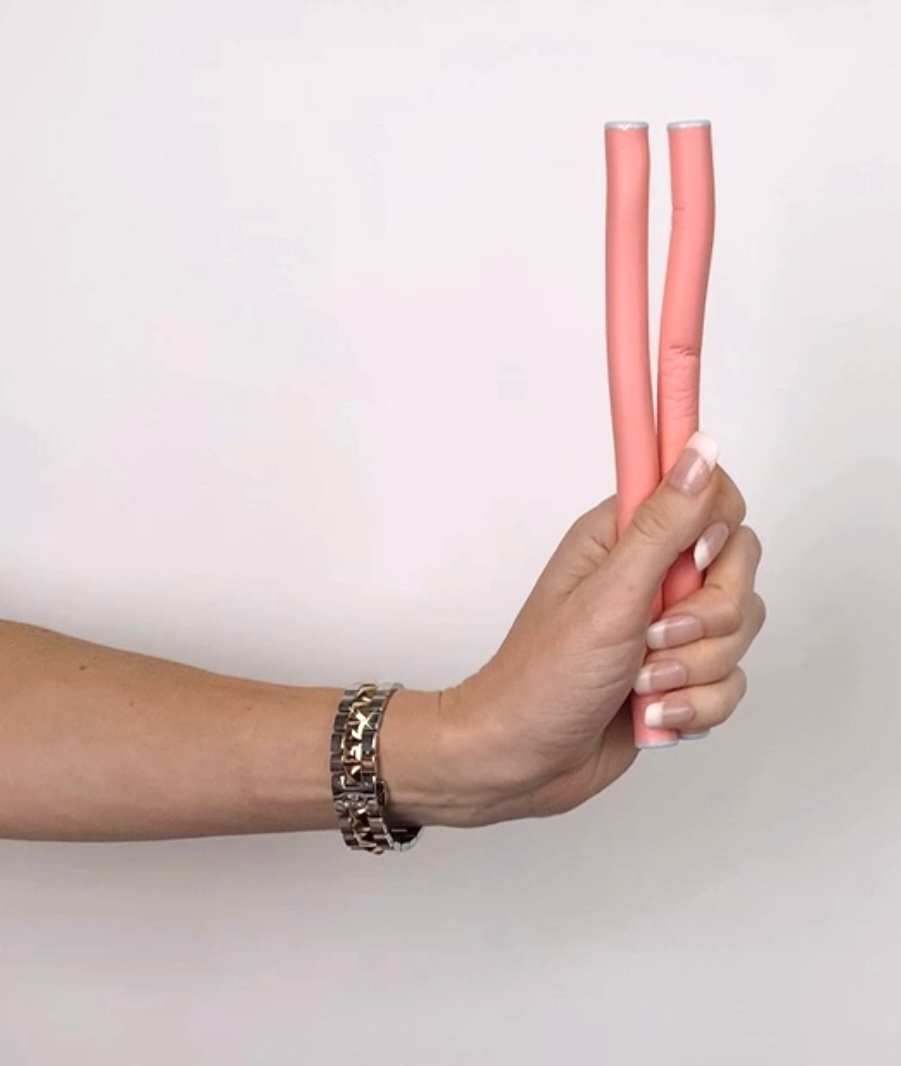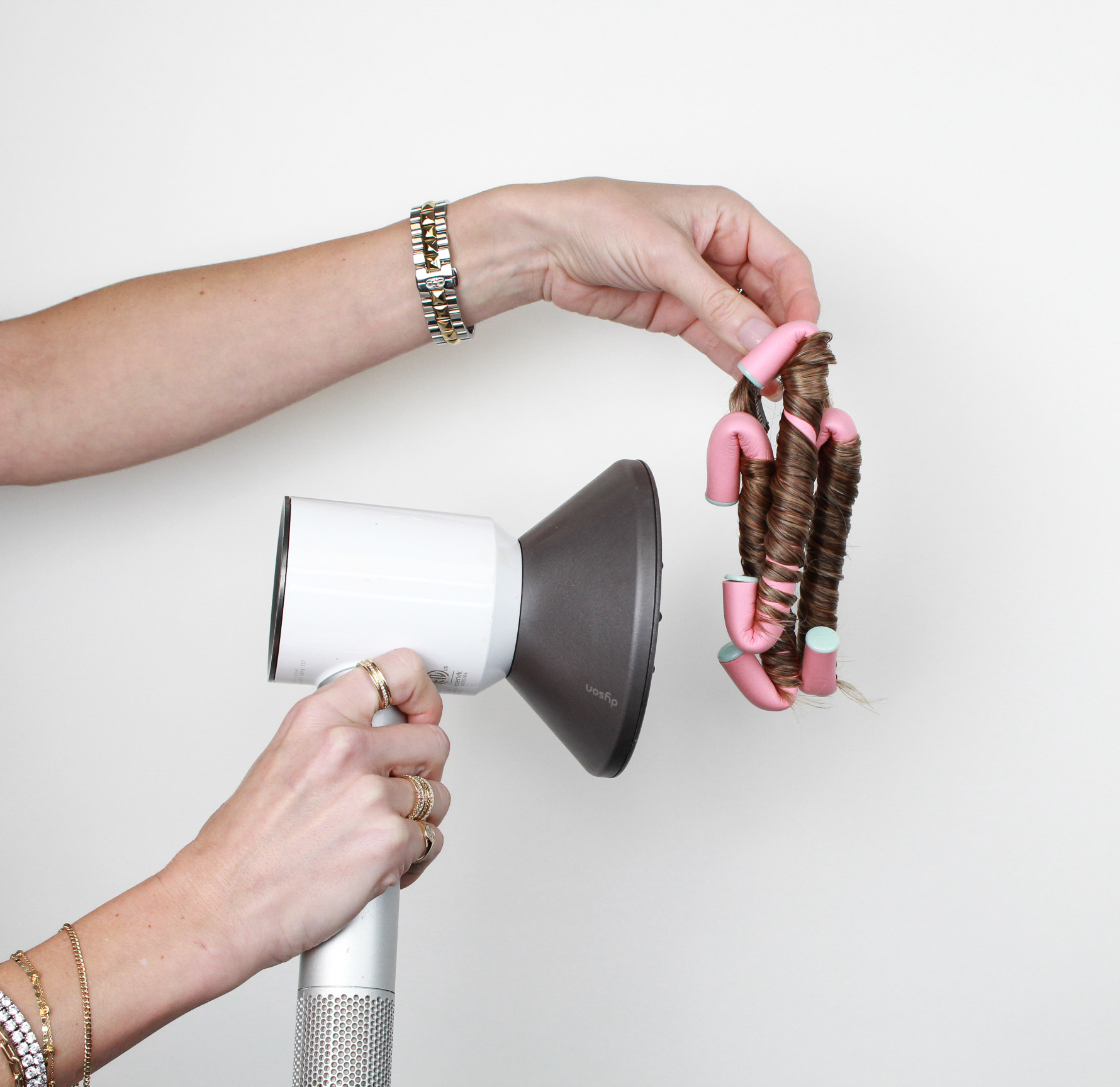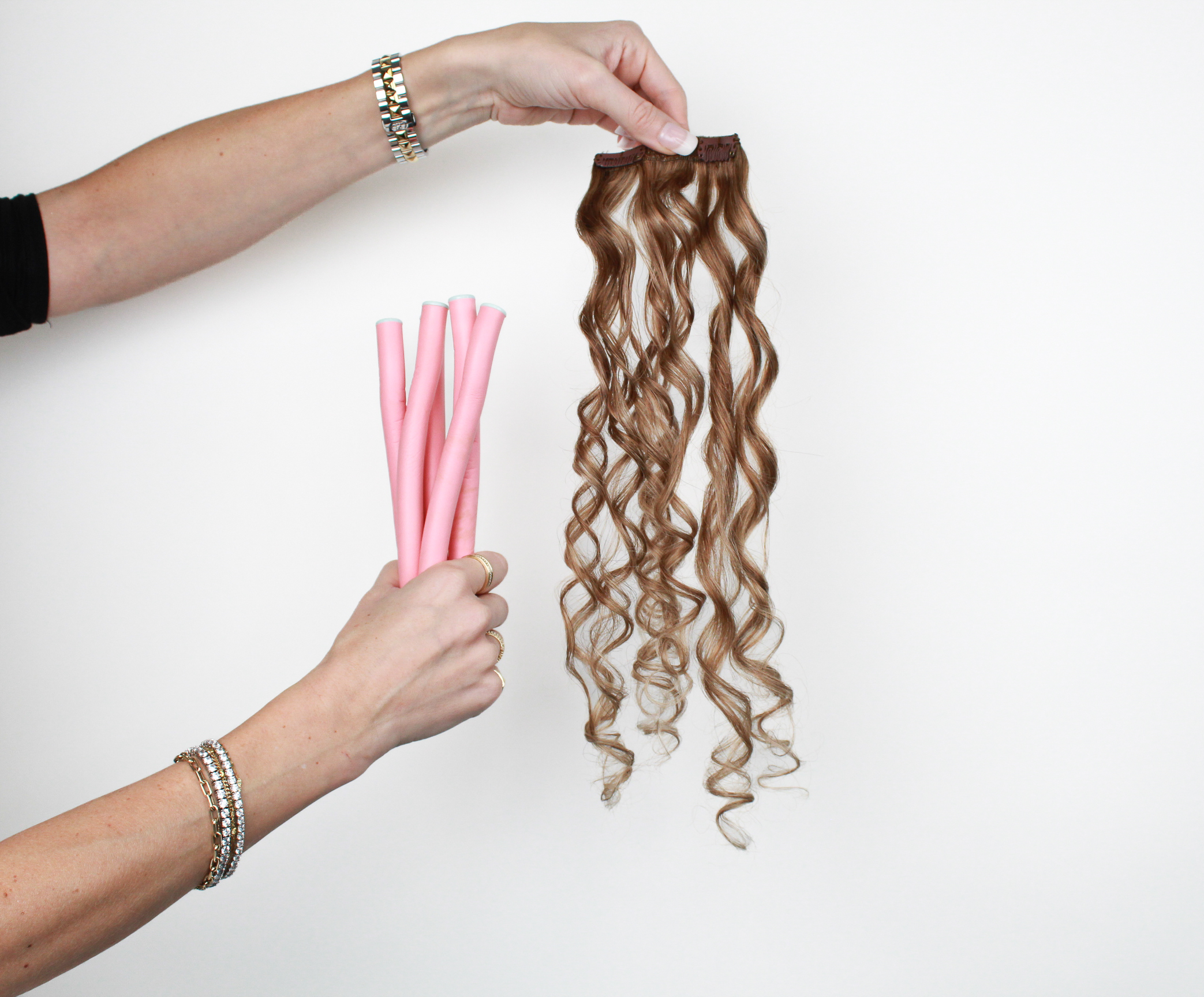 If you don't want to use heat on your hair or natural hair extensions with a curling wand, we highly recommend getting flexible curling rods. They are completely flexible and are a great way to air dry your hair if you prefer not to use heat. We recommend doing this technique while your hair is wet or putting a stronghold gel in your hair first and then wrapping your hair around the rod. Then you just kind of clamp the ends on it to avoid it from unraveling and then you can let it air dry, go do your makeup, whatever you want to do while your hair is air drying. This will give you a really beautiful spiral curl. You can also use these on the clip-in human hair extension if you don't want to use heat on your hair extensions as well.
These curling rods do come in different sizes, so if you want a looser curl or you want a tighter curl, you can do that as well. They're relatively inexpensive, you can get them on Amazon and a lot of local pharmacies and beauty supplies have them as well.
If they haven't dried all the way overnight, you can blast them with a little bit of heat from the hairdryer. We recommend, again, using the diffuser to prevent any frizz. Once they're done, you just remove the rods and you will have beautiful, perfect spirals.
7. Deep Condition Often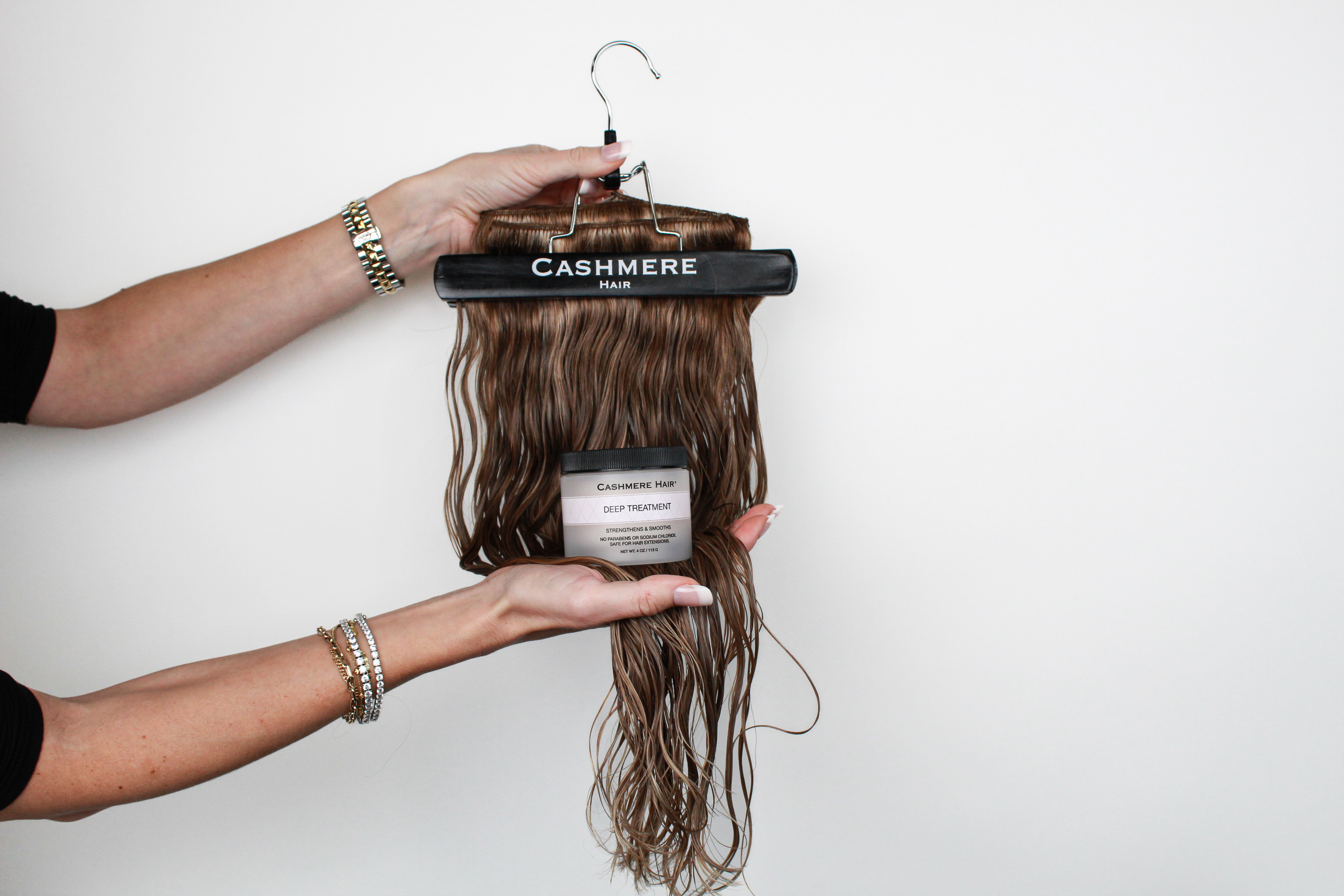 Opt for a one-step hair hydrator, you can use the Cashmere Hair Deep Treatment to hydrate curls and our hair extensions. You can choose one with or without protein, but ours does contain protein. This is great for a lot of curly girls and meets your hair needs.
This deep conditioning treatment, super-charged with proteins and extracts, restores moisture, strengthens, stops frizz, and reduces breakage. Improves the results of Keratin treatments. This treatment is great for all hair types and is safe for use on hair extensions, colored, straightened, and chemically-treated hair.
Apply to clean hair paying special attention to ends. Work the product evenly through the hair with your fingertips. Leave it on for 1 to 2 minutes or it can be placed under a dryer for maximum benefits. Rinse thoroughly in the shower or sink and proceed with styling.
KEY INGREDIENTS:
Vanilla Planifolia Seed Powder & Fruit Extract - Soothing to the scalp and moisturizing
Keratin - Isolated from New Zealand wool, keratin carries special peptides that tell cells to heal and grow, helping to repair, protect and condition hair
Hydrolyzed Soy Protein - Hair conditioning, strengthening, and repairing
Hydrolyzed Wheat Protein - Helps repair and condition hair
Rosa Canina Fruit Extract - Nutrient and scalp conditioner
Chamomilla Recutita (Matricaria) Flower Extract - Scalp conditioning and soothing
Achillea Millefolium (Yarrow) Extract - Helps tone and heal dry or damaged scalp by reducing flaking and restoring suppleness while helping to promote hair growth
Melissa Officinalis (Lemon Balm) Leaf Extract - Helps maintain a healthy scalp by adding extra nutrients and conditioners Cymbopogon Schoenanthus (Lemongrass) Extract - Scalp conditioning and soothing
8. Use Shine Spray to Tame Frizz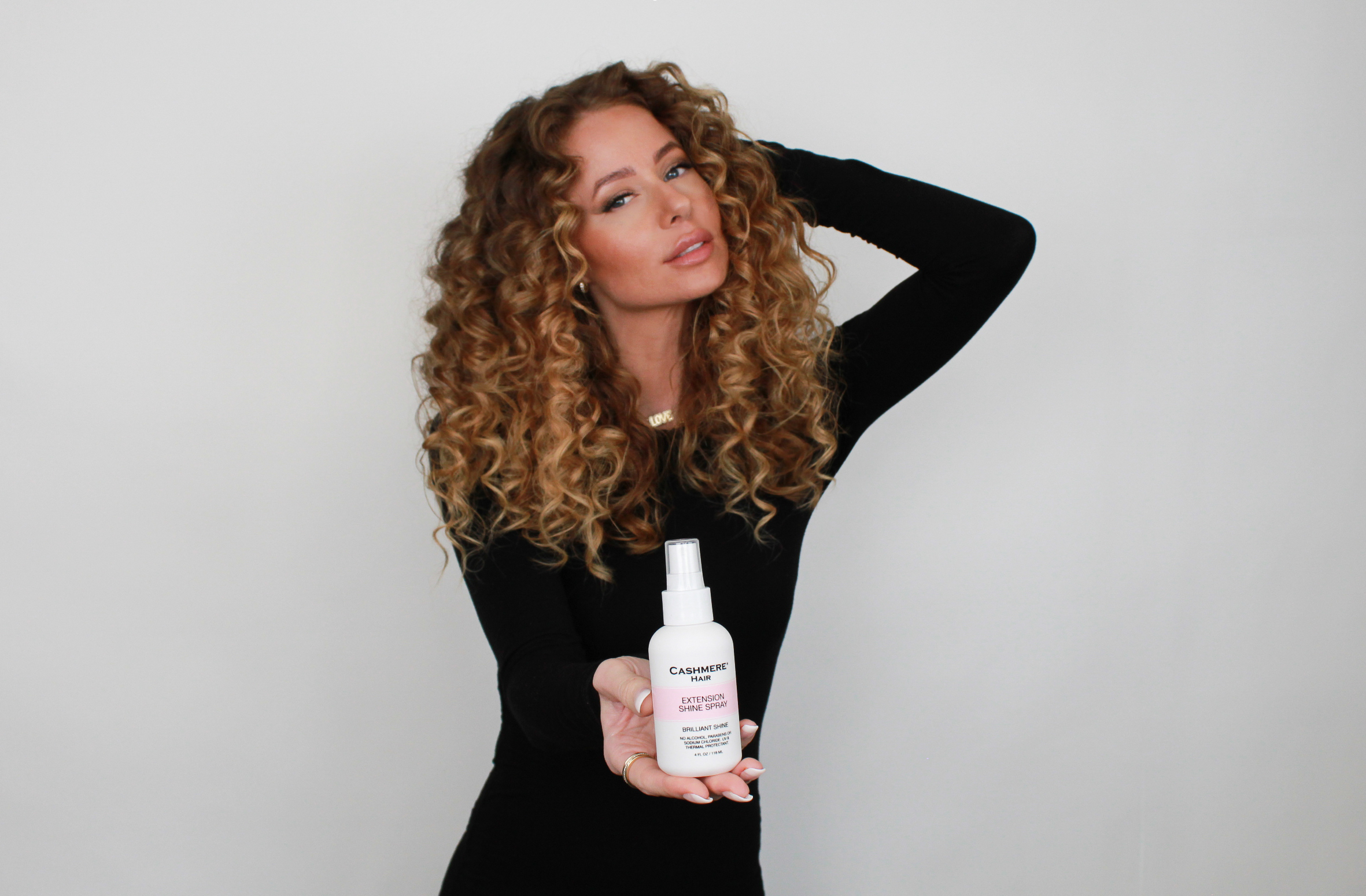 Our Cashmere Hair Extension Shine Spray is amazing and we highly recommend that you have one in your beauty drawer if you don't have it already! It is great for straight hair as well as curly hair. It adds shine and moisture, and it also works as a heat protectant and leave-in conditioner. It works wonders for in-between uses of your hair extensions as well. We recommend doing the light spritz on your hair extensions, brushing through with the Cashmere hairbrush to detangle, just to kind of give your hair extensions a nice refresh and make them look smooth and soft.
Over time, with everyday wear, pollutants, heat, and styling products your extensions might eventually lack the luster they once had. With just a light mist, use this Extension Shine Spray to protect your luxurious locks, smooth over the damage, and prolong the life of your extensions. It's great to use on extensions before heat-styling, and as a finishing touch before clipping them in.
To use: Spray 1 pump in the palm of your hand and rub hands together, then run hands over the hair extensions, starting with the ends to evenly distribute. Another method is to mist 1-2 pumps 7-12 inches away from your hair to spray evenly. Use the Cashmere Hair Brush or your fingers to evenly distribute the product.
If you want really big, gorgeous curls, Cashmere hair extensions are a great option. You can get so much beautiful volume with the best clip-in hair extensions by Cashmere Hair.