All About The Volumizer One Piece Clip-In Extension by Cashmere Hair
The Design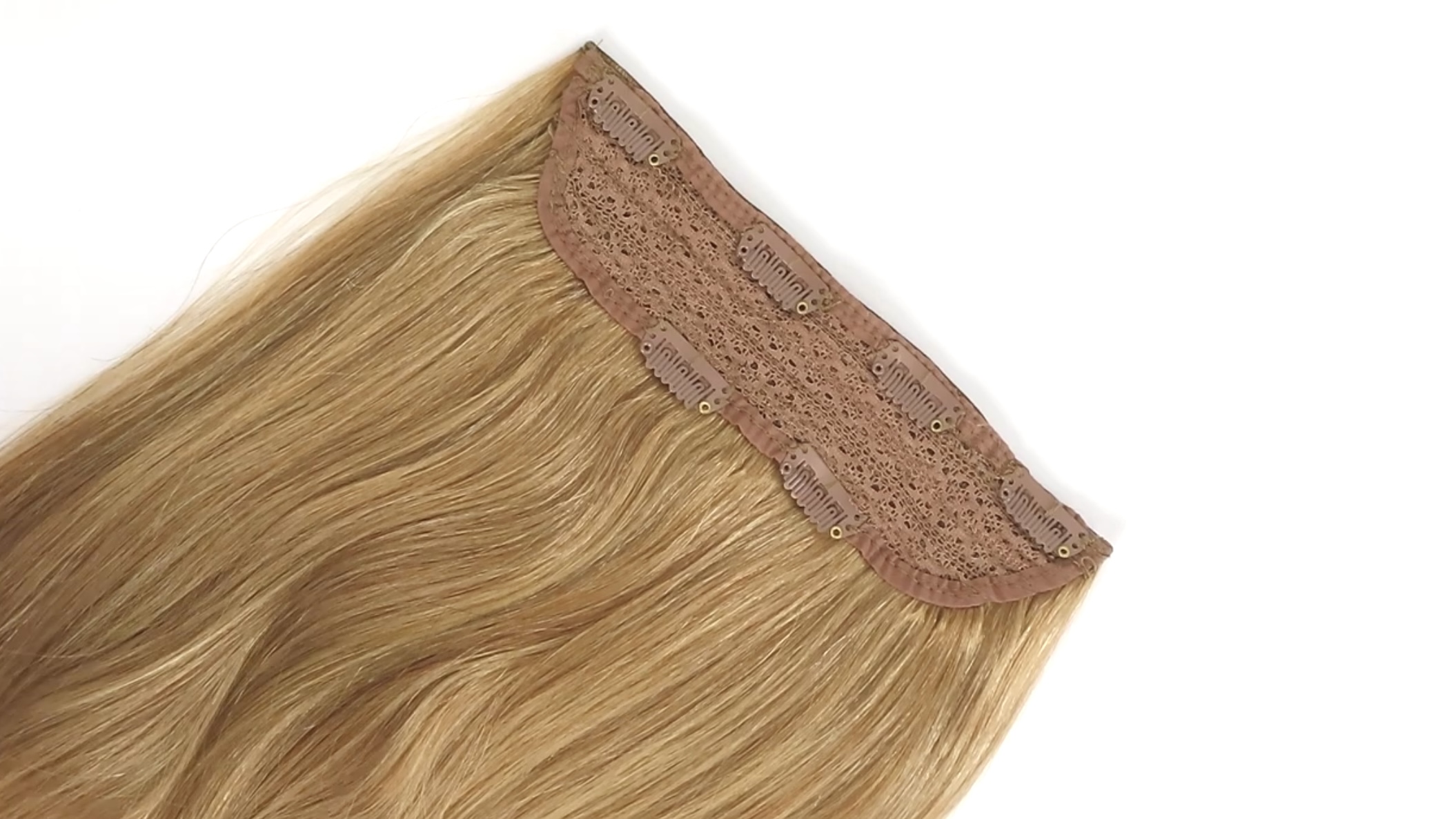 If you are looking for a fast and easy way to add volume to your hair, the Cashmere Hair Volumizer One Piece clip in hair extension is it. This is an amazing hair extension piece that makes it super fast and easy for you to get a lot of volume in your hair. Now, although this is similar to a halo hair extension design, we think it is so much better, mostly because it doesn't have that annoying string that attaches over the crown of your head. It's completely concealed by your own hair, so there's nothing that's going to give it away that you're wearing hair extensions.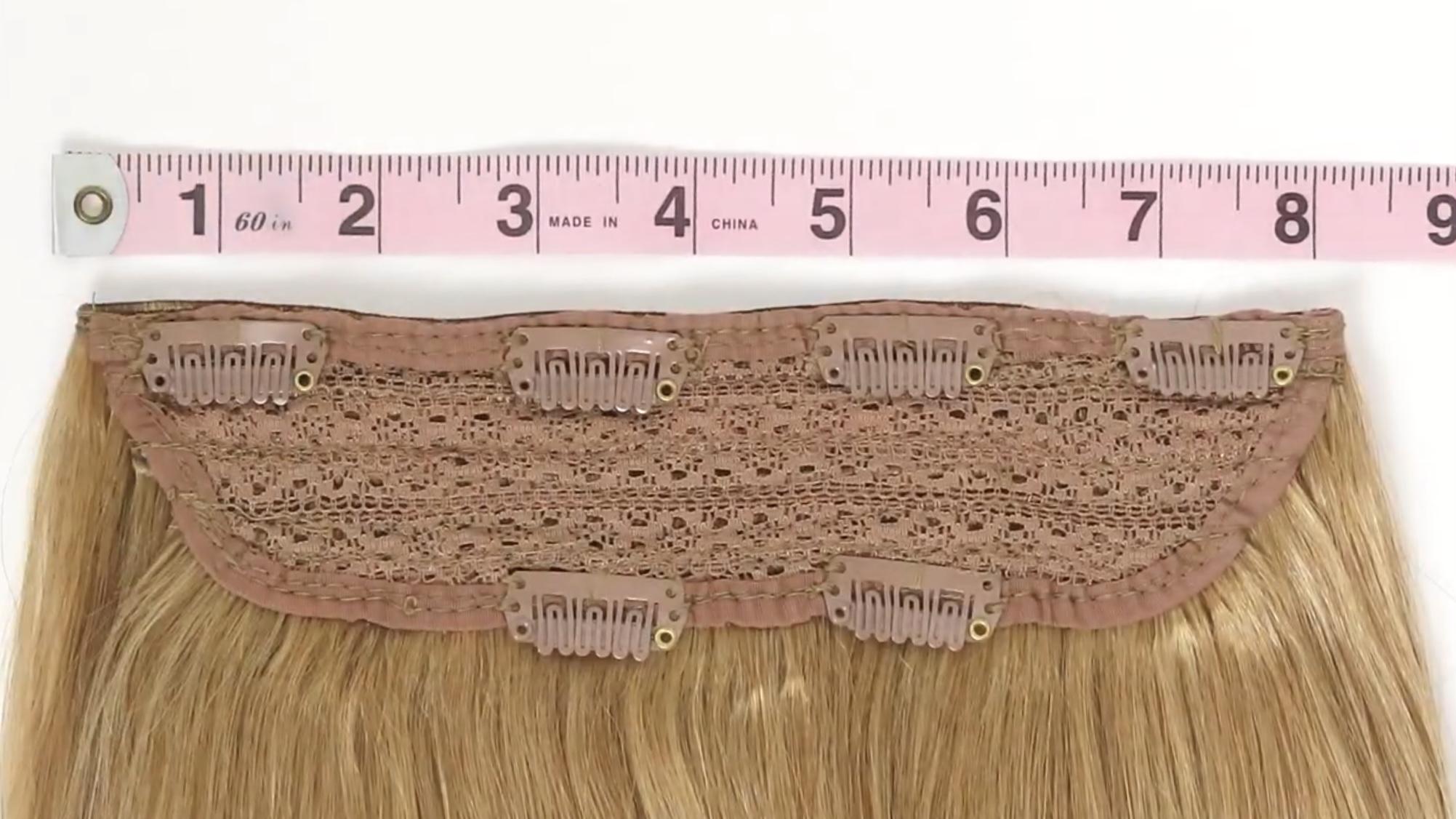 This weft is eight inches wide and it has six clips on the extension. When you're clipping it in, you'll want to clip in the two lower hair extension clips first that attach to your hair, and then go through and clip in the top clips to your hair, just under the part you've sectioned off.
Having the clips on the bottom really helps to distribute the weight of this piece evenly. It's a lot of 100% Remy Human hair on one track, which makes it super easy to clip in, but it also can be a little bit heavy for some of our thinner haired ladies. Adding these extra clips really helps to distribute that weight a lot more evenly and take some of the pressure off of the top row of clips.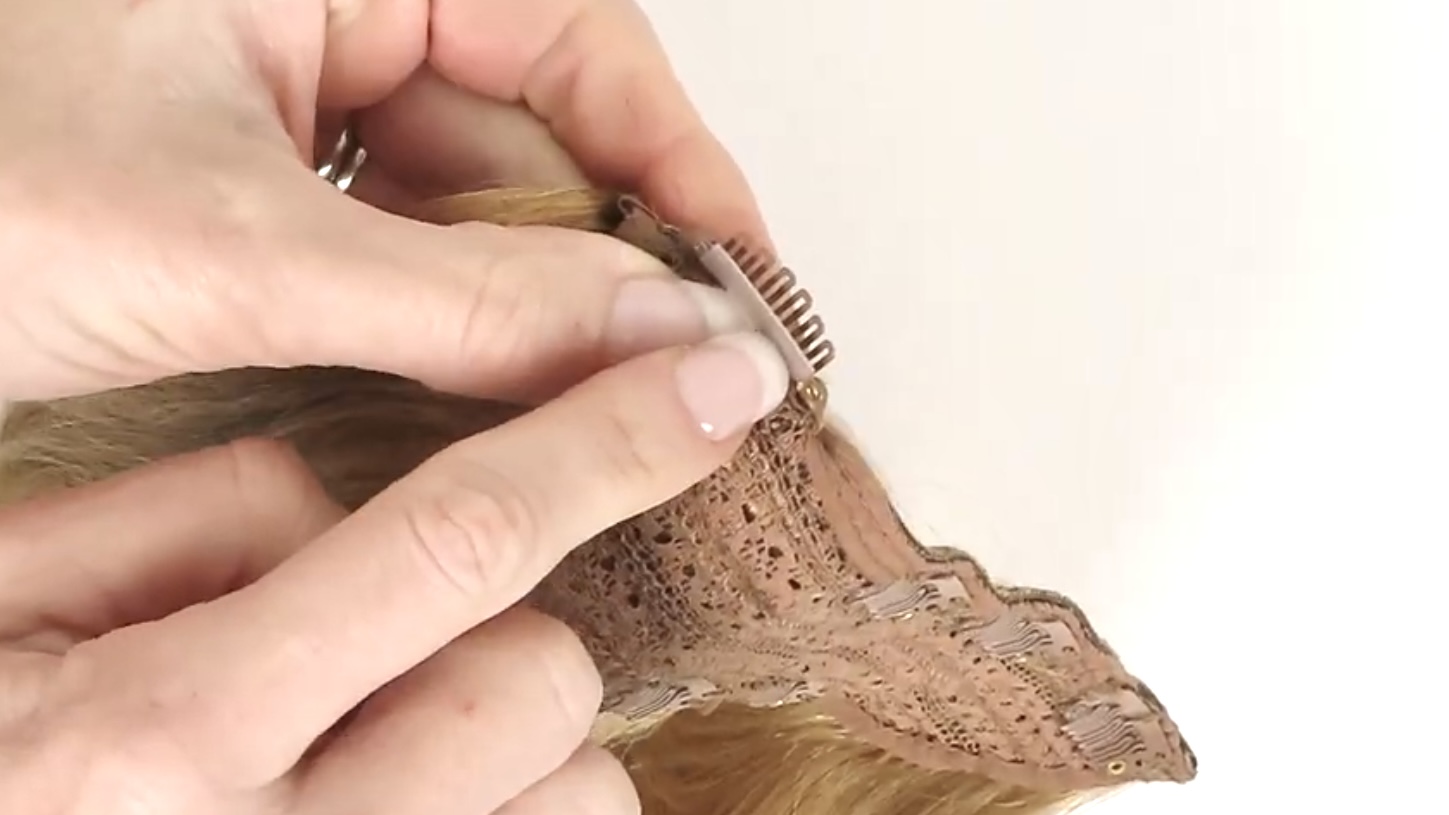 Our Volumizer One Piece is also made with a breathable lace, which adds to the comfort aspect of this extension piece. The clips are really easy to snap open and closed, and they also include our signature silicone underneath This allows it to only have to grip onto a small amount of hair in order for it to really stay secure. You won't have to tease your hair before applying these extensions.
Who is the Volumizer One Piece for?
This Volumizer is an amazing piece if you want to just clip in your hair and go. It's only one track that you have to clip in and was strategically designed for people that have slightly longer hair but just don't have that volume and fullness they want, especially in the back.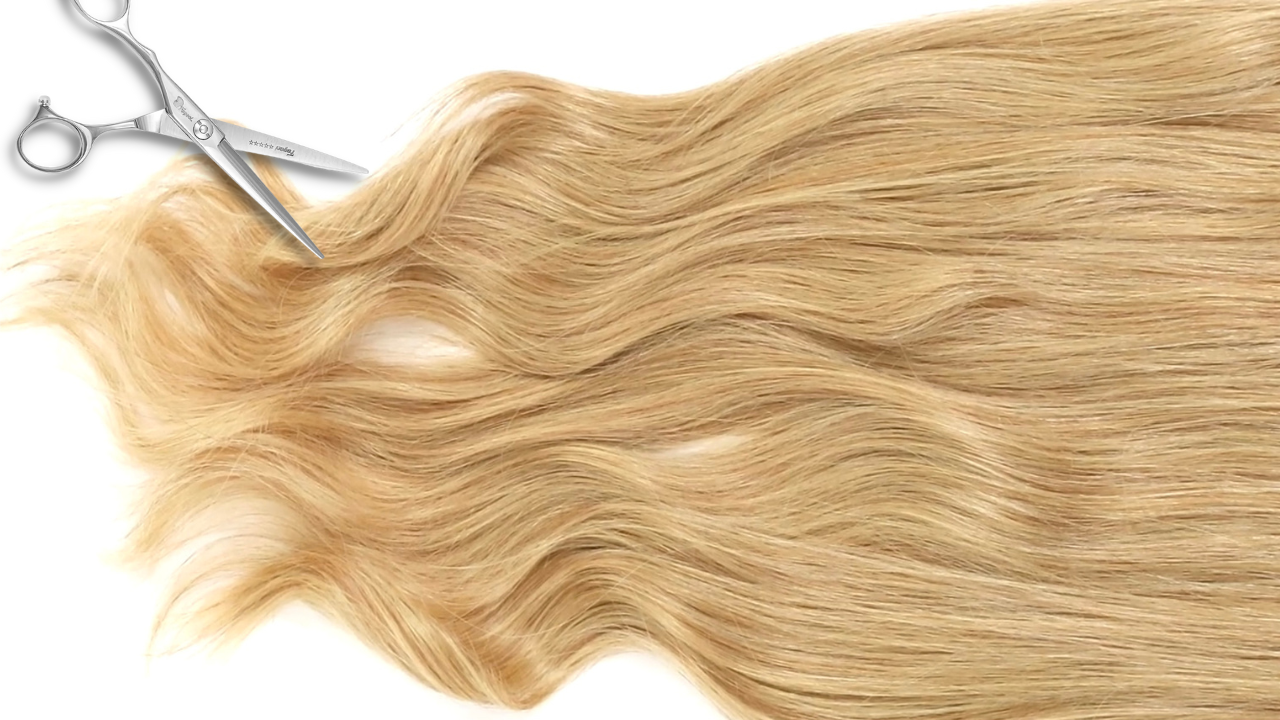 A great way to ensure a seamless blend with the Volumizer One Piece is to give it some layers. You can take the outer edge of the hair and cut it just slightly shorter than the total length so you leave the longest length of the hair in the middle. You're going to be giving it like a U or V shape. This really helps it to blend even more with shorter hair, especially as it starts to wrap around to the front. We highly recommend doing this to our human hair extensions especially if you do naturally have layers. You can take it to your hair stylist and have them custom cut it for you, or if you feel confident enough, you can totally do it yourself by just giving your clip in hair extensions some layers on the sides.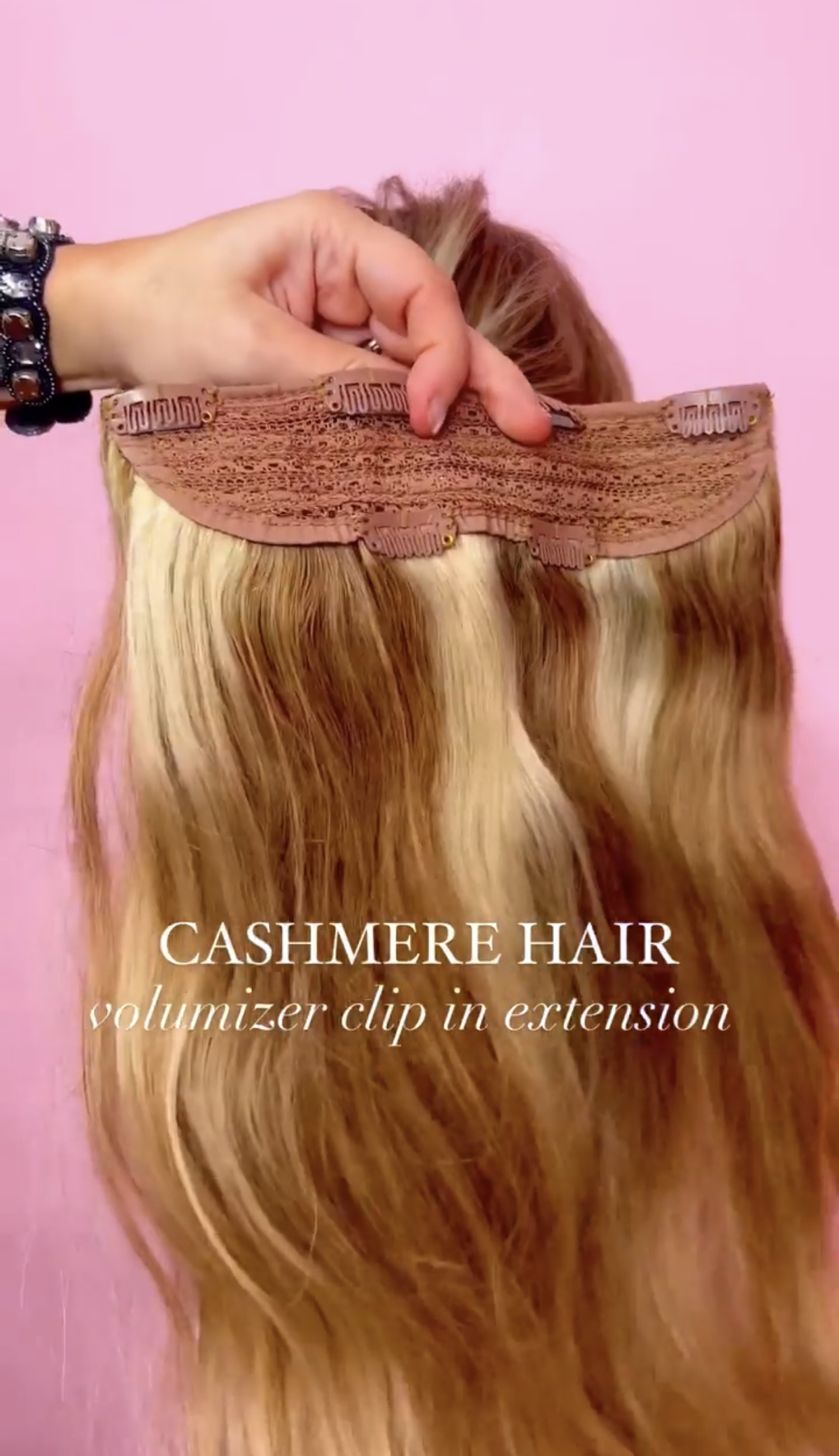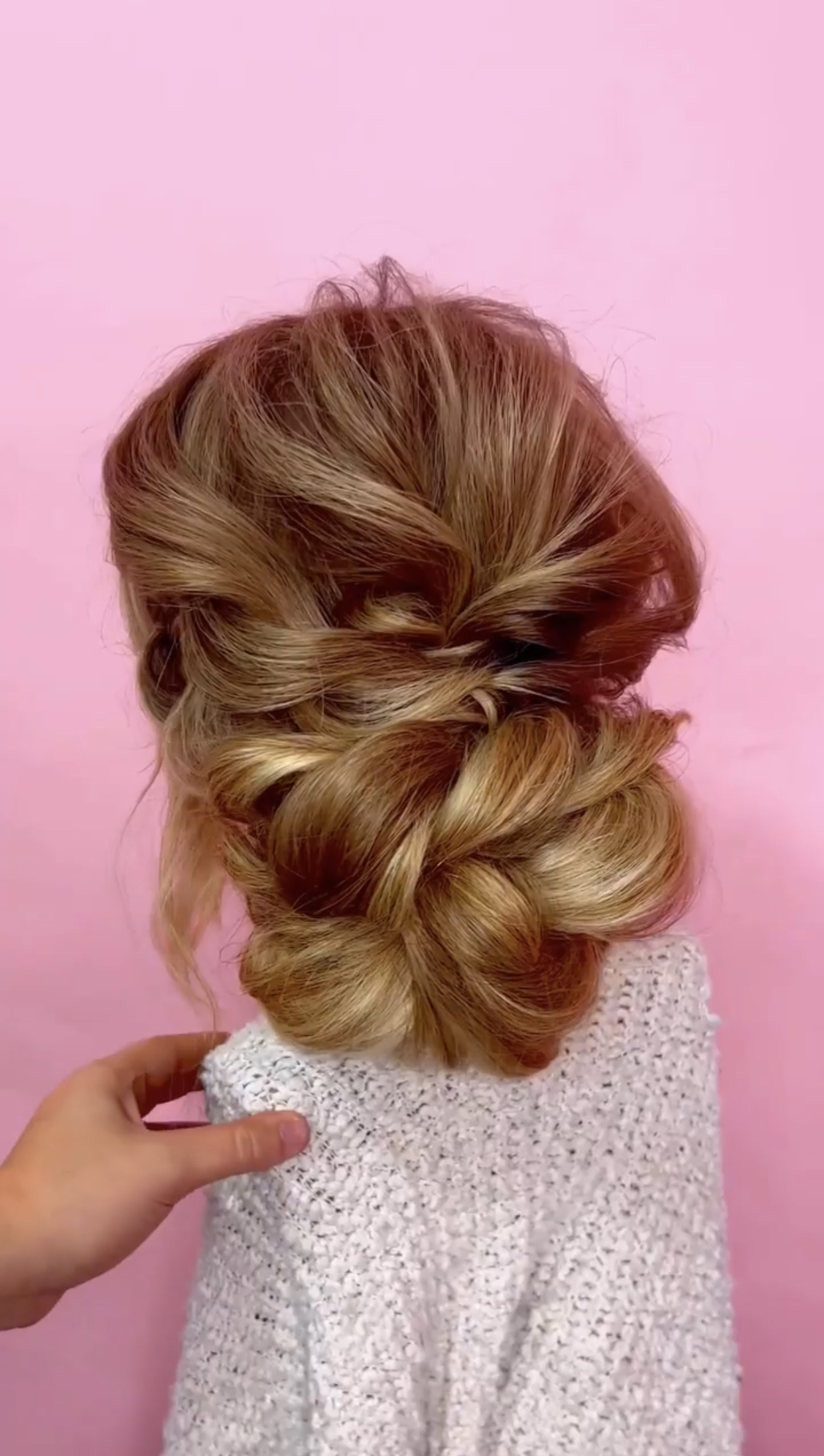 Our One Piece is also absolutely amazing for brides. It is so easy to just bring the One Piece on a bridal hair trial or on your actual wedding day and just clip this in to add so much length and volume to your bridal look. Because there's so much natural human hair in this One Piece, it makes it really easy for hairstylists to clip it in, style and get you ready in such a short amount of time. It gives a ton of fullness to those bridal hairstyles so you can really achieve those gorgeous Pinterest worthy bridal hair looks in a snap. The Volumizer is also a great piece that you can wear if you like to wear your hair in a low ponytail or a low bun. It is a great way to instantly add a lot of fullness and length to your ponytail or bun. It's super easy to conceal and it's comfortable to wear even on a daily basis.
Can I still use the One Piece if my hair has lots of dimension?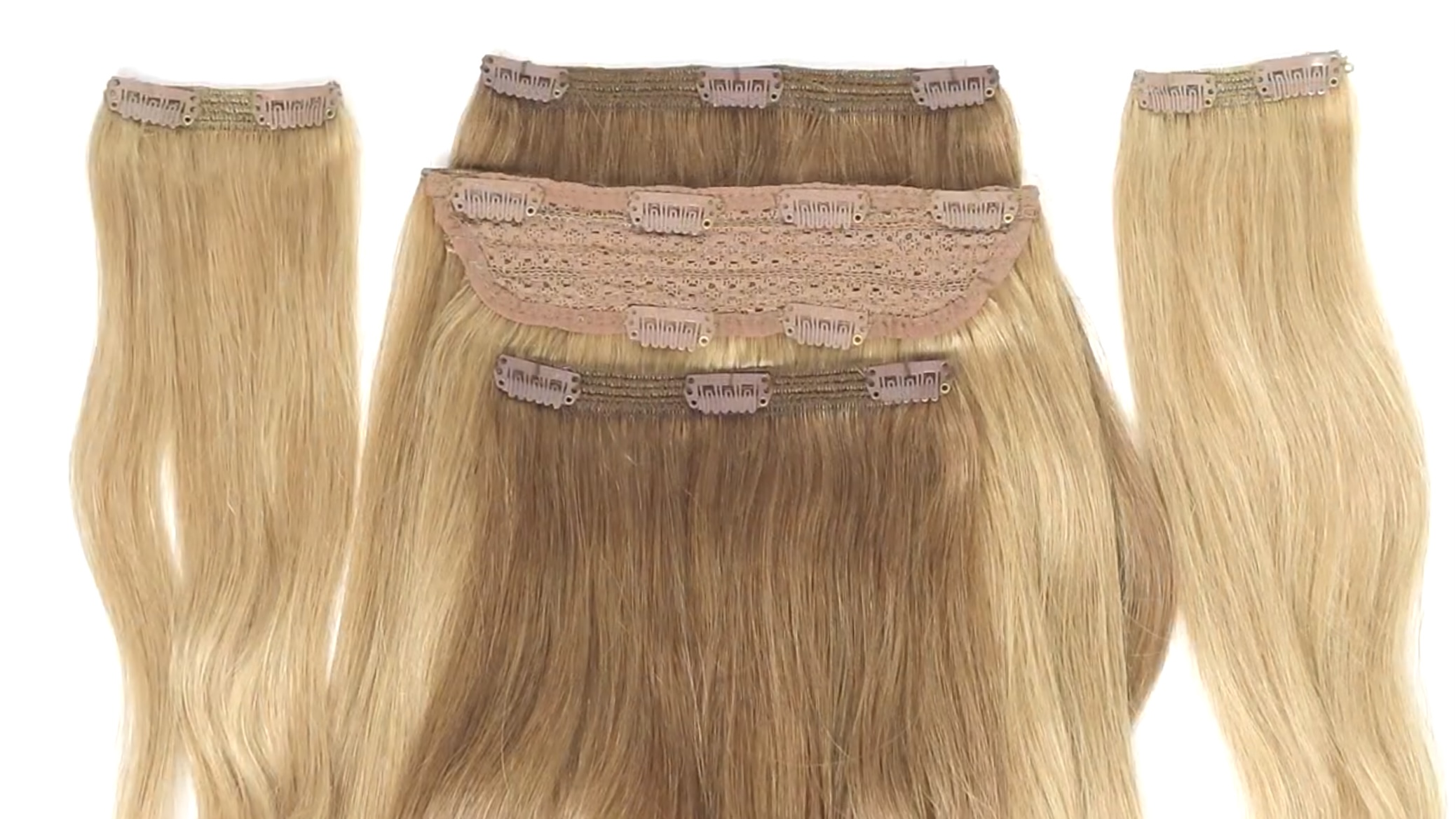 Naturally, the hair underneath tends to be a darker shade than the rest of your hair. Especially if you have highlights and lowlights, your hair will have lots of dimension that sometimes one color of extensions just isn't enough and won't blend as easily. Well this hack will absolutely blow your mind. You will first want to get a Volumizer One Piece in either your darker or lighter shades of your hair. Then, you'll want to take two tracks that come with our classic clip in extensions in a shade that matches more with the front highlighted pieces of your hair and a darker color that matches the darker shade underneath your hair or your lowlights. You can wear these side pieces that come with our full sets or you could also try some of our fill-in extensions if we have them in your shade. Then, take an eight inch track from a classic set in a darker color and just go right ahead and clip it directly onto the One Piece to the hair below the weft. This adds a lot of that darker color that you need to help these extensions blend with your darker hair underneath. We really encourage you to get a few sets that match your hair in different places to ensure an effortless blend.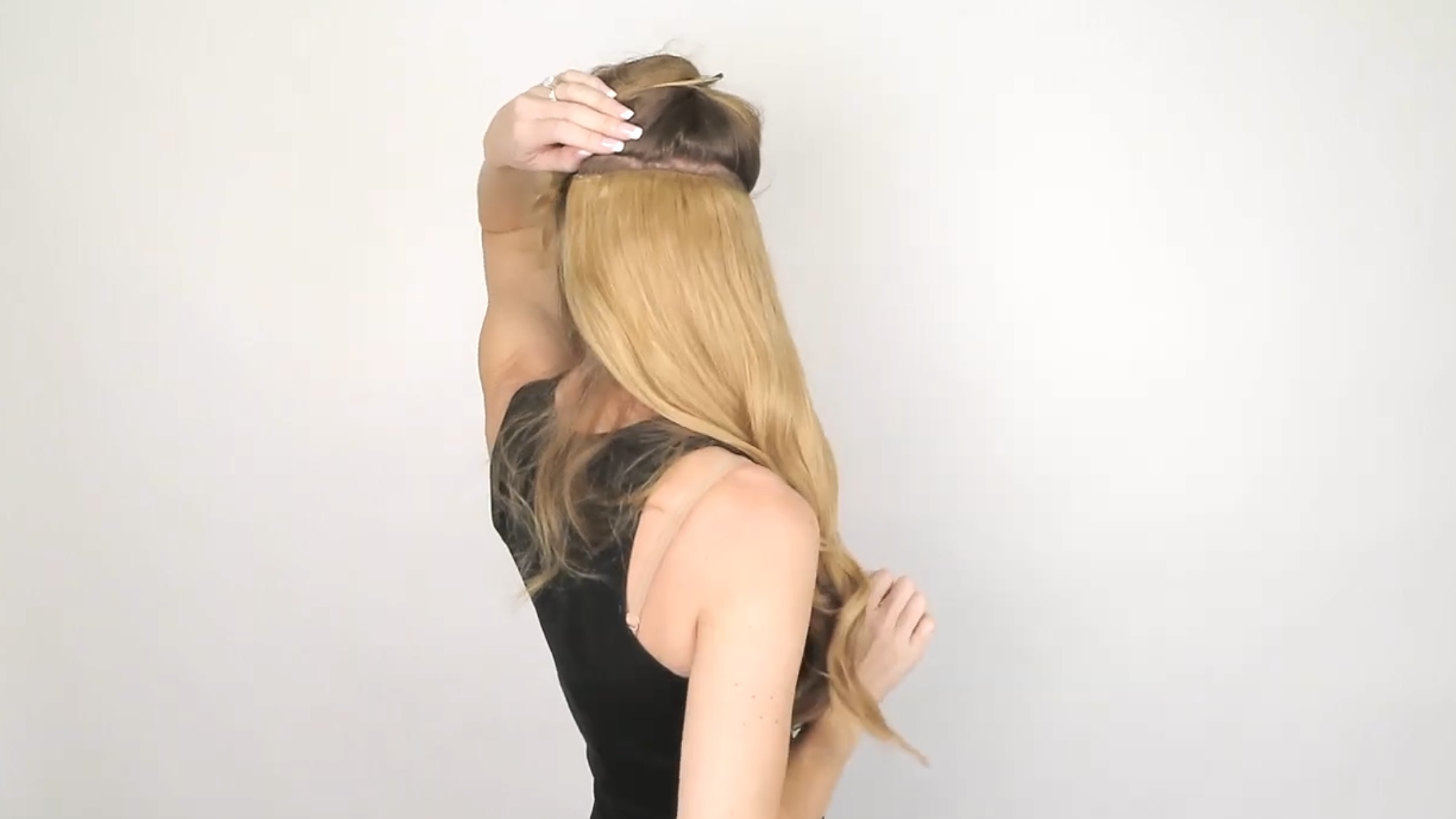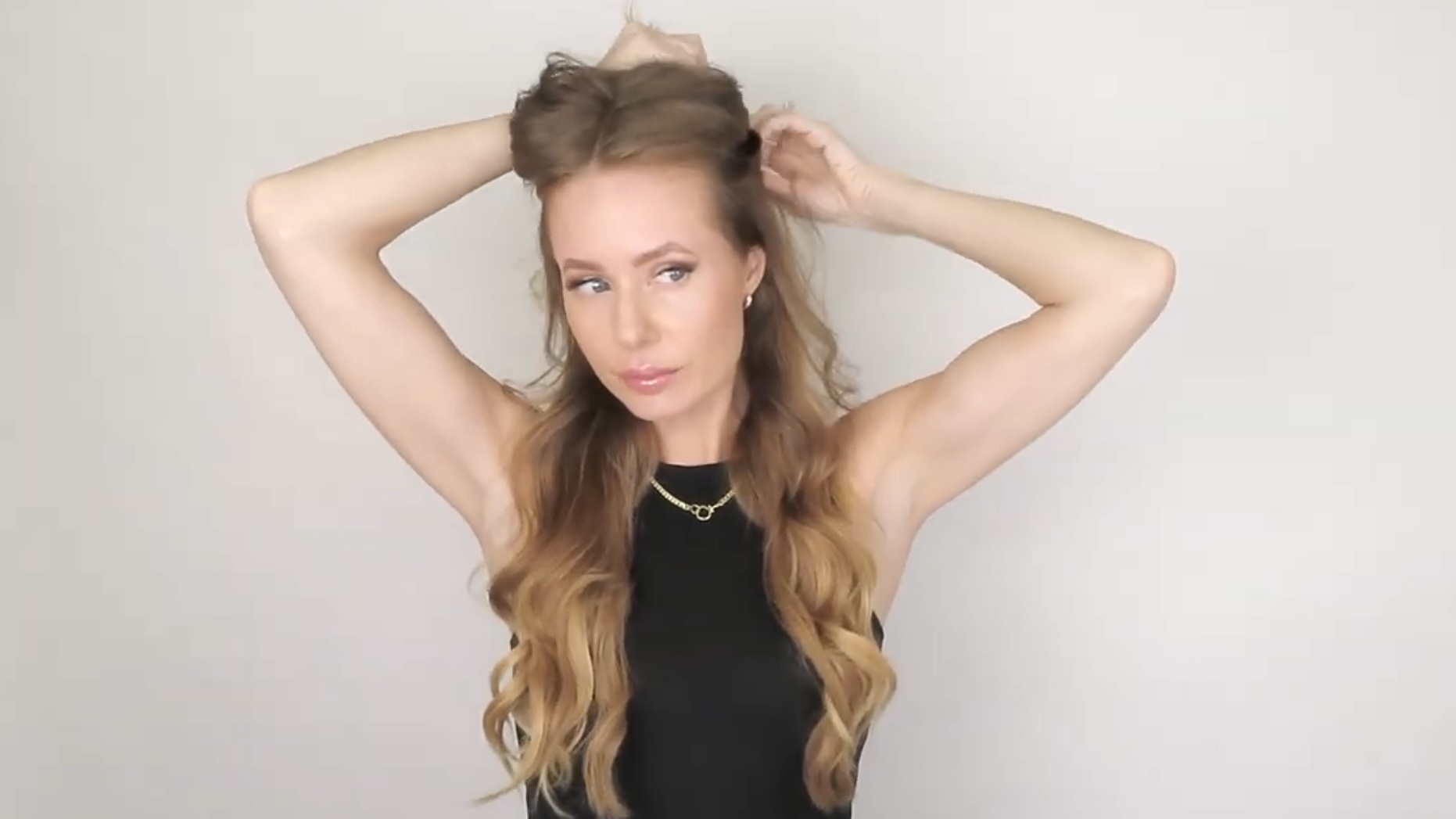 For example, in the video featured above, her highlights tend to look really similar to our Strawberry Blonde shade. Then, her natural shade takes on this kind of the reddish tone of our Hollywood Bronze Brunette shade. As you can see, she really needs more than one shade of hair extension in her hair to blend seamlessly. So what she will want to do is take that One Piece in the lighter Strawberry Blonde shade with the Hollywood Bronzed Brunette track clipped underneath and clip it to the section below her ears. Then she'll take one more track of the Hollywood Bronzed Brunette and clip that to another section just above where she placed the One Piece.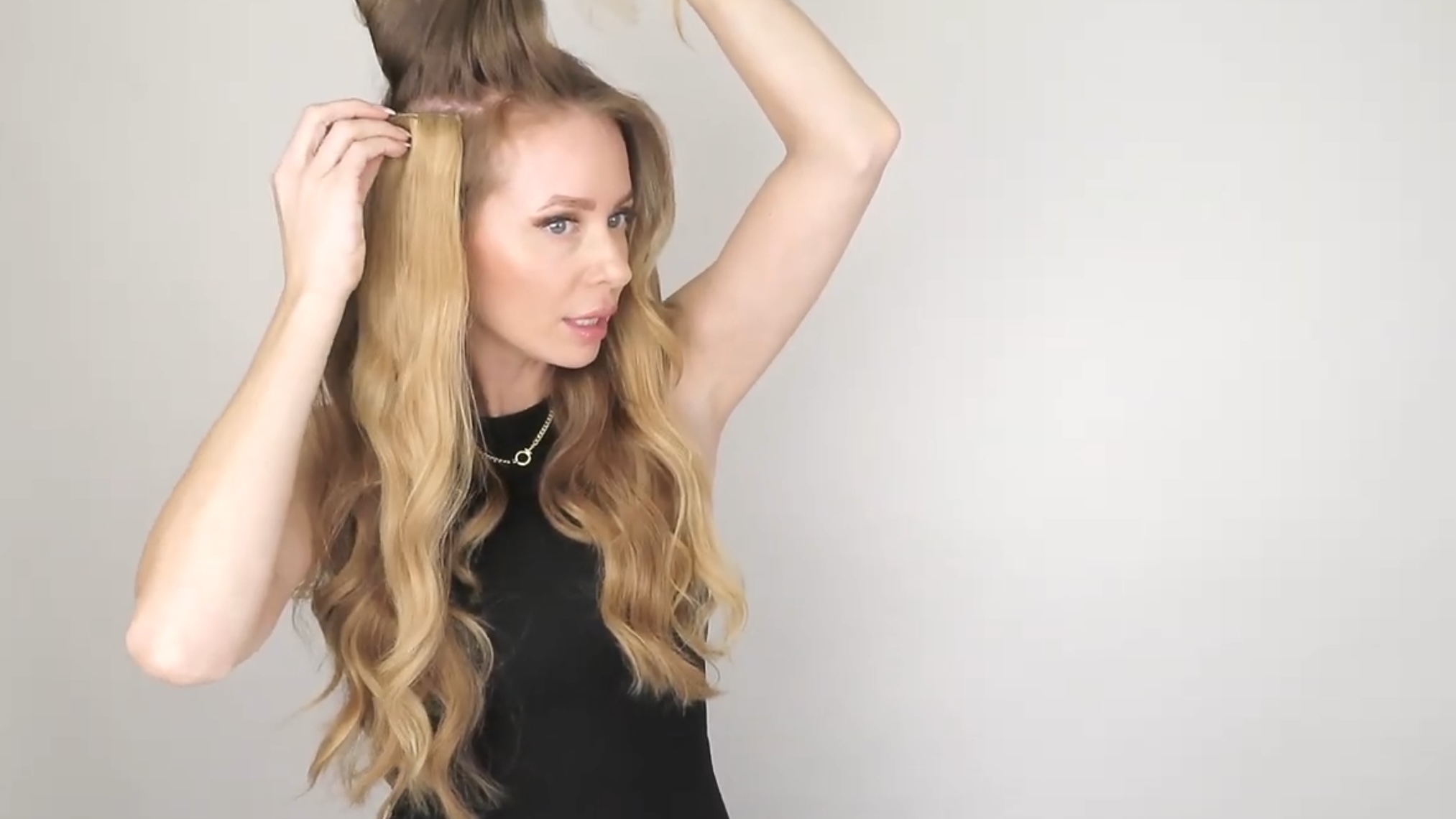 She can then take two of the side pieces from the Strawberry Blonde set and clip those to the sides to add more of a face framing highlight. Wearing these all together really gives all of the volume and length that everyone wants, as well as matching to her color just perfectly.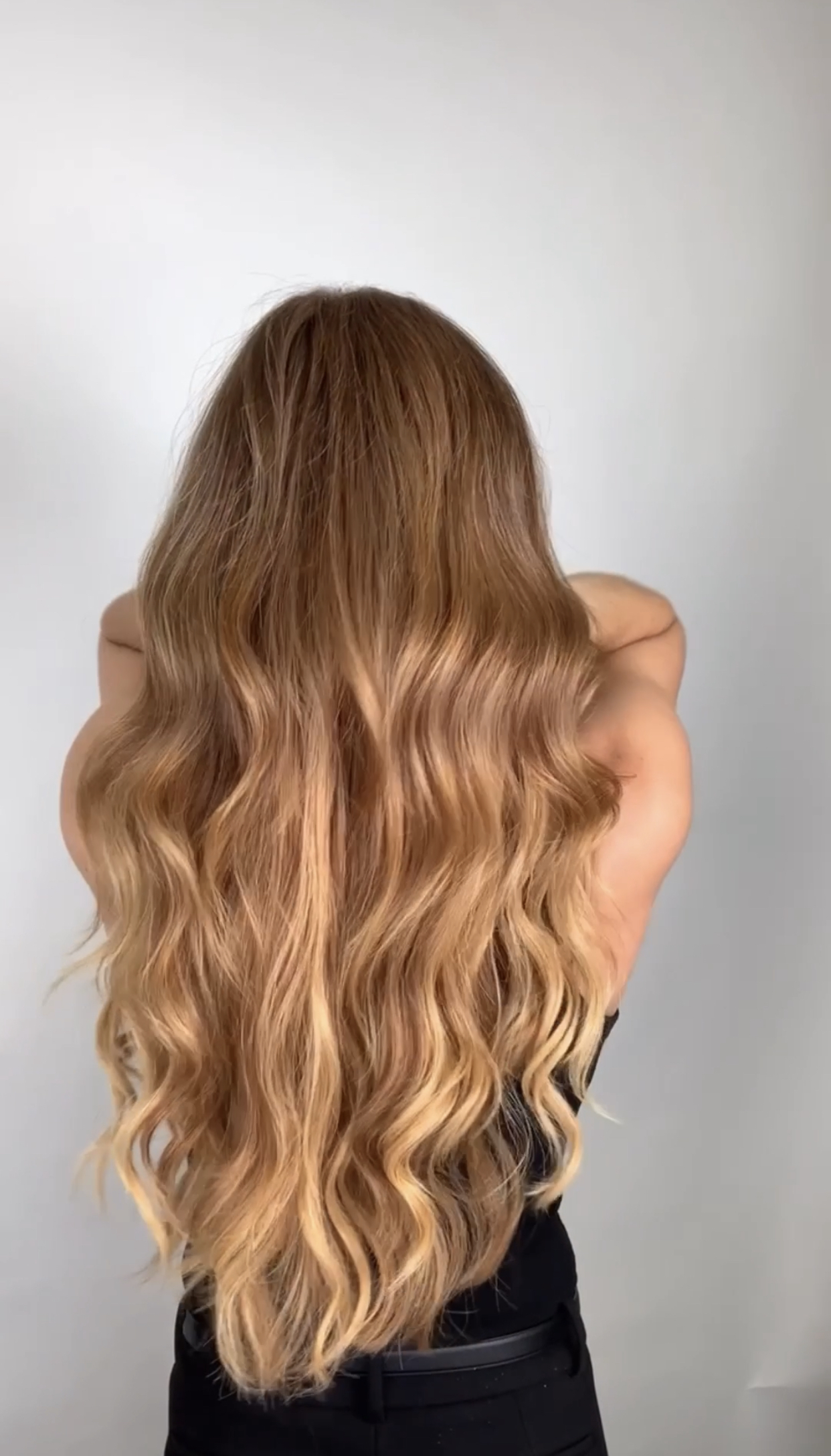 If you want a recommendation about which sets to get and which are going to match with your hair color, please feel free to reach out to our customer service at help@cashmerehairextensions.com or text us your photos for even faster color matching at 213-222-3878. We are so happy to recommend which shades and products will work best with your hair!