Hair extensions are a way to add length, volume, or color to your hair. With so many different types on the market, , it can be hard to decide which type to choose. The type of hair extensions you choose depends on your specific needs and what your personal hair goals are.
Clip in hair extensions do not require salon visits, and are quick to apply and easy to remove at any time; while other extensions such as hand tied hair extensions are a semi permanent extension option that allows you to go to sleep and wake up with gorgeous hair that are full of length and volume. In today's blog post, we will be giving you the inside scoop of everything you need to know about the key differences of clip-in and hand tied hair extensions.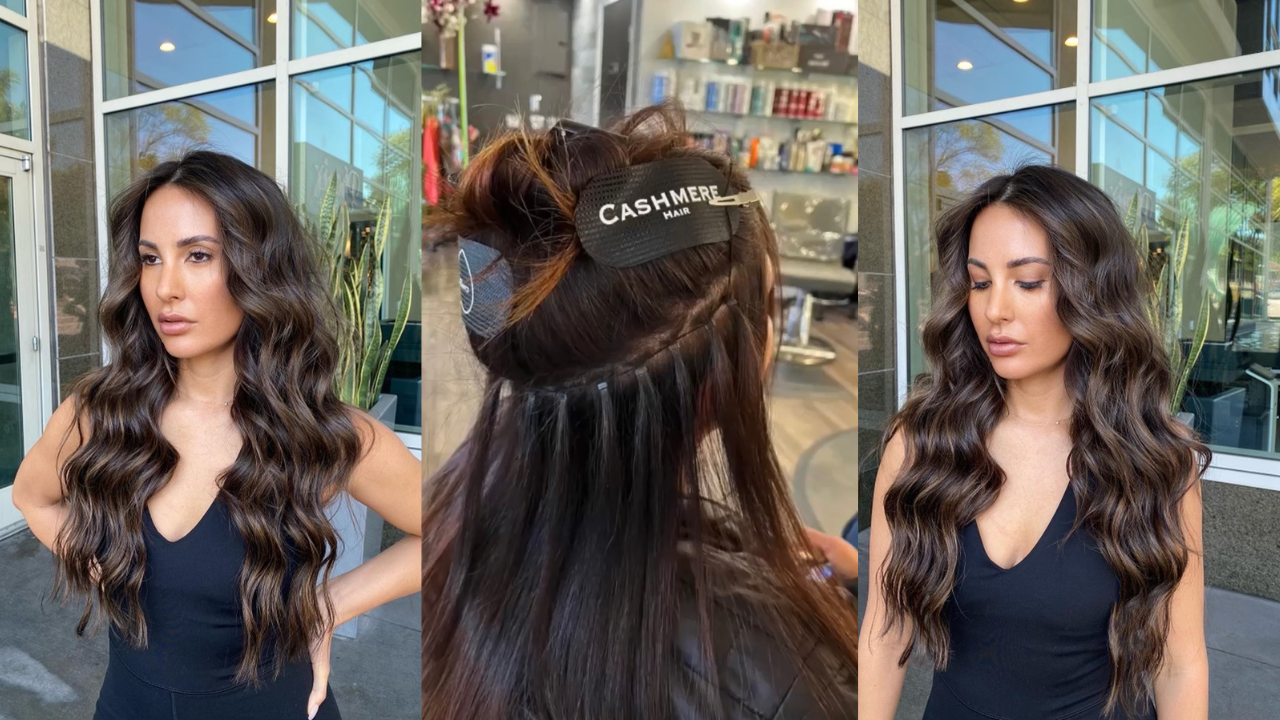 WHAT ARE HAND-TIED EXTENSIONS?
Hand-tied extensions are a type of hair extension. There are many types of hair extensions on the market including hand-tied wefts, tape-ins, you name it. Hand-tied hair extensions are often a favorite choice due to their lightweight look and feel. Hand-tied hair extensions can be customized by color, weight, and length -- depending on the desired needs of the individual. Hand-tied extensions are designed with individual strands that are carefully tied to your natural hair. This ensures that the final product looks natural and feels cashmere-soft.
The hand-tied extension installation process starts with the stylist taking the hand-tied wefts and tying them together with a thread or string. Then, they take the extension for the new piece of hair that they want to add and tie it to the other one. This is done until all of their desired amount of extensions have been reached. This method makes it so easy to combine different shades of extensions to compliment your hair's dimension or add extra pops of color without the use of hair color or bleach.
There are many benefits to using these types of extensions. One benefit is that these types of extensions look very natural and blend in with your own hair better than other types of hair extensions, such as tape-in extensions or even halo extensions which may be less secure or too noticeable. Hair extensions are more convenient than you would think! This method cuts down your hair care routine and is much more convenient for those who want to wake up with thicker and fuller hair on a daily basis. You are able to keep your natural hair in excellent condition, achieve the hair of your dreams, and save time getting ready in the morning.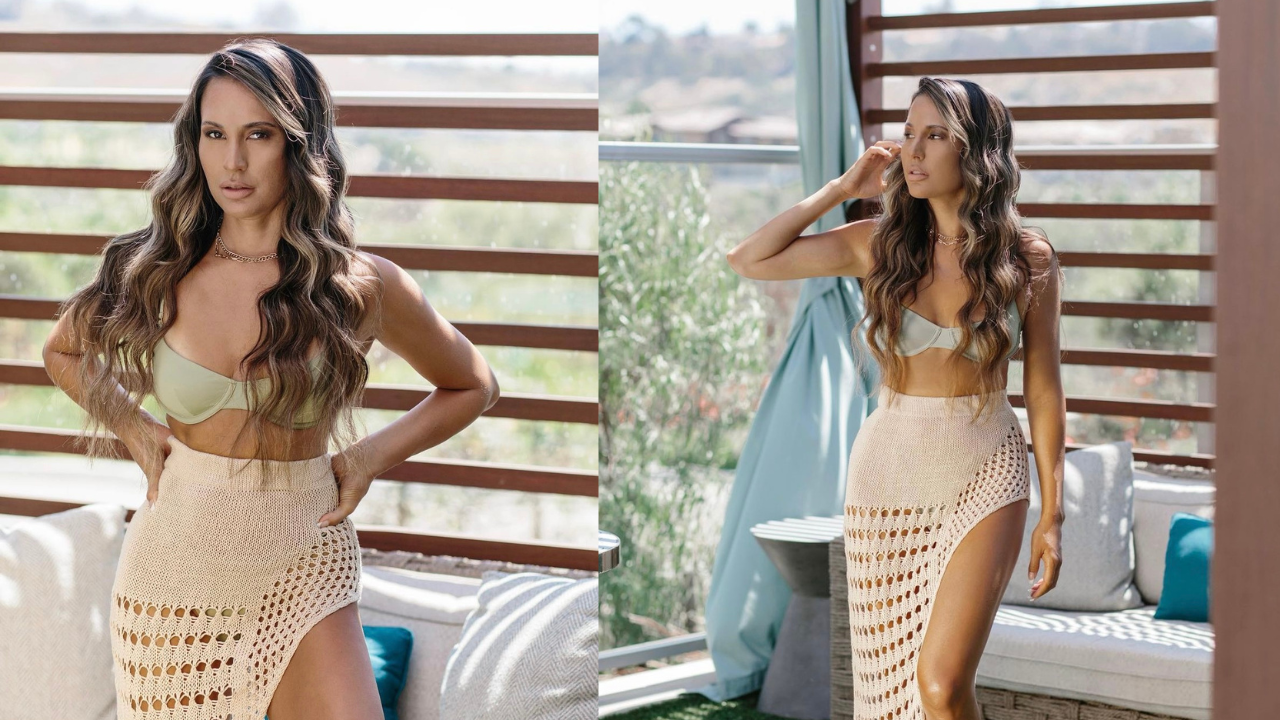 ARE HAND-TIED EXTENSIONS DAMAGING TO MY HAIR?
The answer to that question is a definite "NO". Because they're attached gently to your natural hair with a soft thread, you won't have to worry about damage or an uncomfortable installation. If you are looking for an extension that is long-lasting and will not damage your hair, then you should go with the hand-tied extensions and ensure you see an experienced salon professional for proper installation.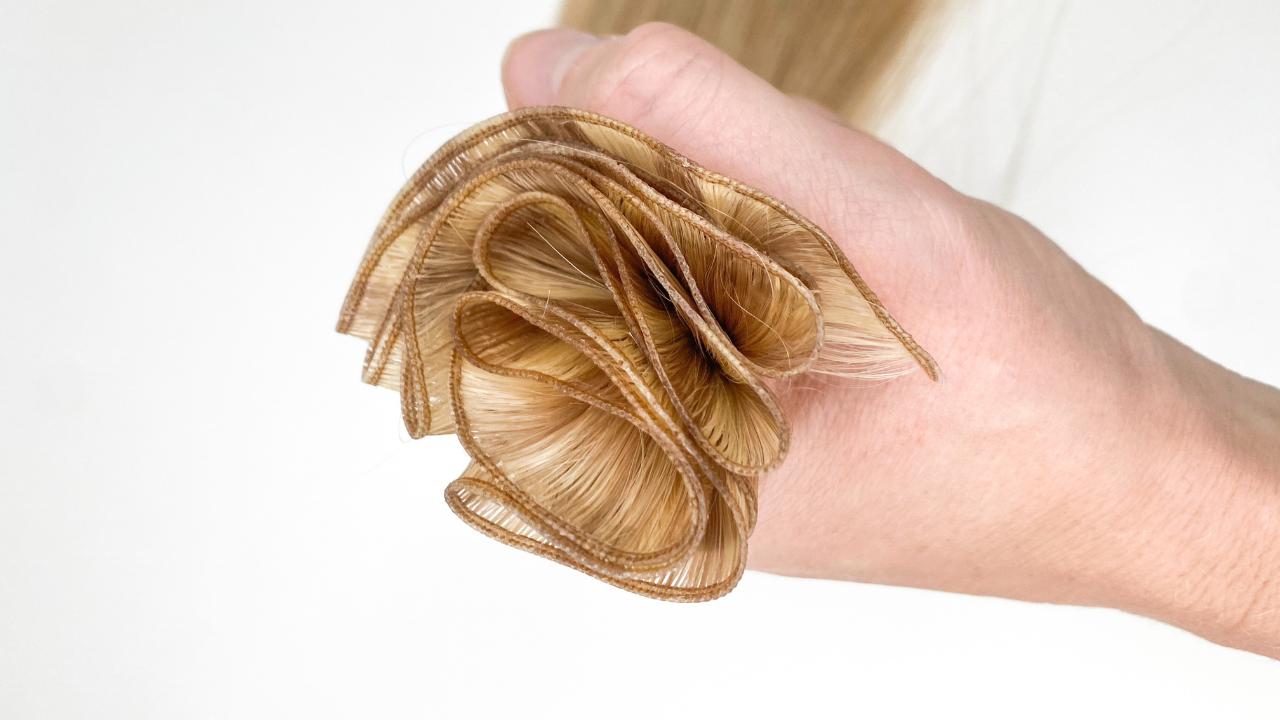 HOW LONG DO HAND-TIED EXTENSIONS LAST?
So, how long do hand-tied extensions last? It depends on the quality and care that is put into them! The lifespan of hand-tied extensions depends on the quality of the extension, how often they are washed, how well they are cared for, and how often you visit your hair stylist for extension maintenance and regular move-ups. 100% real human hair extensions are essential when it comes to the longevity of your hair extensions.
With little to no care, the lifespan of your hand-tied wefts will be significantly shortened and you won't be able to enjoy all the benefits of hair extensions. For extensions that are well cared for, they may last up to 6 months to a year.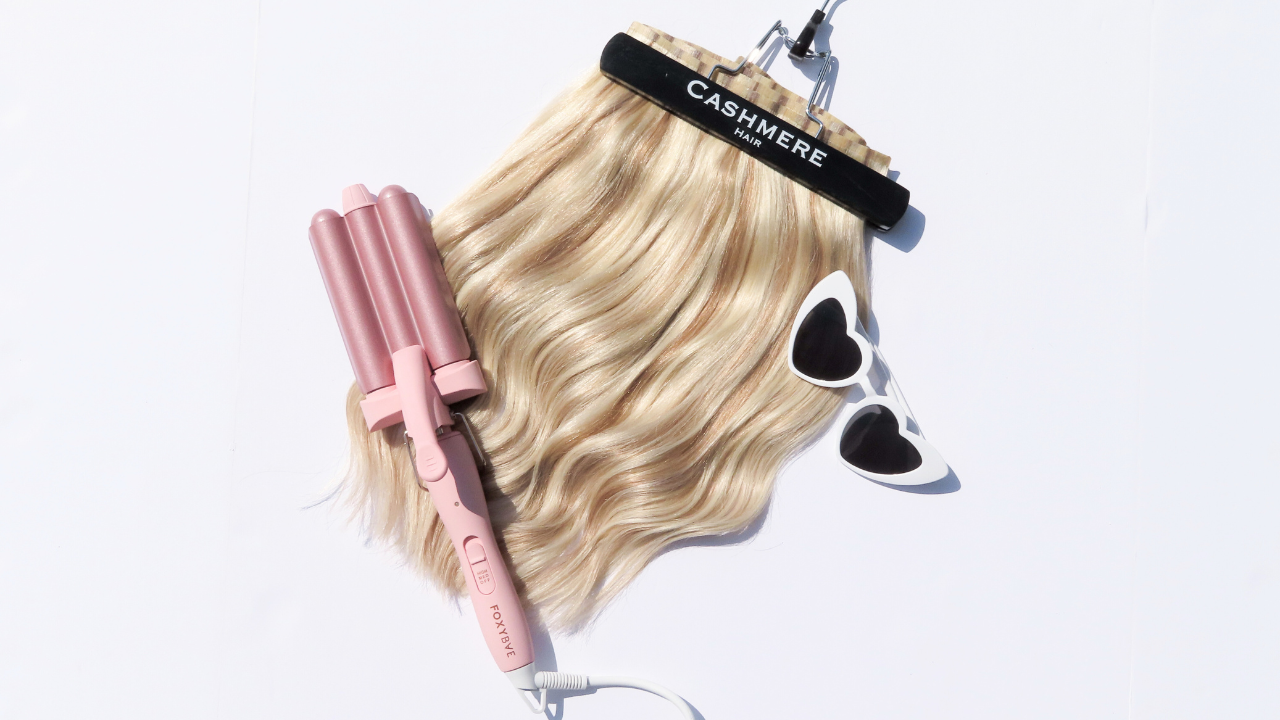 WHAT ARE CLIP-IN EXTENSIONS?
Clip-in extensions are a popular and versatile type of hair extension designed to effortlessly enhance one's natural hair. These extensions consist of strands of 100% Remy Human Hair that are pre-attached with small clips along their base. The clips allow for easy and temporary attachment to the wearer's own hair, making them an accessible option for those seeking to add length, volume, or even highlights without the commitment of permanent extensions.
Clip-in extensions come in various lengths, colors, and textures, catering to a wide range of hair types and styles. They provide the freedom to experiment with different looks, enabling individuals to achieve instant transformations for special occasions or daily wear, all while maintaining the flexibility to remove and reapply the extensions as desired.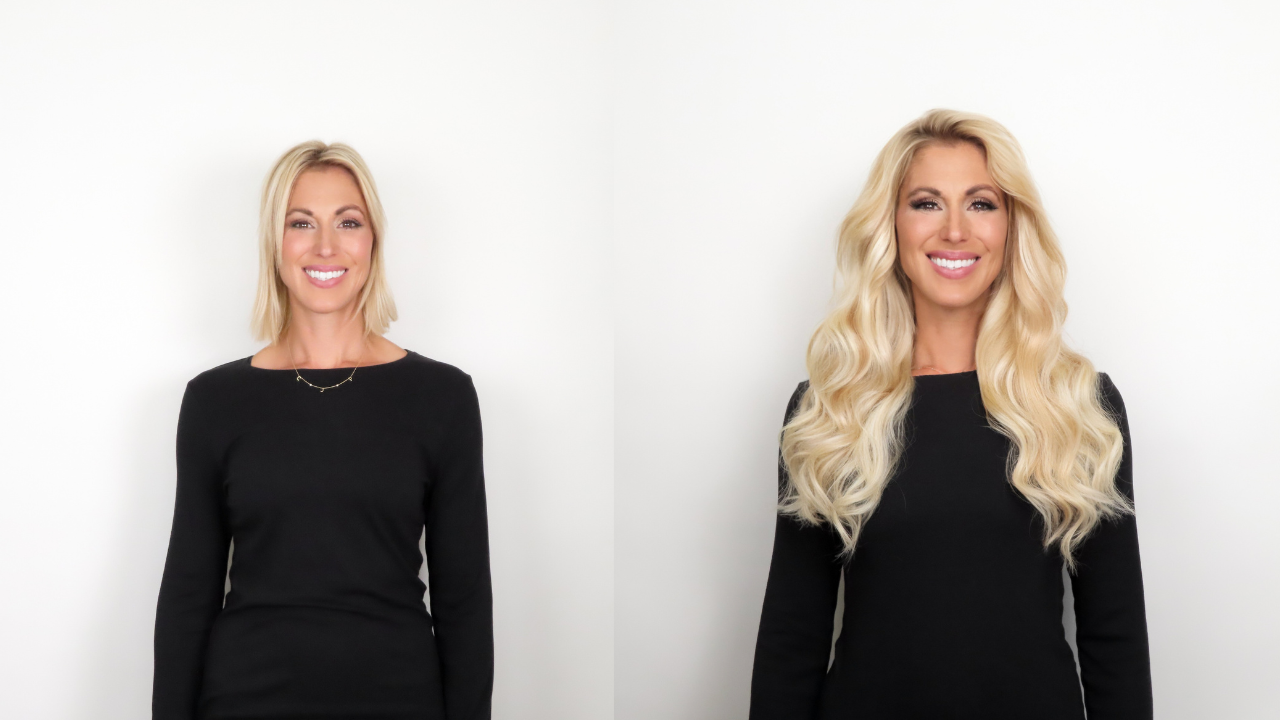 ARE CLIP-IN EXTENSIONS DAMAGING TO MY HAIR?
Because you have the full freedom to clip them in and take them out whenever you want, this allows the clip-ins to be completely un-damaging to your natural hair. No sleeping discomfort or shower troubles when you simply just take them out, store them and proceed as normal. Even applying them takes little to no effort due to their impeccable design and high-quality hair. These luxury extensions won't cause damage to your natural hair as well, unlike traditional salon extensions. We actually advise against teasing your hair before applying clip-in hair extensions specifically Cashmere Hair extensions.
It's ALWAYS better for your own hair if the extensions are pulled on, that they "slide" out of position, instead of putting any tension or ripping out your own hair. The clips on Cashmere Hair extensions were designed with soft silicone in between the clips to add a better grip to the hair without bending, tugging, or damaging the hair, making it easy to clip in and secure without having to tease your hair
During daily wear, if a track slightly slides out of position while wearing it, reach into your hair, unclip it, and readjust the clip back into position. This is completely normal and is actually one of the benefits that make human hair extensions the safest and healthiest option. Clip-in Hair Extensions can be reapplied and styled daily without causing any damage. Proper wear is important to the health of your hair, wearing them clipped in too tightly can put pressure on your scalp. To fix this, unfasten the clip and lower the location where you are clipping them and try gasping more hair in the clip. The clip should only be attached to your hair and not pulling on your scalp.
Clip-in hair extensions are simply so much easier and more convenient which makes them a low-maintenance purchase with even lower risk. When it comes to clip-in hair, you don't have to go into salons continuously and drop upward of 5x the amount of clip-in extensions. No more getting extensions moved up, re-done, etc. Which in turn, means less time and money for you to then spend and save on extensions -- and less time spent in the salon.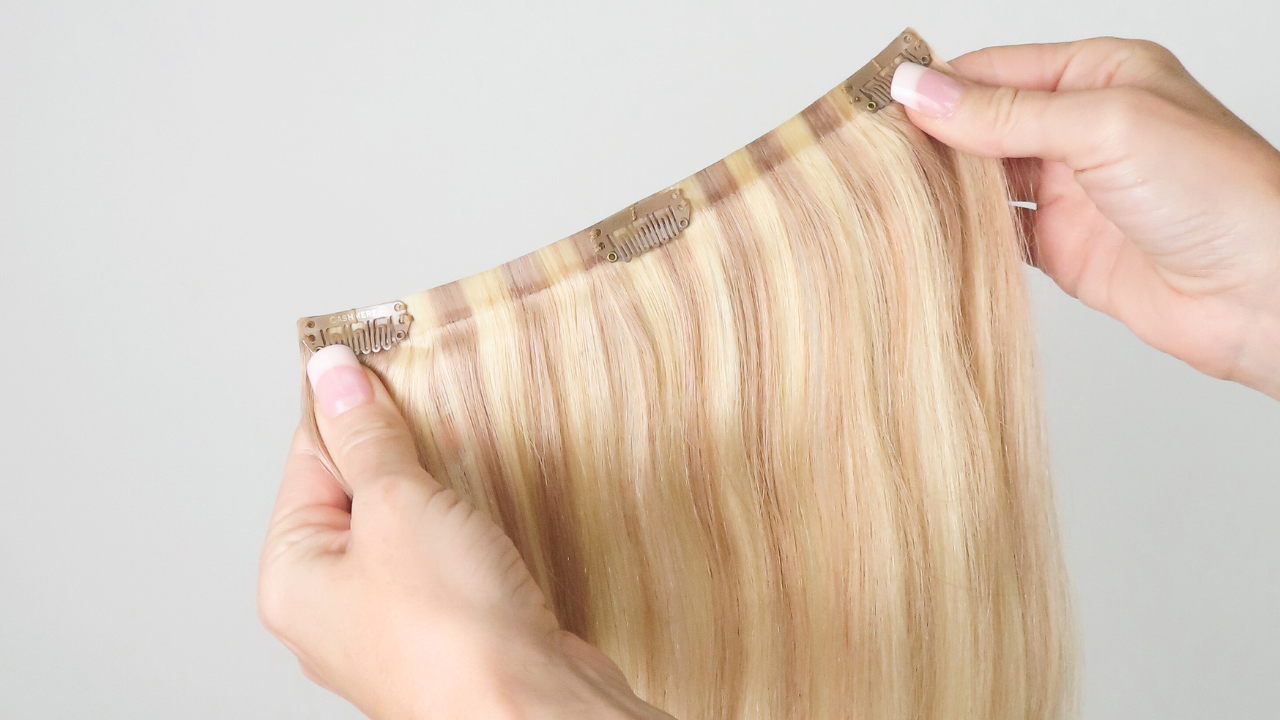 HOW LONG DO CLIP-IN EXTENSIONS LAST?
With proper care and storage, Cashmere Hair extensions can last you up to 5+ years. This is because of the attention to detail in the design and hair quality Cashmere Hair uses in their extensions. Keep in mind, just like our own hair, any type of heat and styling product does cause damage to the hair over time. Avoiding hairspray and other hair products will also prolong the life of your Cashmere Hair. How you store your extensions can also play a huge role in their longevity. We recommend storing them in the Extensions Storage Bag when not in use and never store your extensions wet. On average we have found that your Cashmere Hair extensions can last up to:
1- 2 Years - With daily wear including proper care, cleansing and maintenance, minimal heat styling, and without hairstyling products (such as hairspray, gel, mousse, etc).
3-6 Months - With extreme daily wear, when heat styling tools are used frequently, when hair extensions are not washed regularly, and when styling products are used.
Although Remy human hair is more expensive because it is higher quality hair, they are longer lasting, and the hair is more beautiful. Trust me, your hair is worth the investment. Real human hair is expensive, and great hair costs even more. Remy human hair prices are constantly increasing. It may cost more to invest in Remy extensions, but the results achieved are far more stunning and long-lasting than by using synthetic or lower-grade hair. Remy hair extensions can be styled using heat such as; flat irons or curling irons, just like your own hair without causing immediate damage. It is wiser to invest in high-quality Remy hair because wear time & durability will last alot longer than other brands on the market.
Overall, clip-in and hand-tied extensions have a lot of great pros that can fit anyone's needs. No matter your hair texture, length, or thickness, there is a style of extensions fit for you to help achieve those luscious locks you've always wanted. Cashmere Hair is the absolute best brand to purchase your extensions from if you decide to invest in your hair. The quality, the design, and the customization is unlike any other set of extensions out there. Nothing fake about it ;)
Cashmere Hair has a lot of experience in this industry and sources the best quality hair. The hair extension designs allow for a lot of flexibility to meet your needs. Cashmere Hair offers the convenience of DIY application for even the most inexperienced user giving you salon-quality hair extensions without spending the time or the money. It only takes minutes to apply, and seconds to remove. They are easy to conceal, even with thin hair.
We really care about each and every one of you, and we want to help you get the most gorgeous hair, we want to be your hair HEROES! Call, text or email us, we are happy to help!