Although our professional extensions come from the highest of quality 100% Remy Human Hair, just like your natural hair, not caring for them properly can lead to short and long-term damage. We want you to get the absolute most out of your hair investment, so in this blog post we will be over some of the most common mistakes many people make when it comes to your clip-in extensions, and how to best avoid them!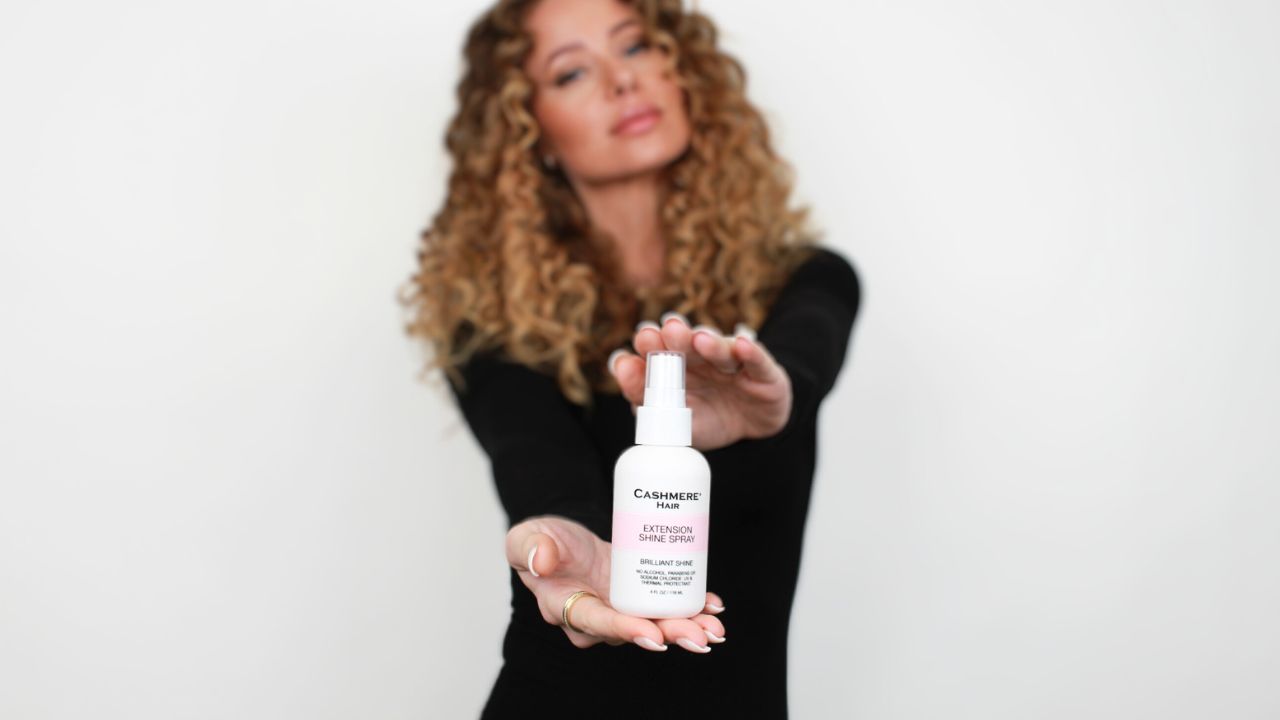 Using Heat Protectant
Although it is great to use on your natural hair to protect from heat damage, a lot of heat protectants can leave a heavy residue that can be damaging to your extension in the long run. Instead, we recommend using our extension shine spray because it's specifically formulated to be extension-safe, and still has heat protection properties along with many other benefits. The Extensions Shine Spray creates an instant shine on dry or dull hair without weighing it down. It helps to detangle hair extensions and also smooths frizzy, fried ends, and dries without a trace to add shine and life back to your extensions. Simply mist lightly over hair before styling to protect and revive the shine of your clip-in hair extensions.
Bleaching or Dying Your Extensions
Cashmere Hair extensions are minimally processed, but it is not virgin hair. Our gentle Cashmere dyeing process keeps the integrity of the hair at its finest, giving you gorgeous color and long-lasting hair. (Other brands use processes that rapidly dye hair using heavy acid and chemicals, causing damage to the hair.) Instead, our process of dyeing is a very slow process which is the least damaging to hair and gives you the healthiest quality hair, allowing your luxury hair extension to look its best longest. We have our strands laboratory tested and certified to be 100% Cuticle human hair, the highest quality available. We never need to mask the harsh chemical process by using silicone, because we don't use a harsh chemical process. Cashmere Hair is not silicone-coated.
Because the hair is already processed to reach our natural shade range, the results of coloring or lifting the color can be unpredictable. We have customers who color the hair extensions with much success, however since we can not guarantee the outcome for you, it will always be at your own risk. We don't recommend coloring them because we custom color them and therefore you just never know how the color processes will take, and you also risk doing damage to the quality. We have a very wide selection of colors that are specially designed to match almost every natural shade. Our goal is to supply you with the best quality hair extensions possible, and we have a very special dying process that keeps the hair in the healthiest condition. Further dying could damage the hair. DO NOT bleach or dye Cashmere Hair a lighter shade. Cashmere Hair is NOT responsible for any dying process that the customer does to the hair. Should you choose to dye Cashmere Hair it is at your own risk, and you cannot make a return or exchange once the hair has been dyed.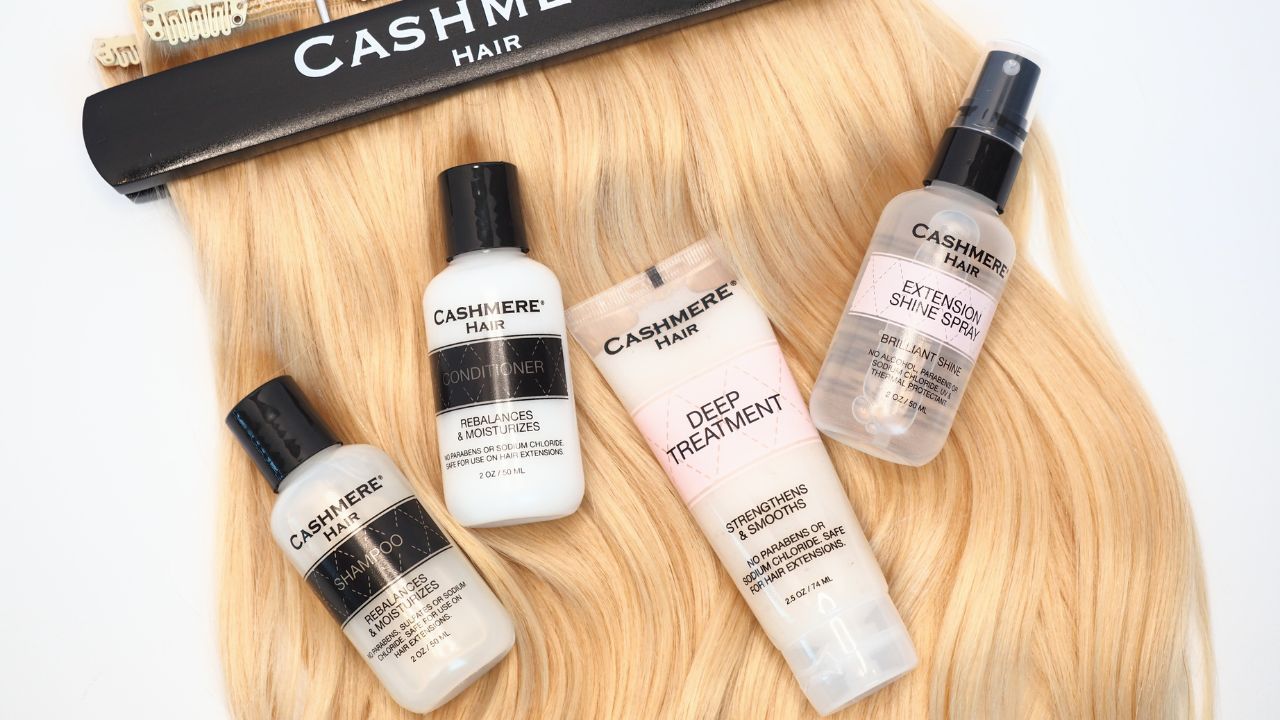 Not Using Sulfate Free Hair Care Products
Next is using shampoo and conditioner with sulfates and silicones. These two can cause lots of buildup to the extensions, which is why we formulated our own extension-safe shampoo and conditioner, so you don't have to worry about damaging your extensions over time. The Extension Care Set is the only product line we recommend to safely care for your Cashmere Hair Clip-in Extensions. Each product was designed to refresh, restore, and protect our 100% Remy Human Hair. It's specifically formulated to extend the life of your Cashmere Hair extensions!
For most people is not necessary to wash your extensions after every use. If you find that your extensions are tangling or frizzing up, please wash, condition, and use our Extension Shine Spray after they have dried to add extra shine and prevent tangles.
Wash Schedule
If you have oily hair / scalp: Wash & Condition every 3 - 5 wears
After using hairspray or styling products: Wash & Condition 1 - 2 wears
Dry hair / scalp: Wash & Condition 10 - 15 wear
Normal Hair / scalp: Wash & Condition 5 - 10 wears
If you swim with them (not recommended): Wash, condition & use Cashmere Hair ® Deep Treatment immediately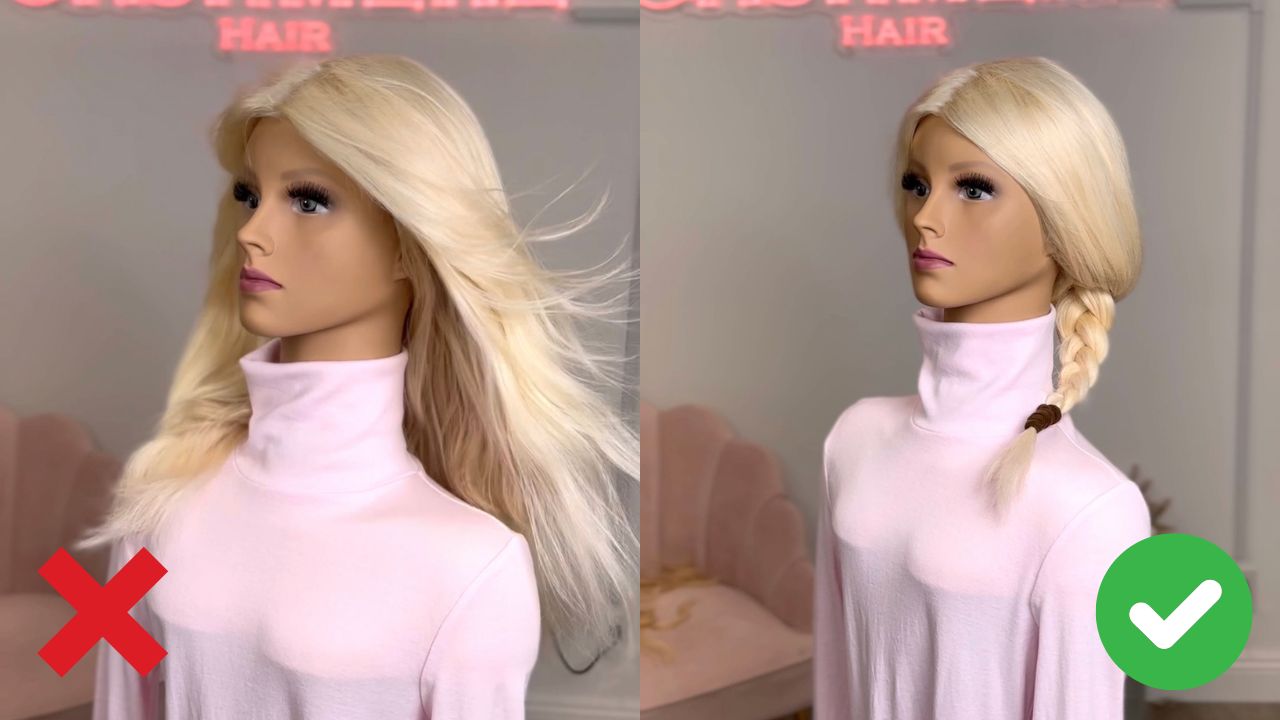 Wearing Your Extensions in High Winds or Rigorous Activities
For events like riding a roller coaster or driving with the top down, wearing your clip-in extensions can not only cause lots of tangles which can lead to excess shedding and breakage, but it can cause damage to your scalp with the pulling and tugging. If you would like to wear your human hair extensions during a high-wind activity, we highly suggest securing your hair in a loose braid or ponytail to help prevent tangling and matting. On a normal windy day is totally fine to wear your extensions. Some examples of high-wind situations are on a boat, riding on a motorcycle, riding in a convertible car, skydiving, etc. These situations may cause severe tangling and can damage hair extensions.
Wearing Your Extensions in the Pool
Lastly, wearing your human hair extensions in the pool, chlorine can be very damaging to the hair and strip it from its nourishing oils, making them very dry and brittle. We don't recommend swimming, bathing, or showering with extensions clipped in. Salt water and chlorine can alter the color of the hair, and damage the clips. Swimming while wearing extensions can also tangle the hair causing damage to your own hair and/or the extensions. If you are going to swim, do not get your hair wet at all. We highly advise you remove your clip-ins before getting in the pool, or if you must wear them, please secure them up into a bun or cloth clip to ensure they do not get wet. Making these small adjustments will help prolong the lifespan of your extensions and get the most out of your hair investment!