How To Create A Rooted or Ombre Effect on Clip-in Hair Extensions by Cashmere Hair
If you're wondering how to get your Cashmere Hair hair extensions to blend even better with your natural hair color or create an ombre effect to your clip in hair extensions, then keep on reading!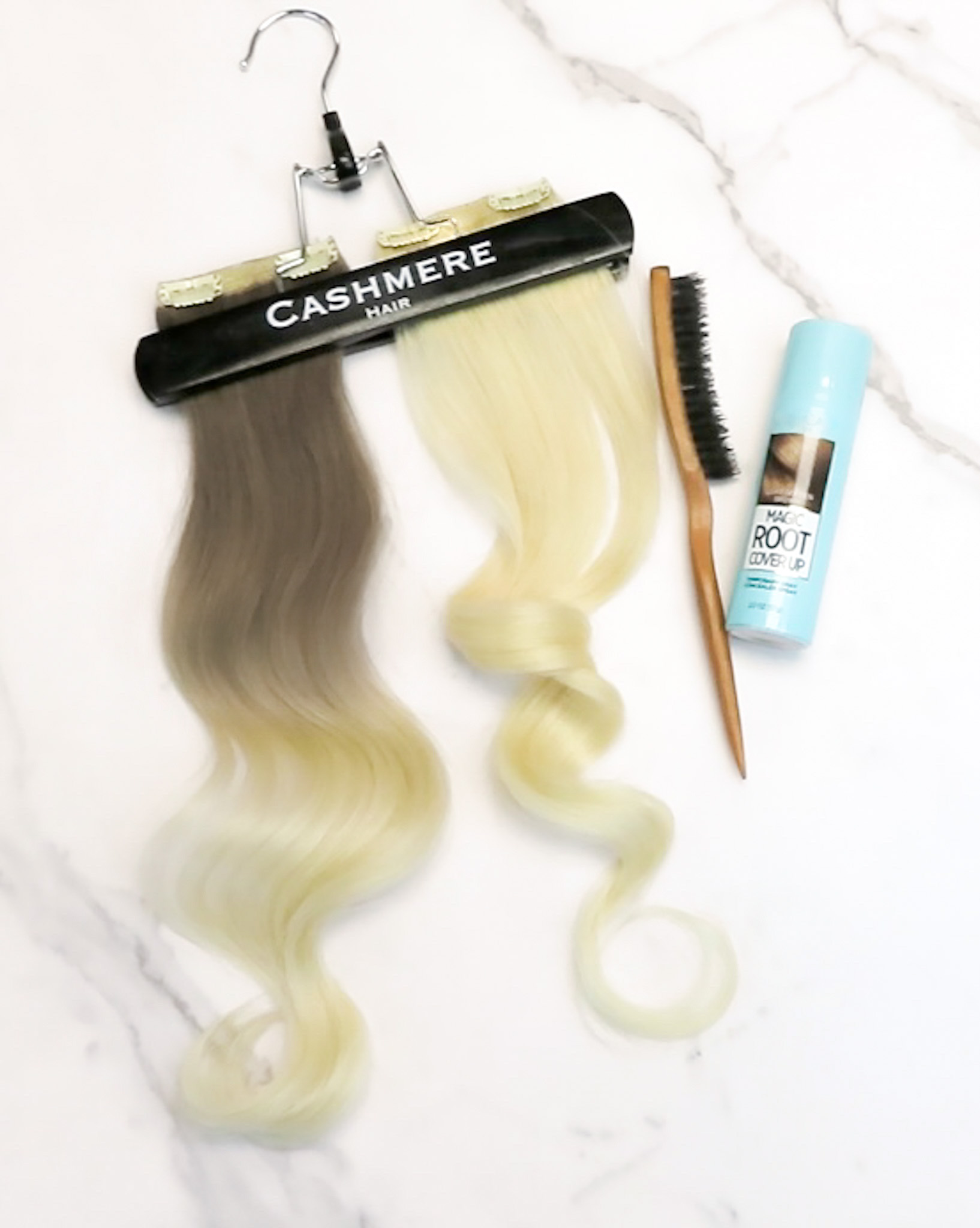 Gather Your Supplies
The first thing you're going to want to do is get a temporary root touch up spray. Try to find one that matches best with your natural hair color or your root color. You're going to need your high quality clip-in hair extensions made from real human hair, preferably ones where the color matches with the ends of your hair. Along with a dense little hair brush. This brush has got to be able to really blend and smooth out that color while it's still wet to blend it down the hair extensions. So be sure to grab one you don't mind getting color on and has boar bristles to really spread the product around and blend seamlessly. Also, if you don't want to not get it on your fingers like we did, be sure to use some gloves as well as a towel so when you spray, it doesn't get on your table or surface.
Spray at the Root and Blend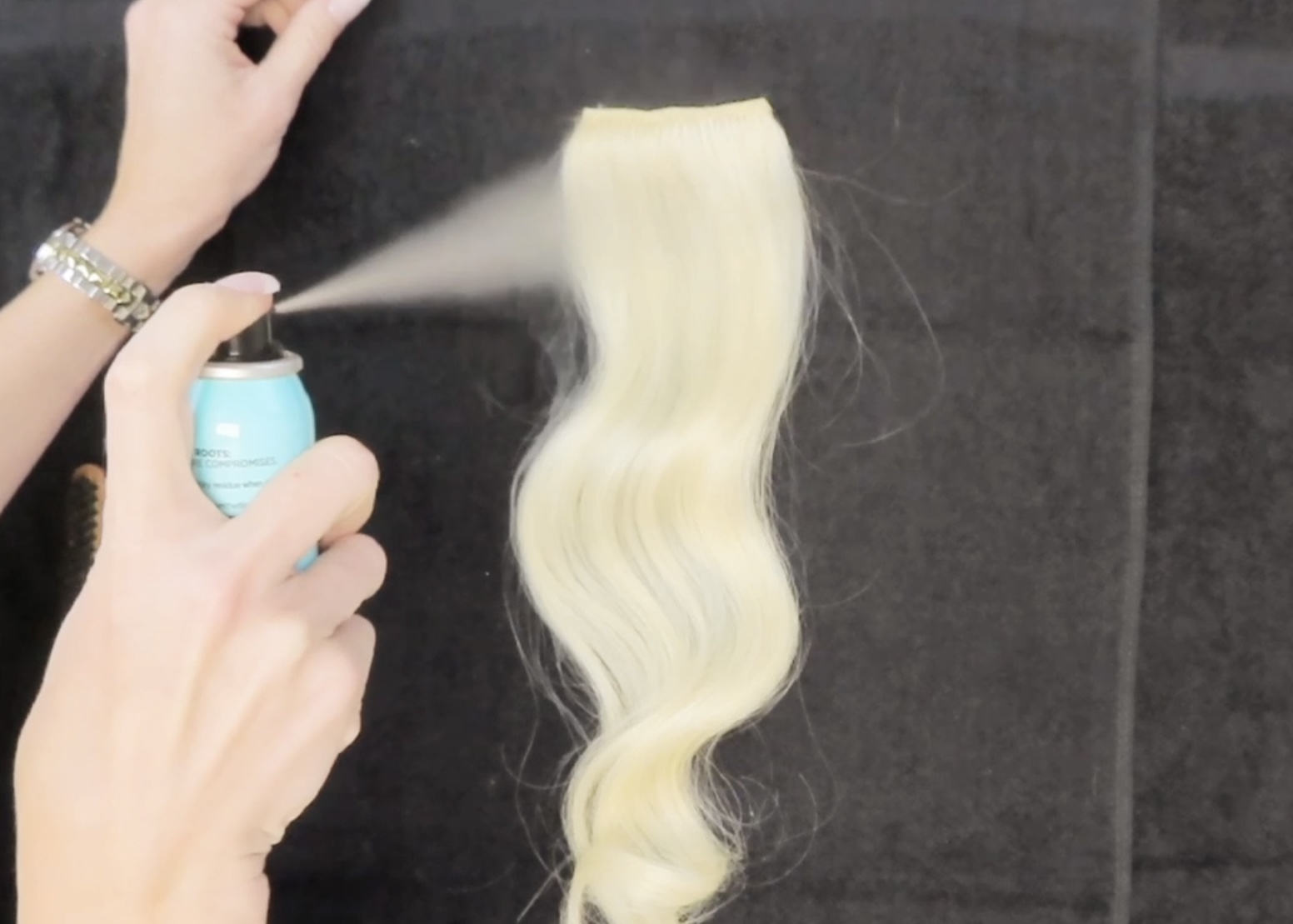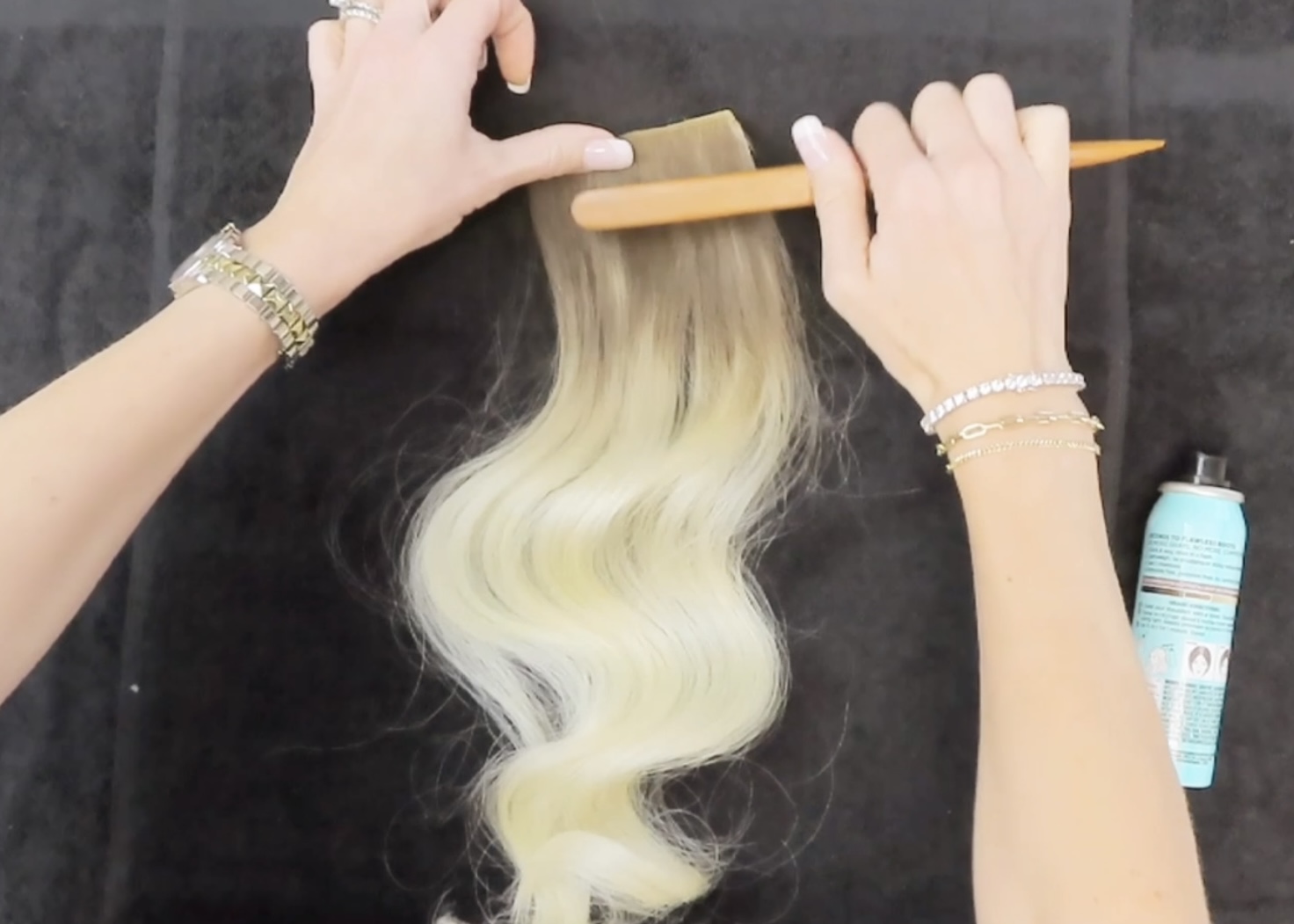 Now, the first step is to start spraying the back of the hair extensions pretty close to the top of the weft, and use that brush to really blend it down. You'll want to be sure you do it in layers. Go lightly with it at first, and then add more and more until you achieve your desired color. You don't want to be heavy handed with this because it's easier to add more than to take away. You're then going to take your brush and smooth out the product into the hair while the product is still wet to create an even blend. This stuff does dry really quickly, so you want to make sure you move quickly when you're doing it.
Flip onto the Other Side & Repeat

Then you'll want to turn the hair extensions over, and cover the clips at the top of the weft with the paper towel to protect them from soaking up the product and potentially staining. Just like we had done it on the front side, you'll just continue to brush that product into the hair and blend, blend, blend. You'll want it to be really smooth and seamless, so the farther away you spray it, the more evenly the product can distribute since it will cover a larger surface area. Also, be sure to separate the hair pieces a little bit and then go in and spray it again where the original hair color is peeking through.
Perfect, Replicate and Enjoy!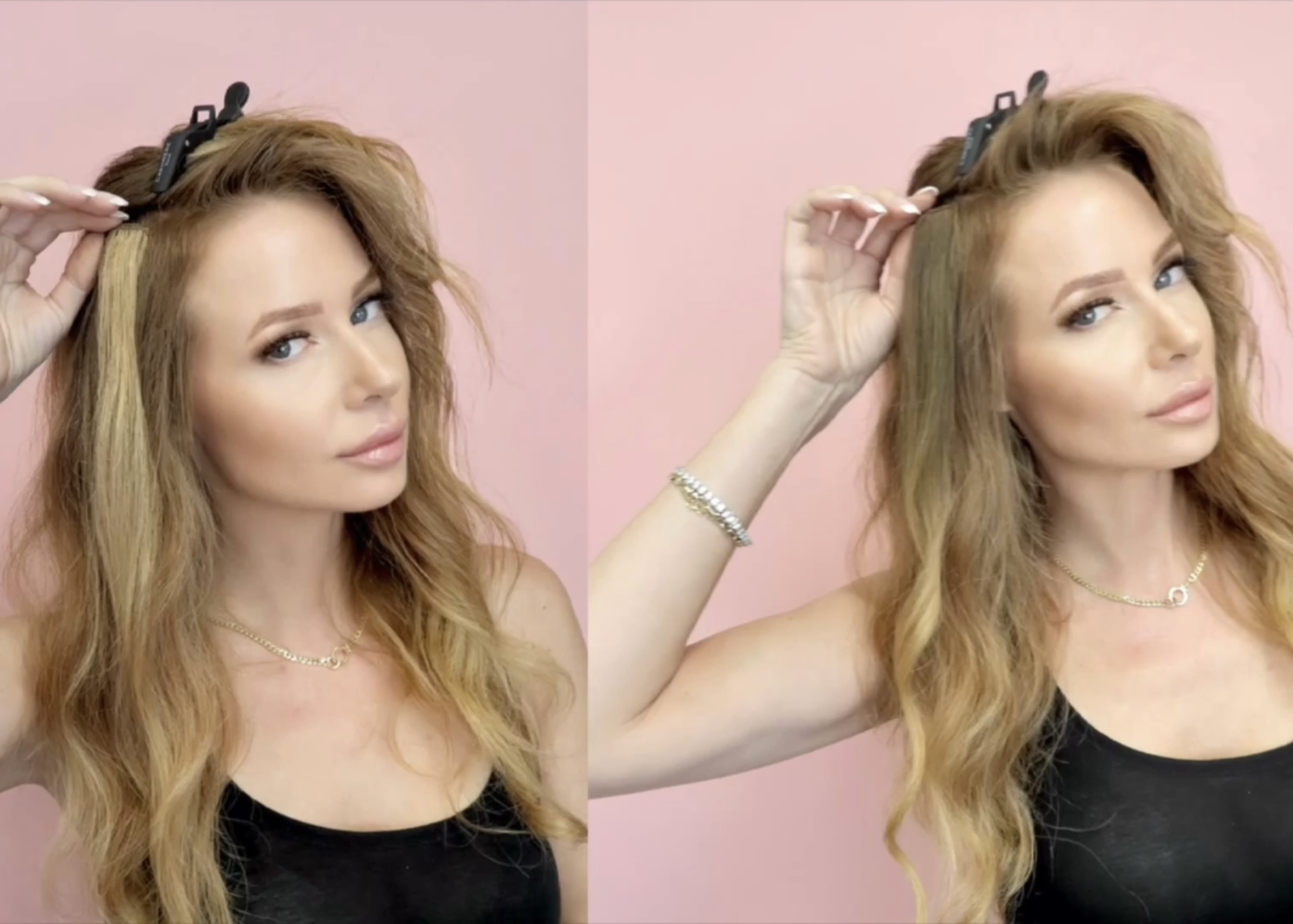 Once you've got the placement of the color where you desire, you can go back in and make it a little darker at the root to create a nice ombre effect. Once you've replicated the color to the rest of your extension tracks, you're all done! I mean check out this before and after! As you can see, it really did give these Cashmere Hair extensions a new look and will help them blend so much easier if your hair is darker at the root. This technique is really great if you want to really customize how your extensions look and help conceal them even more to be virtually undetectable. You can use as little or as much color as you want at the top, creating a more ombre effect or a rooted effect.
Can I Dye My Clip-in Extensions?
We do not recommend dying our 100% Remy Human Hair extensions yourself without a licensed professional. Our goal is to supply you with the best quality hair extensions possible, and we have a very special dying process that keeps the hair in the healthiest condition. Further dying could potentially damage the hair.
However, we do understand that coloring your natural hair is a possibility and you would like to continue to use your Cashmere Hair extensions. If you must dye your remy human hair extensions, please be advised that it is done at your own risk and note that Cashmere Hair is NOT responsible for any damage due to dying process that customer does to the hair. Should you choose to dye your Cashmere Hair it is at your own risk, and you cannot make a return or exchange once the hair has been altered from it's original condition. Please make sure that you are satisfied with your extensions and that there are no defects before altering the hair.
Cashmere Hair is not virgin hair and we cannot guarantee the outcome of any color depositing shampoo/products, purple shampoo, or toners or dyes. If you choose to test out any of these products on your Cashmere Hair we suggest testing it on a small section or on the tester piece (if included). To prevent the extensions from soaking up too much color, always dilute before applying to the hair and never bleach or dye Cashmere Hair lighter.
Will a Salon Dye My Hair Extensions?
Again, we do not recommend dying the hair extensions, however if you do still wish to proceed, you may find a salon that is willing to dye your seamless clip-in extensions or your classic clip-in extensions. If you are looking for a more permanent option with both the hair extensions or the color, you can always purchase our Genius Weft Hair extensions to have a salon professional sew in these professional hair extensions. For a more natural hair extensions look, this will give you the ability to customize the best extensions for your hair and tailor them to fit your hair color and cut best.