How to Wash your Cashmere Hair Extensions
For most people is not necessary to wash your extensions after every use, but if you find that your extensions are tangling or frizzing up, please wash, condition, and use our Extension Shine Spray after they have dried to add extra shine and prevent tangles. We strongly recommend using our care products when you wash your Cashmere hair because they were strategically designed for our hair extensions.
Step One: Shampoo
It's a good idea to secure your Cashmere Hair extensions at the top with a ponytail holder before you begin to wash your hair extensions. This ensures that your hair extensions will stay together and prevents tangling while you are washing them.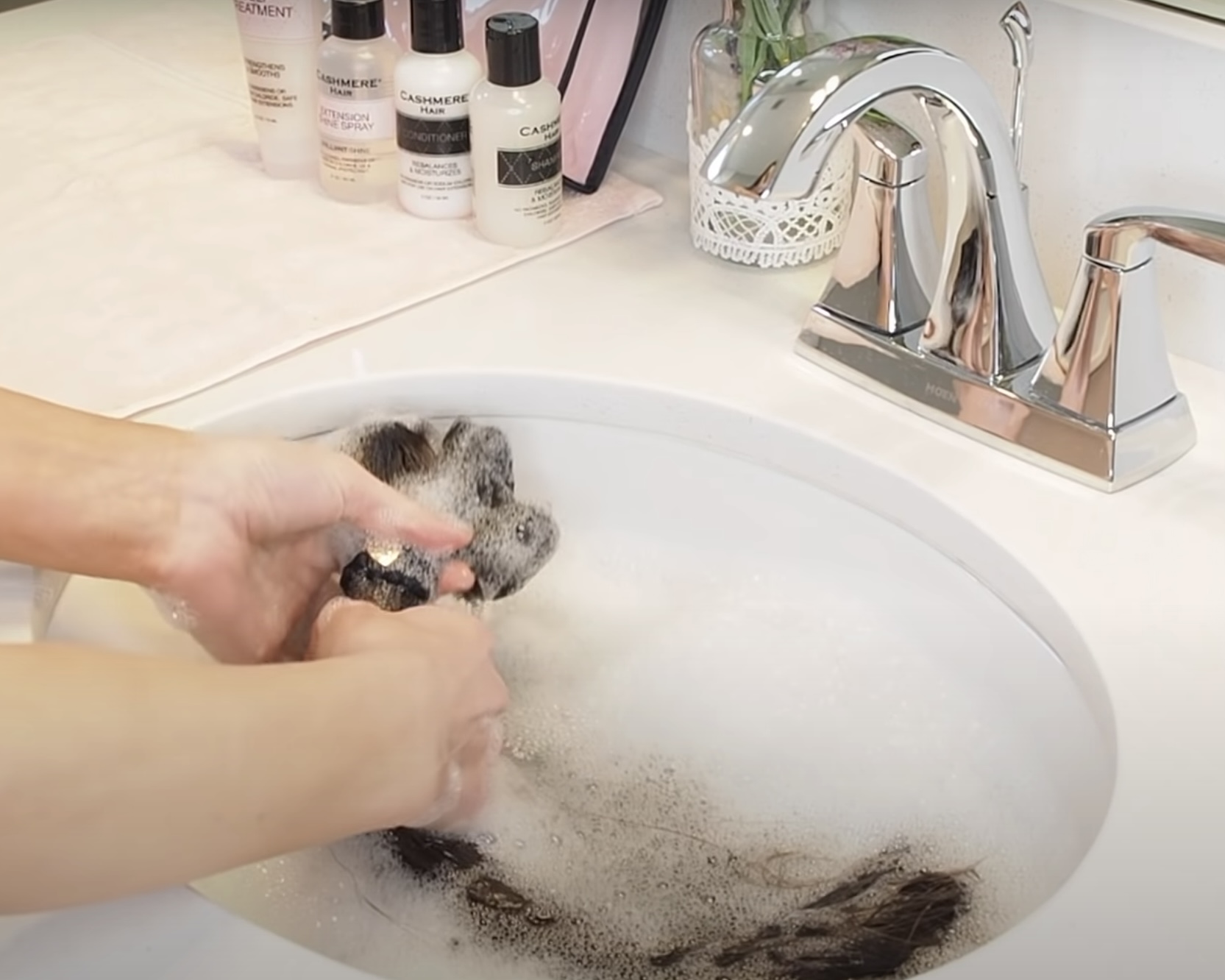 Once you've secured your hair extensions together, plug the drain and begin to fill the sink with lukewarm water. As the water is filling up the sink, add a little bit of our Cashmere Hair shampoo. The shampoo is specially designed to revitalize your clip-in hair extensions. It rebalances and moisturizes while being free of parabens, sulfates, and sodium chloride. The Silk Amino Acids help clarify, soothe and moisturize the hair without adding weight. Essential nutrients restore and rebalance the pH level of the hair, leaving it smooth with a healthy luster.
Go ahead and mix a little bit of the shampoo into the water and then submerge your clip-in hair extensions into the water. If you would like to do a quick wash, don't put the top where the clips and the tracks are into the water. This will help you dry them quicker when you need to wash them quickly otherwise, if you would like to wash them completely, you can put the clips into the water as well. Work the soapy water into your hair extensions gently. Once you've washed them, it's time to rinse them. We recommend draining the water and rinsing under lukewarm water. Don't forget to rinse where the clips are. Ring out any excess water and lay your hair extensions to the side.
Step Two: Condition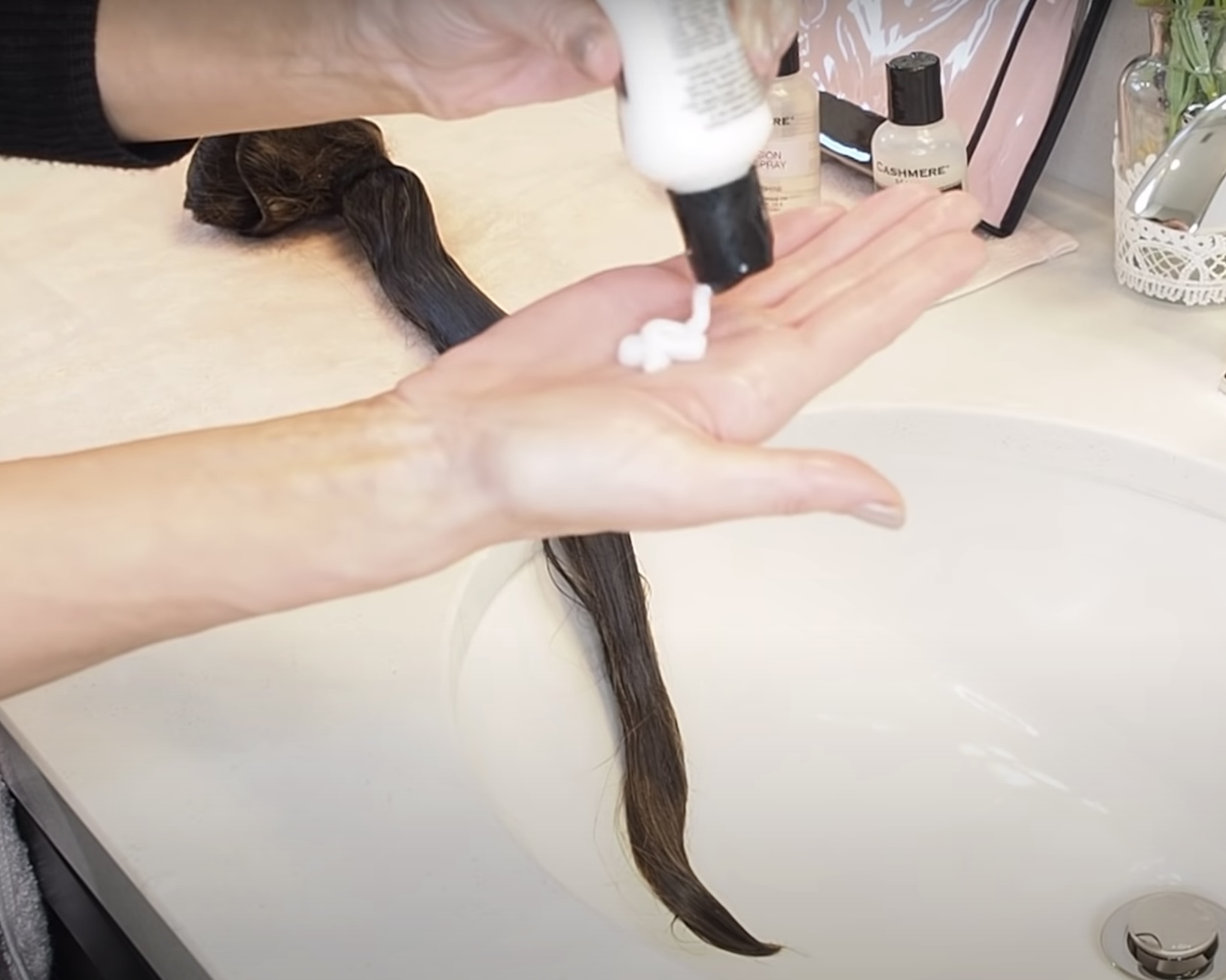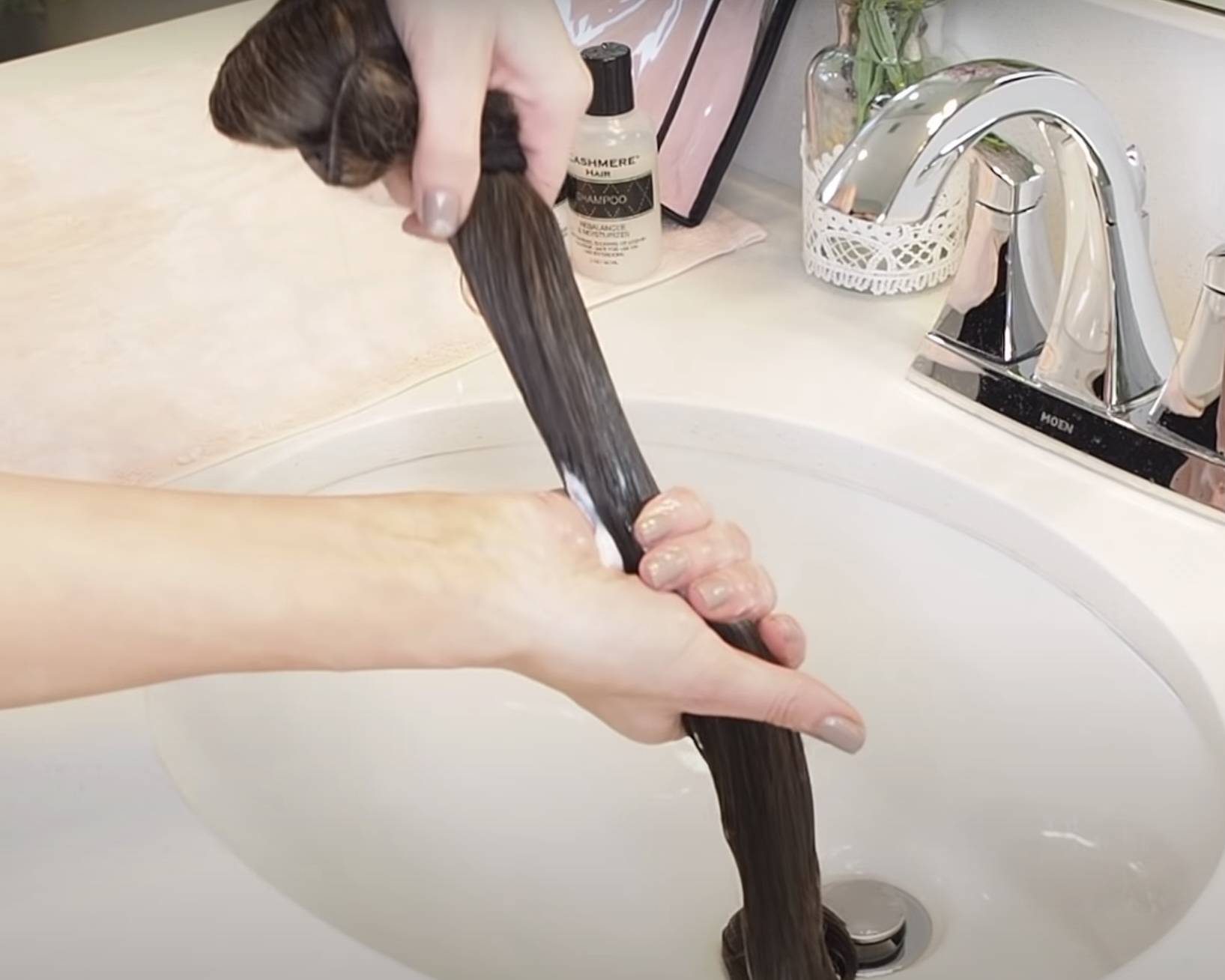 Take the Cashmere Hair conditioner, put about a quarter-sized amount in the palm of your hand, and apply the conditioner just to the ends of the hair. If you think that it needs more conditioning, you can add it to the full length of the hair, but you do not need to add conditioner where the clips and the tracks are at the top. Anything above the ponytail holder does not need conditioner. Work the conditioner through the strands, and when you're done, you can rinse.
This deep penetrating conditioner, infused with Silk Protein and Natural Botanical Extracts, rebuilds dry, damaged hair in just 60 seconds. Strengthens damaged hair, adds shine, and luster, and revitalizes stressed hair, and fights fly-aways and frizz.
Step Three: Deep Treatment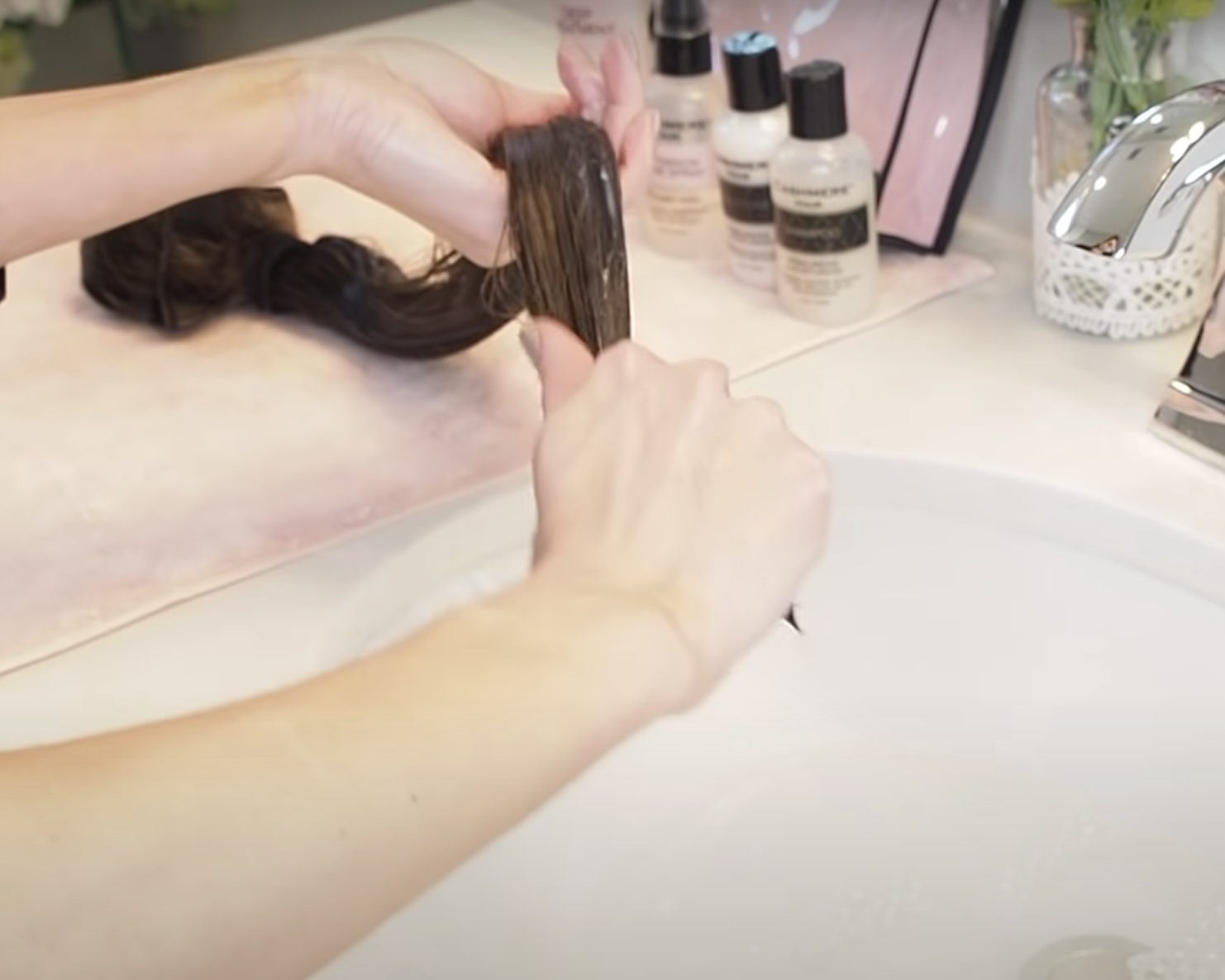 Next, you can use our Cashmere Hair Deep Treatment. This treatment only needs to be used every once in a while and not with every wash. Use about a quarter-sized amount and apply it just to the ends of the hair, working it through the strands. You can let the deep treatment sit for about five to ten minutes, and then again, fill your sink with fresh lukewarm water and rinse. You want to make sure to get all of your conditioner or deep treatment out of your clip-in hair extensions, making sure not to leave any residue behind.
This deep conditioning treatment, super-charged with proteins and extracts, restores moisture, strengthens, stops frizz, and reduces breakage. It improves the results of Keratin treatments, and is great for all hair types.
Some Key Ingredients:
Vanilla Planifolia Seed Powder & Fruit Extract - Soothing to the scalp and moisturizing
Keratin - Isolated from New Zealand wool, keratin carries special peptides that tell cells to heal and grow, helping to repair, protect and condition hair
Hydrolyzed Soy Protein - Hair conditioning, strengthening, and repairing
Hydrolyzed Wheat Protein - Helps repair and condition hair
Rosa Canina Fruit Extract - Nutrient and scalp conditioner
Chamomilla Recutita (Matricaria) Flower Extract - Scalp conditioning and soothing
Achillea Millefolium (Yarrow) Extract - Helps tone and heal dry or damaged scalp by reducing flaking and restoring suppleness while helping to promote hair growth
Melissa Officinalis (Lemon Balm) Leaf Extract - Helps maintain a healthy scalp by adding extra nutrients and conditioners
Cymbopogon Schoenanthus (Lemongrass) Extract - Scalp conditioning and soothing
Step Four: Brush & Dry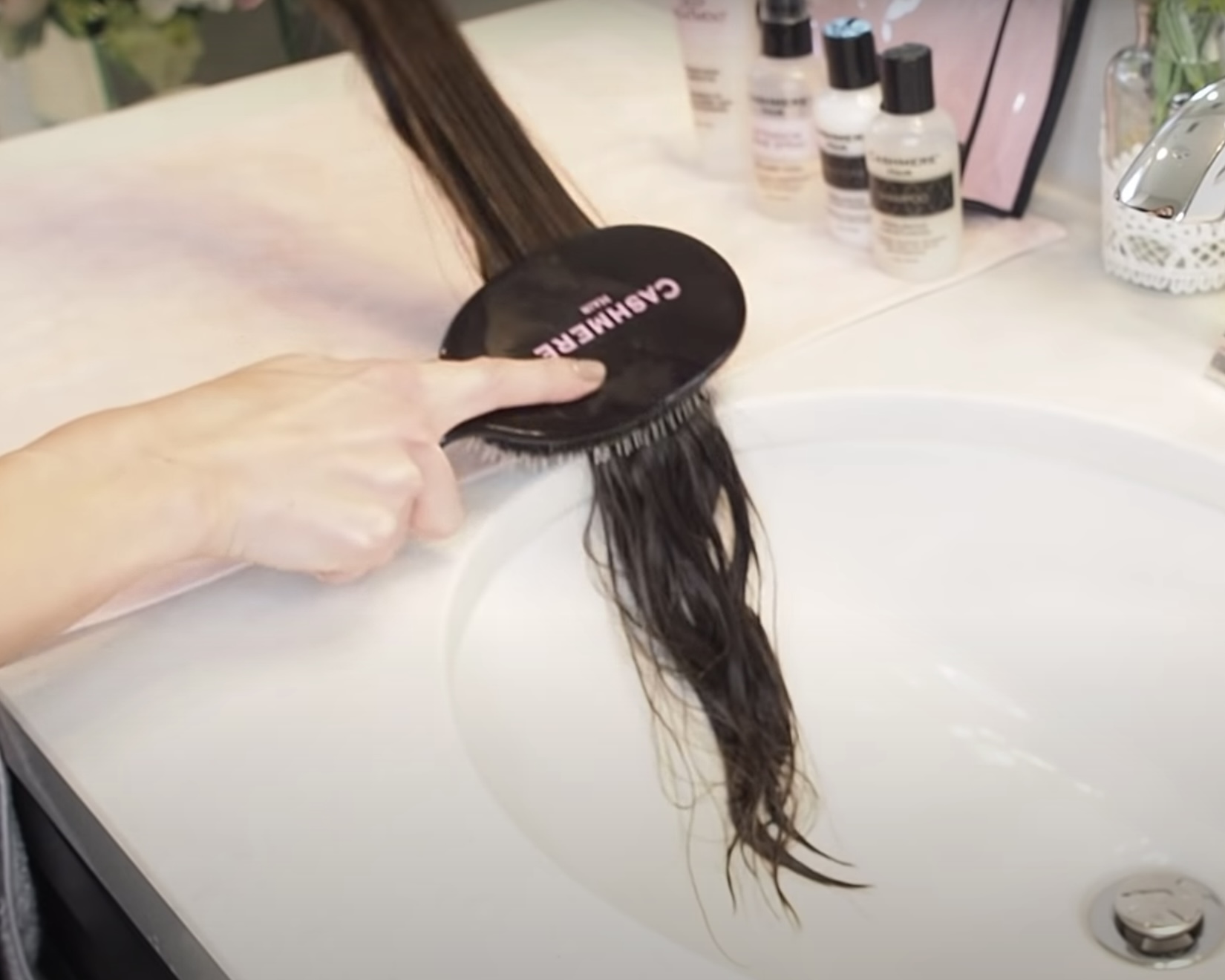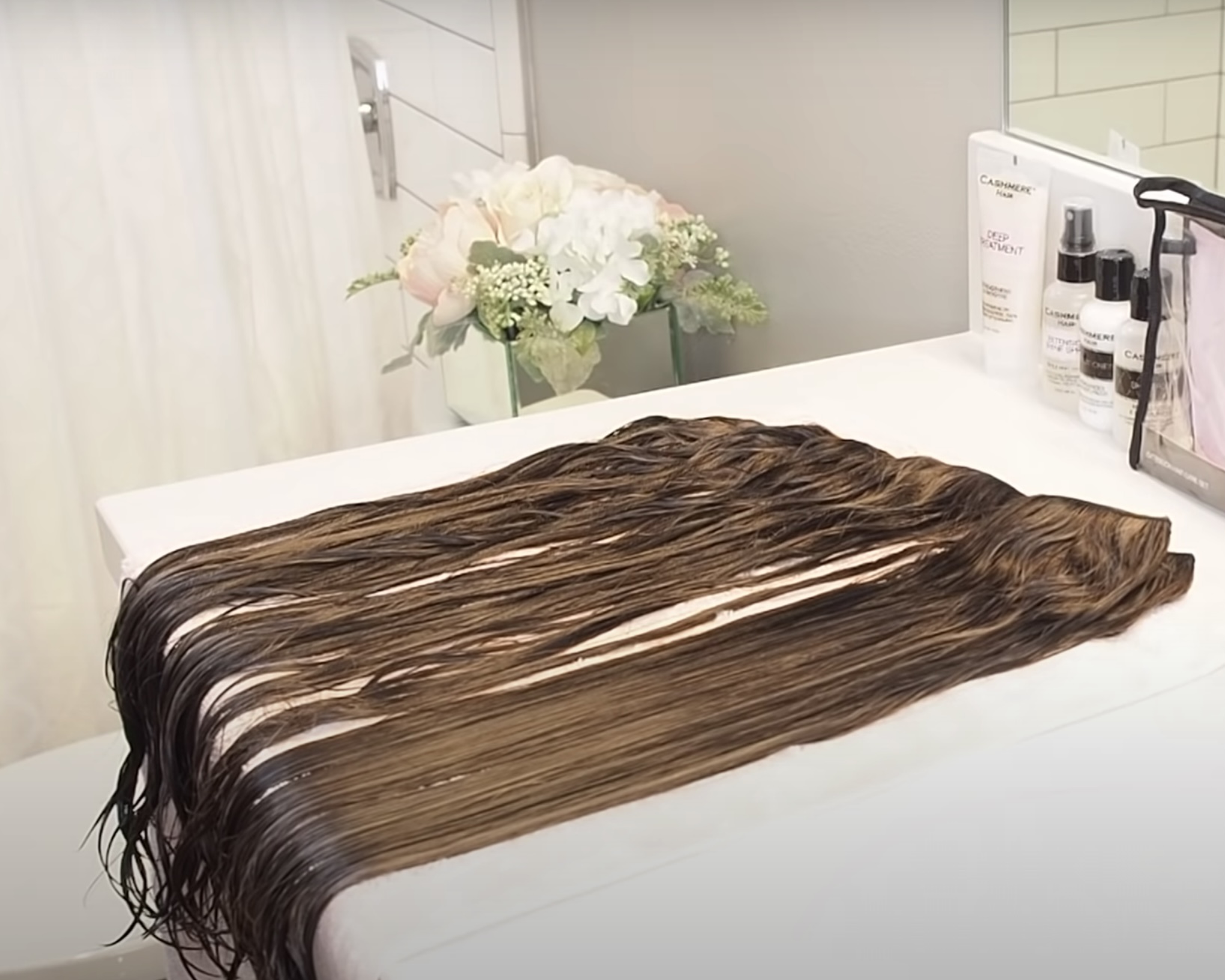 Lay your clip and hair extensions aside and grab your Cashmere Hair brush. This is a great time to detangle the strands and use your Cashmere Hair brush and start with the ends and work your way up.
Now you're ready to dry your Cashmere Hair. We recommend just using a towel and folding it over and pressing on the hair gently. You never want to ring the hair, this can tangle it. Next, lay the hair extensions flat and smooth on a towel. We recommend using the Cashmere Hair brush and separating the tracks, running the brush over each track as you go to detangle further and smooth the strands so that they're pretty straight. If you're in a hurry, you can blow dry them, however, the best way to dry them is to lay them flat on a dry towel and let them dry overnight.
And you're all set! Now you have fresh and clean extensions that feel brand new!