Cashmere Hair Extensions have been your best-kept secret to achieving the luxurious, voluminous hair you've always dreamed of. Whether you're headed to a tropical paradise, a bustling city, or an adventurous escapade, your luxury hair extensions can travel with you to keep you looking glamorous throughout your journey.
However, it's essential to take extra care of your extensions during travel to ensure they remain as beautiful as the day you bought them. In this blog post, we'll share some invaluable tips to help you keep your Cashmere Hair Extensions healthy while you're on the move.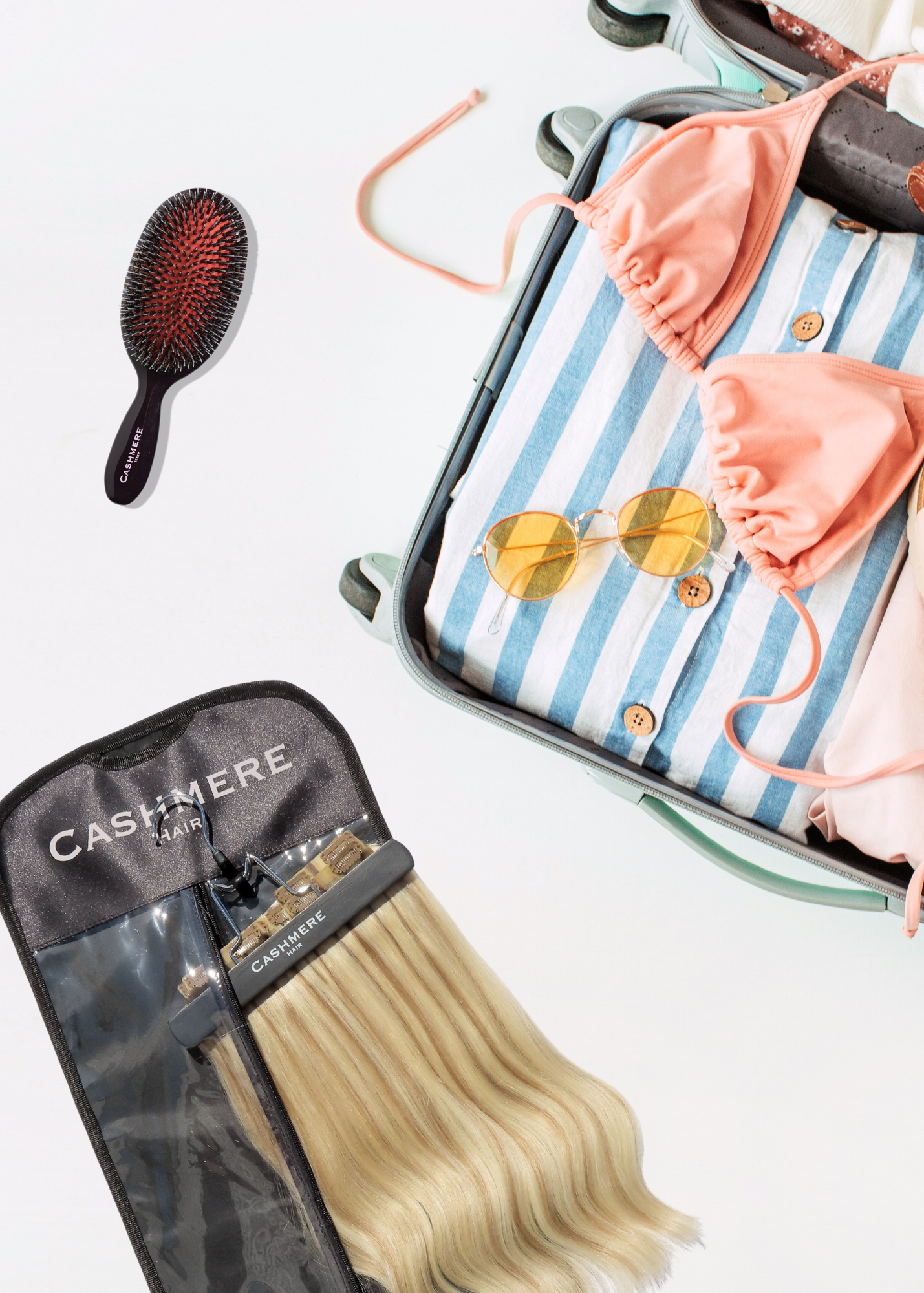 1. Pack them securely
When packing for your trip, make sure you invest in a high-quality hair extension storage case like our Extensions Storage Bag is the most innovative way to store your Cashmere Hair® Clip In Extensions. The perfect accessory that makes traveling with, storing & protecting your extensions with utmost care easy and glamorous.
Hanging your extensions from the hanger prevents them from tangling, and it preserves the hairstyle so you don't have to restyle them every day. Made with durable black satin fabric & high-quality clear window in the front with a zipper for easy access. Removable glossy black wood hanger included. With the full-width gripping & folding design it will safely hold your natural hair extensions. This hanger securely grips the hair extensions between two bars — simply fold down the hook to open and lift to close on the hair below clips.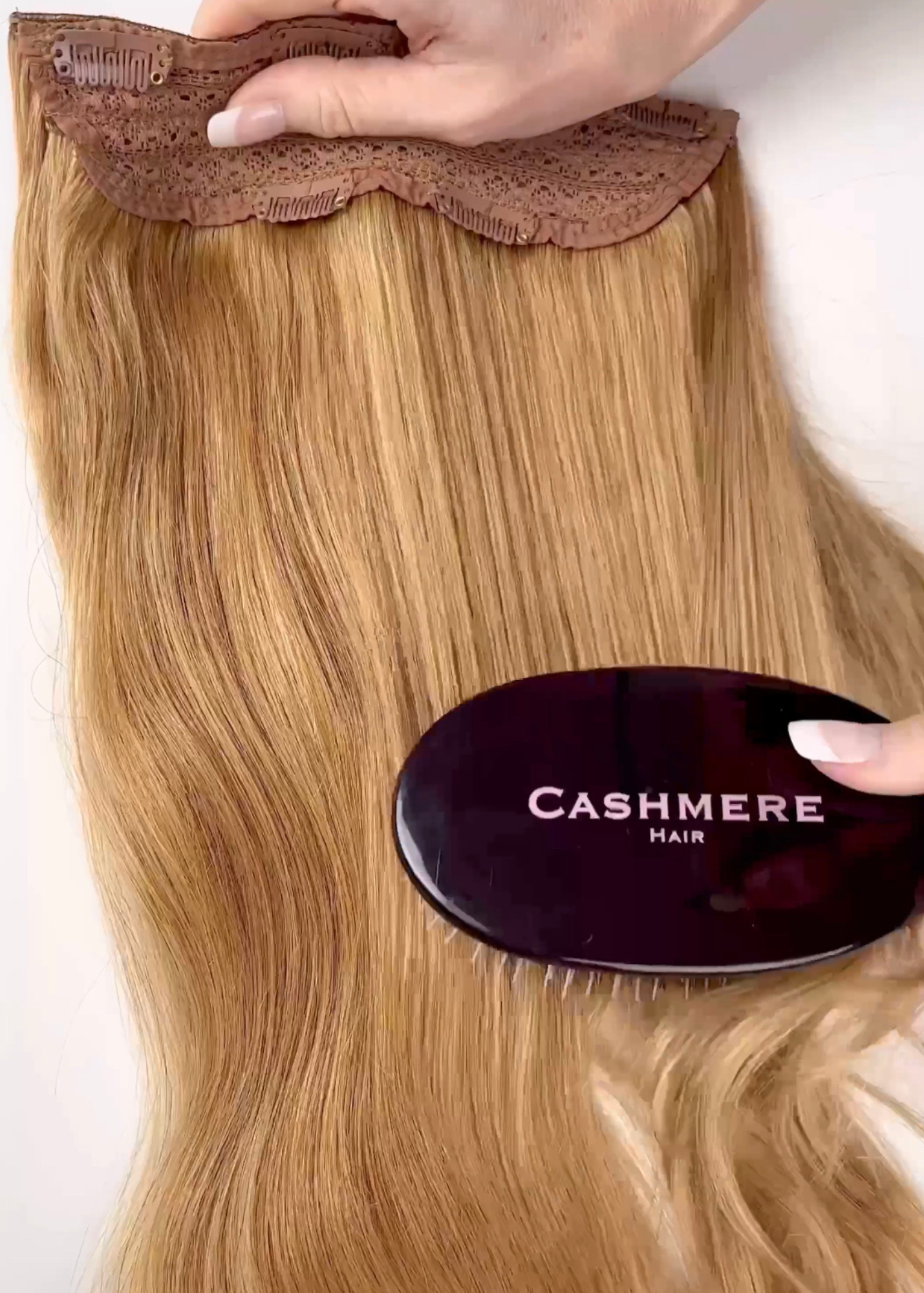 2. Brush before packing
Before packing up your human hair extensions, gently brush them with our Cashmere Hair Extension Brush, starting from the ends and working your way up. This step will help remove any knots or tangles, reducing the risk of damage during travel. This brush prevents damage and breakage from brushing to prolong the life of your Cashmere Hair Extensions.
It is also a great tool to use to blend your own hair with Cashmere Hair. Recommended for all hair types, fine, medium, and thick hair. This is the ideal brush for short to long length hair. Can be used on hair with or without extensions.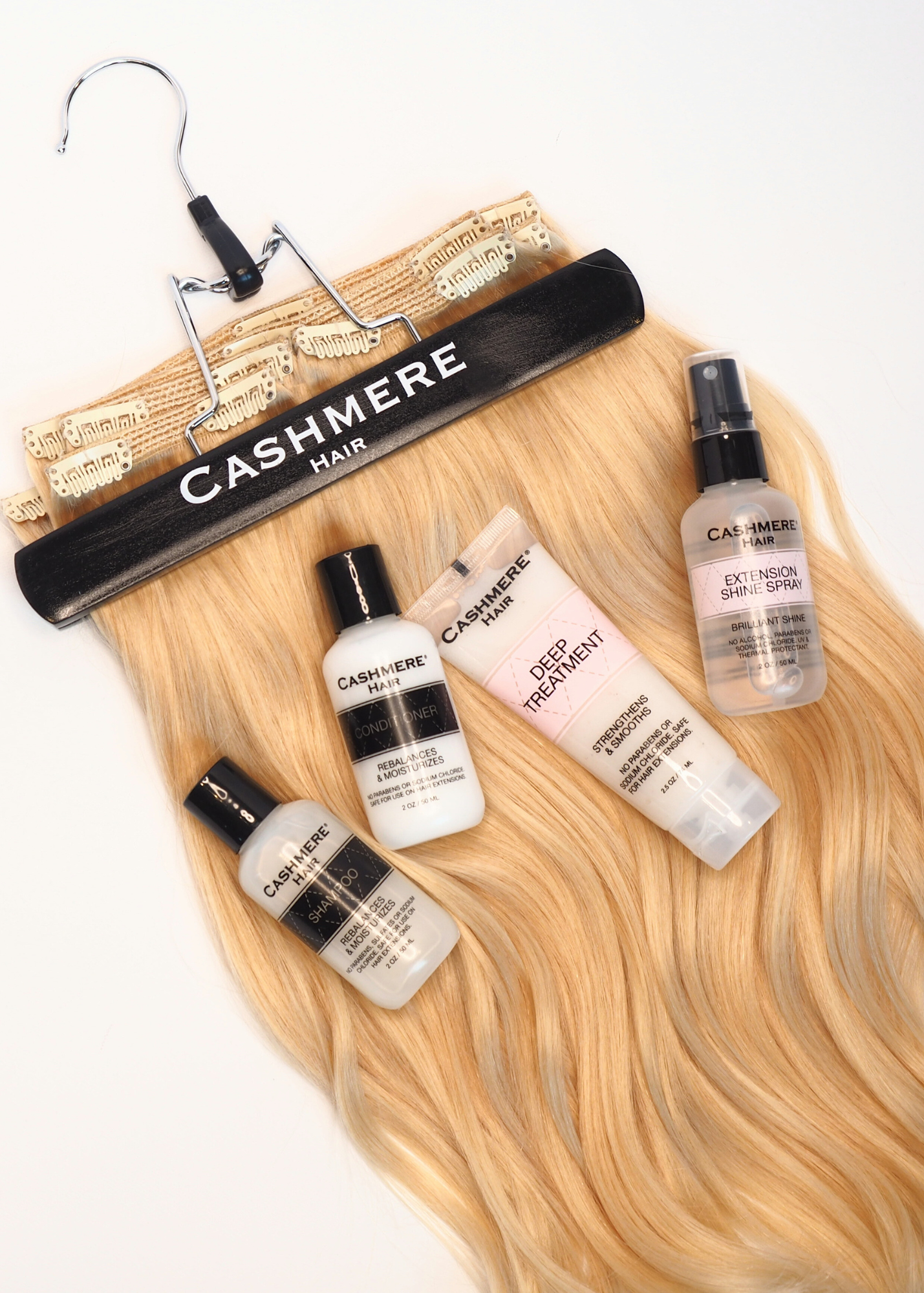 3. Travel-size haircare products
Invest in travel-size haircare products, including sulfate-free shampoo, conditioner, and a lightweight leave-in spray. Sulfate-free products are gentler on extensions and won't strip away essential moisture. The leave-in spray will keep your extensions hydrated and frizz-free throughout your journey.
Our Extensions Hair Care Set conveniently comes in TSA approved 2oz bottles with every product you will need on your vacation! Our formulas were specially made to be gentle on your professional extensions and even on your natural hair.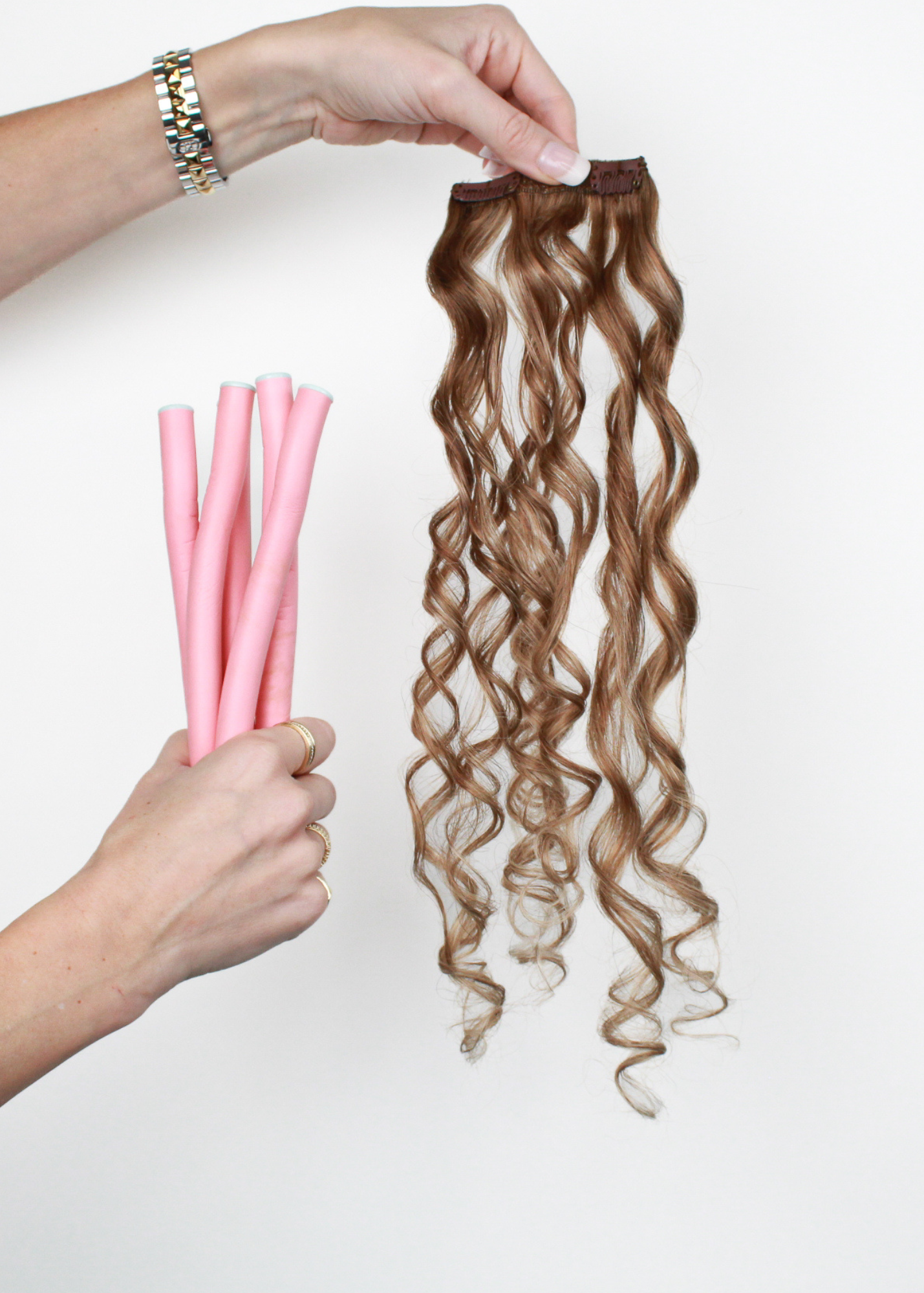 4. Avoid heat styling
While you might love to style your clip-in extensions with hot tools at home, it's best to avoid excessive heat styling while traveling. The constant exposure to heat can cause damage to the hair fibers, making them prone to breakage.
Embrace natural, heatless hairstyles during your trip to protect your extensions. Because our extensions are made with 100% Remy Human Hair, they naturally take on the most gorgeous waves that make for the perfect summer look!
5. Secure your extensions during activities
If you plan to engage in water activities or sports during your trip, tie your extensions in a loose braid or ponytail to prevent tangling. It's essential to keep them away from chlorine, saltwater, and excessive sun exposure, as these elements can cause dryness and damage.
Our Cashmere Hair Deep Conditioning Treatment is amazing for restoring hydration to your extensions and can be used once a month or every few washes. This deep conditioning hair treatment, super-charged with proteins and extracts, restores moisture, strengthens, stops frizz, and reduces breakage. Improves the results of Keratin treatments. It is great for all hair types and is safe for use on hair extensions colored, straightened, and chemically-treated hair.
6. Regular maintenance
Even during your travels, don't forget to give your extensions some tender loving care. If possible, take a few minutes every day to gently brush them and remove any tangles that may have formed. By staying consistent with maintenance, you'll ensure they stay silky smooth and picture-perfect.
Our Extension Shine Spray is the perfect solution to revive and restore your extensions. Apply it to your hair extensions regularly focusing on the ends, as they tend to be the driest. Avoid applying products directly to the clips or wefts to prevent them from slipping or losing their grip.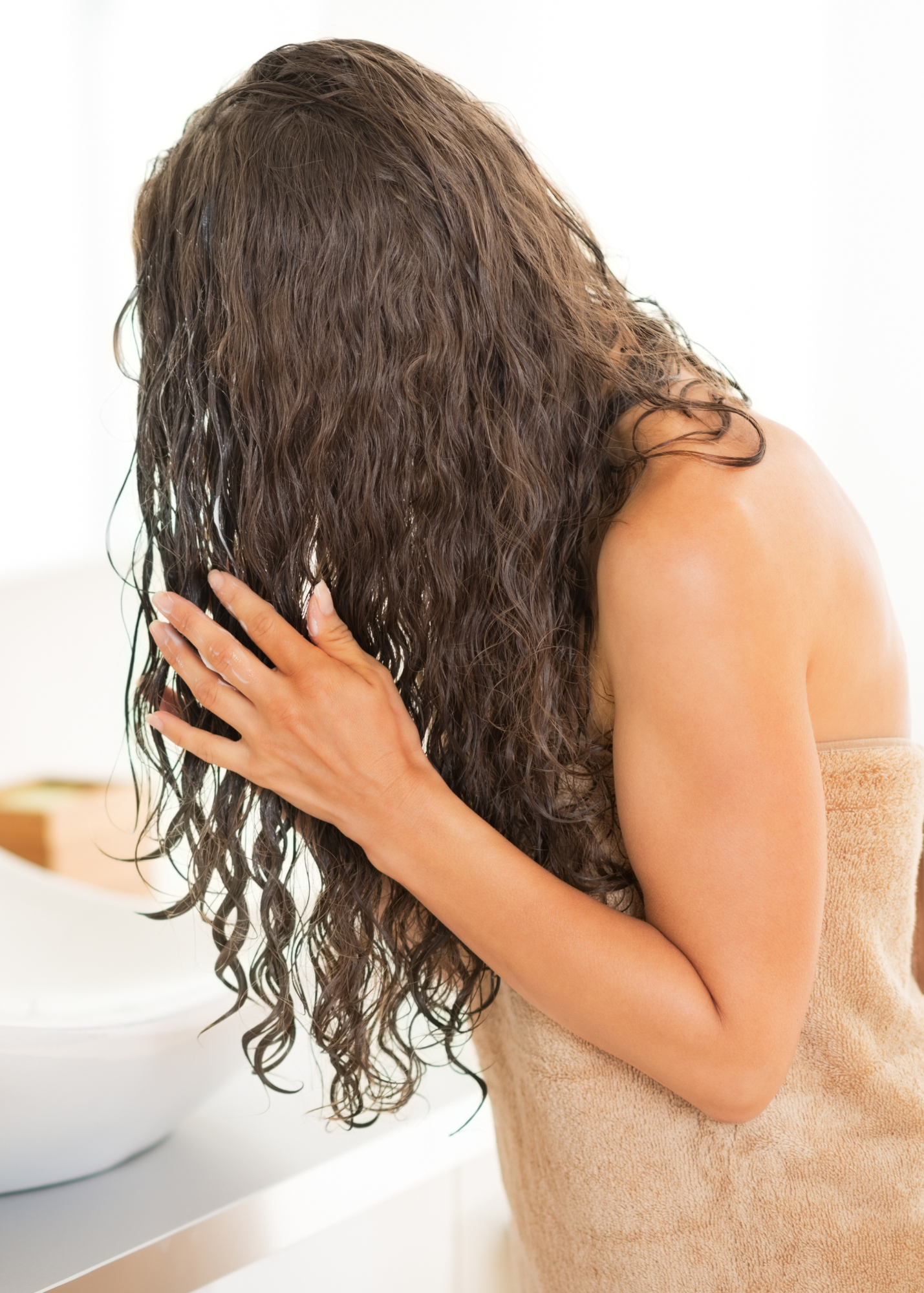 7. Avoid sleeping with wet hair
If your human hair extensions get wet during the day, ensure they are dry before going to bed. Sleeping with damp hair can lead to tangling and matting, so it's best to let them air dry before hitting the pillow. Removing your extensions before bedtime not only prolongs their lifespan but also gives your scalp and natural hair a chance to breathe and recover.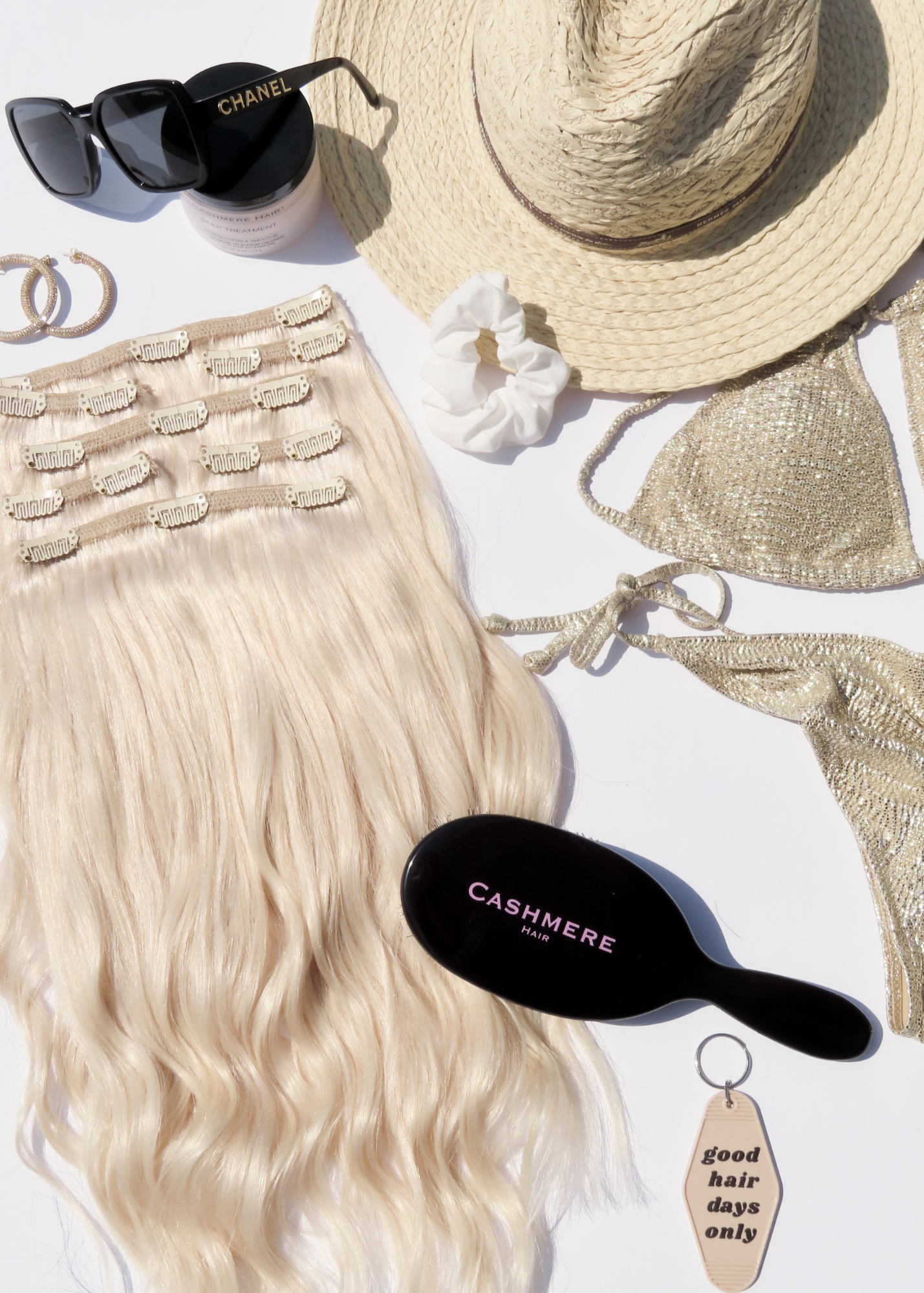 8. Keep them away from direct sunlight
Prolonged exposure to direct sunlight can cause the color of your natural extensions to fade and the hair fibers to weaken. When lounging by the pool or enjoying outdoor activities, consider wearing a stylish hat or a hair wrap to shield your extensions from the sun.
With these travel tips, you can keep your Cashmere Hair Extensions looking flawless and vibrant, no matter where your wanderlust takes you. Proper care and protection during travel are essential to maintain the health and longevity of your extensions, ensuring you always have stunning hair, whether you're exploring exotic destinations or simply enjoying a weekend getaway. Embrace your hair extensions as your trusty travel companions and let them be the secret to your flawless vacation style!