Washing your clip-in extensions is a vital component to extending the lifespan of your extensions. The Extension Care Set is the only product line we recommend to safely care for your Cashmere Hair Clip-in Extensions. Each product was designed to refresh, restore and protect our 100% Remy Human Hair. It's specifically formulated to extend the life of your Cashmere Hair extensions!
For most people is not necessary to wash your extensions after every use. If you find that your extensions are tangling or frizzing up, please wash, condition, and use our Extension Shine Spray after they have dried to add extra shine and prevent tangles.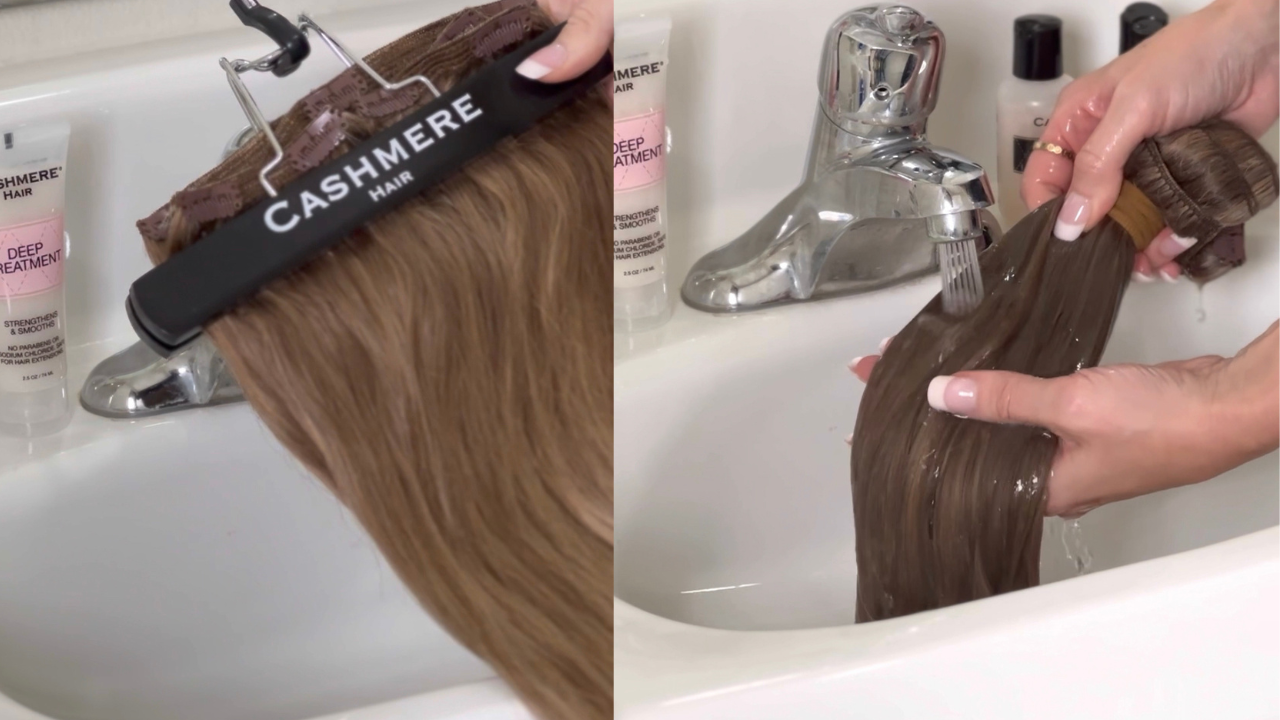 WASH SCHEDULE
If you have oily hair / scalp: Wash & Condition every 3 - 5 wears
After using hairspray or styling products: Wash & Condition 1 - 2 wears
Dry hair / scalp: Wash & Condition 10 - 15 wear
Normal Hair / scalp: Wash & Condition 5 - 10 wears
If you swim with them (not recommended): Wash, condition & use Cashmere Hair ® Deep Treatment immediately
HOW TO WASH YOUR LUXURY CLIP-INS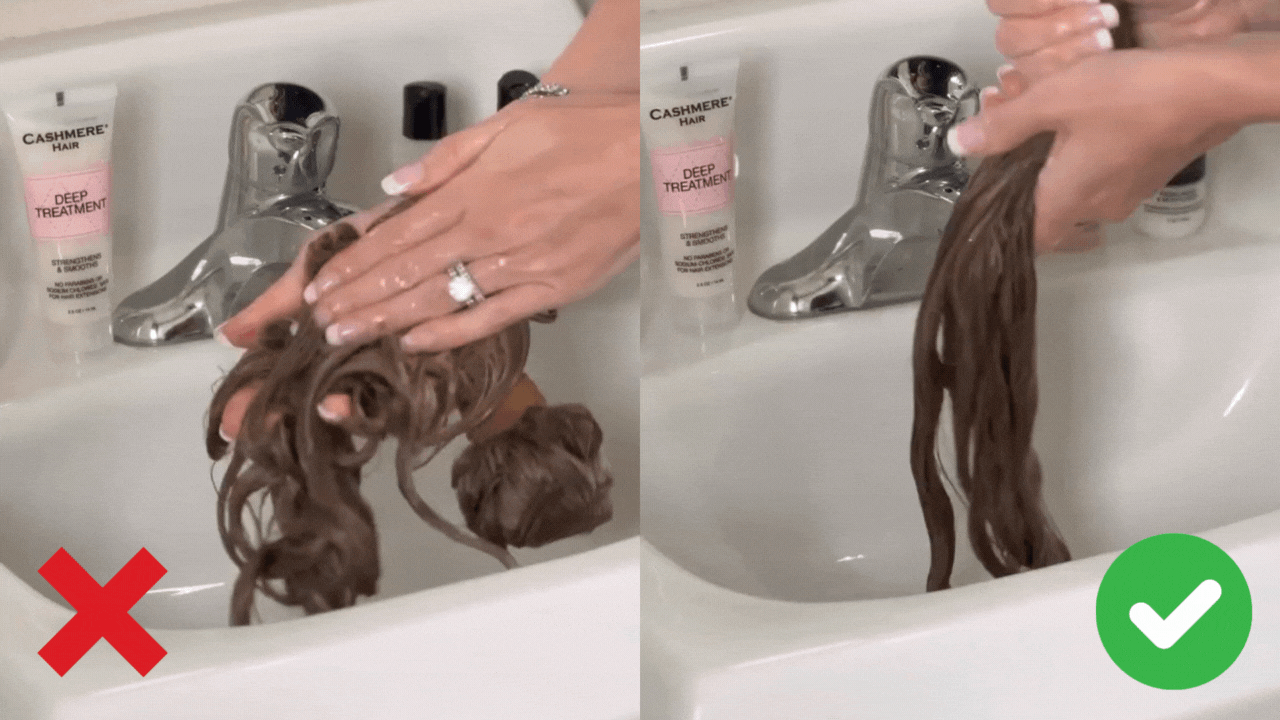 You'll wanna start off by securing your hair extensions together with a hair tie, so that way it's a lot easier to work with. You can then begin wetting the extensions and then taking your shampoo and emulsifying it into your hands before applying it onto your human hair extensions. You'll wanna be sure to apply the products in a downward motion, not in a rubbing motion. It's gonna cause a lot of tangles, which can lead to damaging the extensions and causing unnecessary wear and tear in them.
Once you rinse that out, be sure to do the same thing, rinsing them out in a downward motion and squeezing out the excess water gently. You can then apply the conditioner all throughout the ends and just working that throughout the hair. You can then rinse out the conditioner with water, making sure that you don't have any leftover residue from any of the previous steps.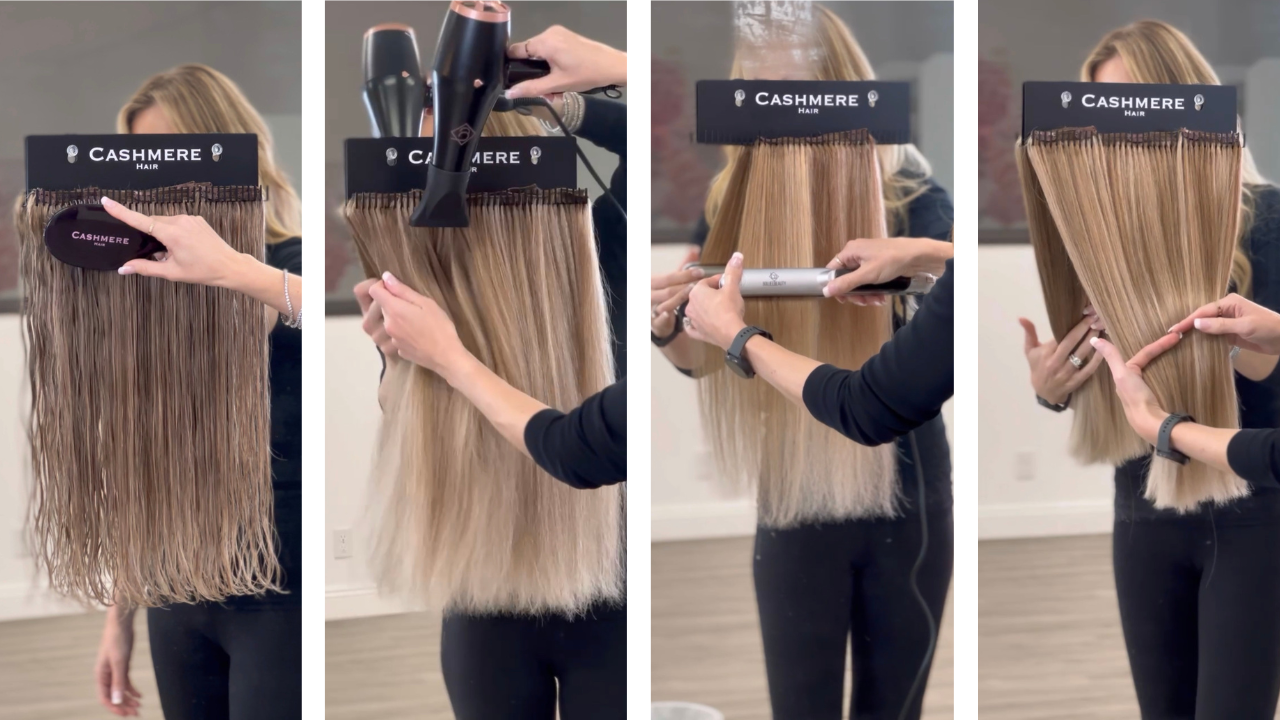 The next step is optional, but we do recommend doing a deep treatment with your hair extensions, every couple of washes. This will help just revive your professional extensions, by adding extra moisture. It can help reduce frizz and just overall make the extensions a lot easier to work with. You can set these aside for about 10 minutes, and then be sure to rinse them out thoroughly bringing the water up to the clips to ensure that all the product has been rinsed out and there's no left over residue. You can then squeeze out all the excess water, making sure not to ring them like a towel, but instead gently pushing the water out and squeezing them in a downward motion. You can soak up any excess water with the towel doing the same motion squeezing downward and gently. Make sure to squeeze extra gently when you are removing any excess water from the clips.
Because these high-quality extensions are made of 100% Remy human hair, they do take on a very beautiful, natural, wavy texture. So if you would like them to take on that natural curl, you can go ahead and go in with some mousse or gel and scrunch the hair to ensure that it holds that natural wavy texture, or if you would like to heat style them, feel free to brush through them with our Cashmere Hair Extension Brush to easily detangle and smooth out the hair, and then go in with a blow dryer to either blow dry your hair and then heat style with a straightener curling iron waver, or however you desire.