What Are The Best Extensions For Thin Hair From Cashmere Hair Extensions?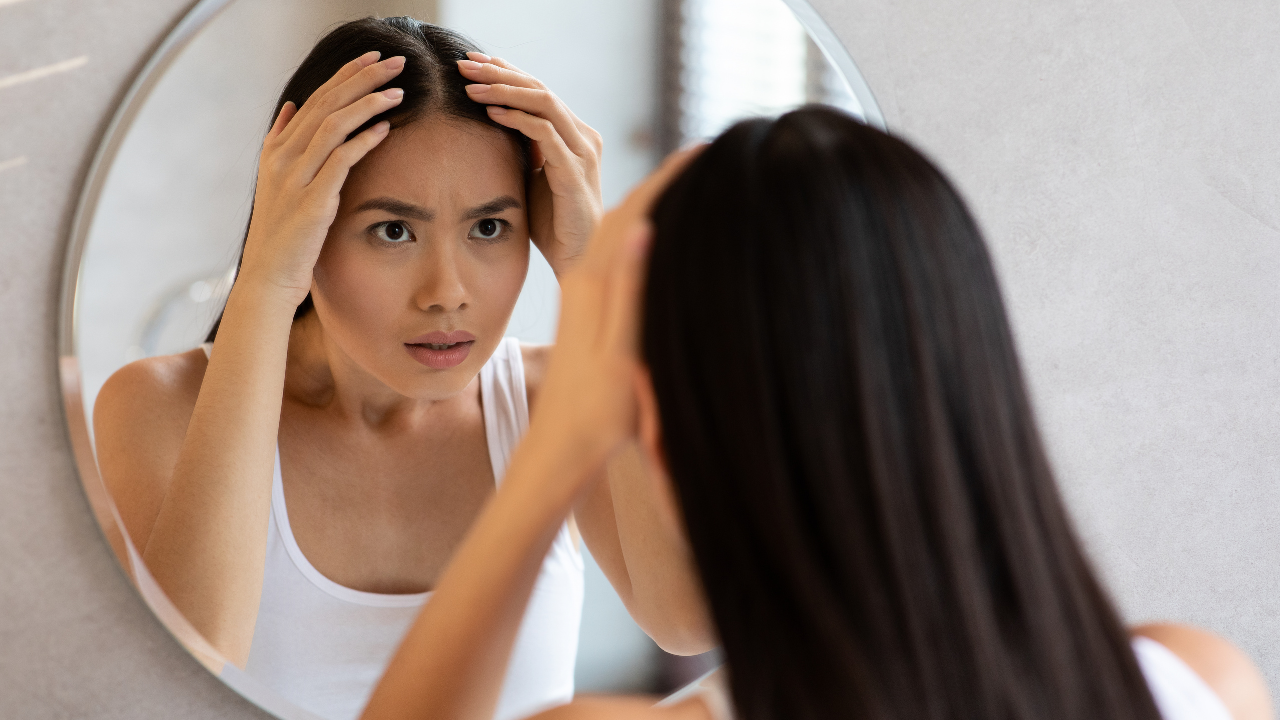 PSST, this is a trick question.. All of our extensions are actually the best extensions for thin hair! Our tracks were specifically designed with the thin-haired in mind. No matter the texture, thickness or length of your hair, there is a set of extensions from Cashmere Hair that are guaranteed to perfectly fit YOU! Let's break it down shall we?
Classic Clip-in Extensions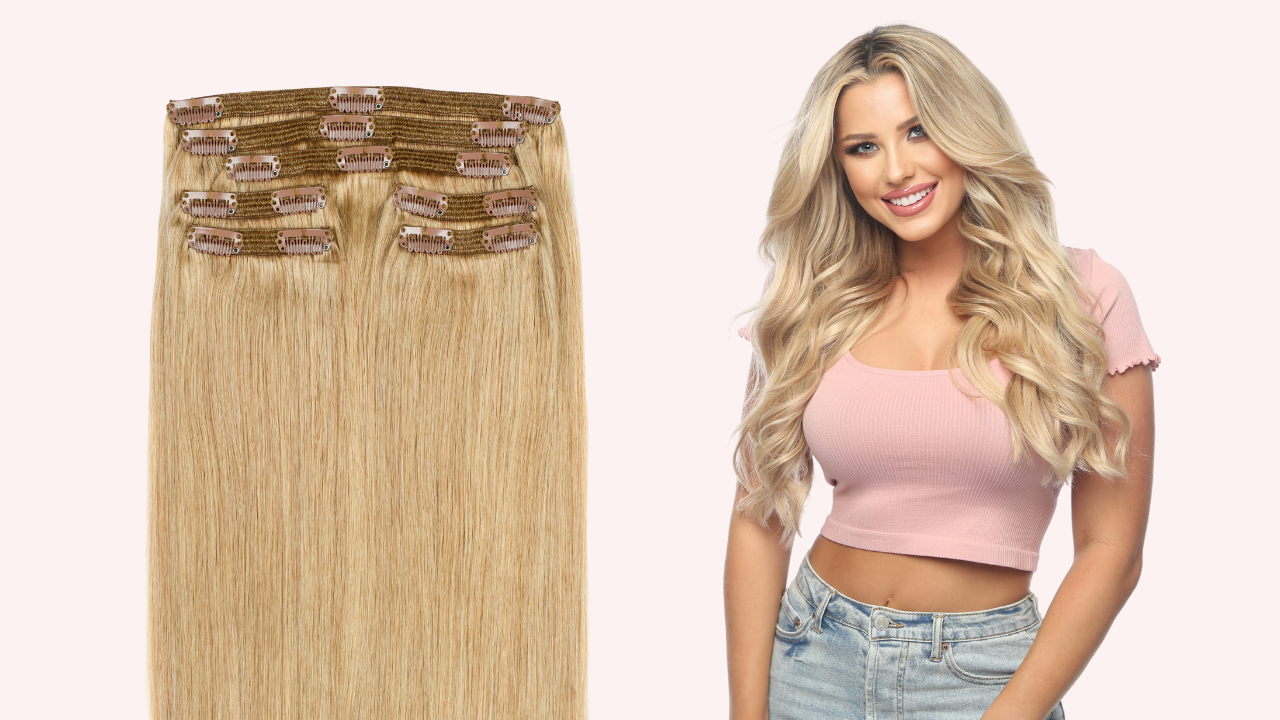 Our OGs! These extensions are like our firstborn child. We put our heart and soul into designing these extensions because we wanted to make them unlike any other extensions on the market and to be the solution that everyone has been looking for when it comes to feeling confident in their hair.
TRACKS: Although we do offer a set of Seamless extensions, don't be fooled because these Classic Clip-ins can blend just as seamlessly into your hair! They are made with a flexible, stitched band that mimics the hair color and have a minimal amount of clips for the most comfortable wear.
HAIR: Cashmere Hair Classic clip in hair extensions are made from 100% Indian Remy human hair to give the most natural finish with the best overall quality. These extensions do contain a lot of hair but are very thin at the top of the weft.
CLIPS: Cashmere Hair uses the best clips for hair extensions, and the way we attach them to the weft is a factor in the quality of our extensions. Sometimes underestimated, clips play an important role in the comfort, durability, and safety of clip-in hair extensions, as well as the ease of concealing the tracks. No matter the quality of the hair, the quality of the clips plays a role in the length of time you can wear your clip-ins, the comfort level, and how well they stay put. Cashmere Hair's metal clips are small, with a silicone-covered band to prevent slippage, and painted for maximum comfort & safety.
COLOR: We know how difficult it is to find extensions that match your natural hair color perfectly, which is why we specially colored our extensions to have a very wide selection of colors that are specially designed to match almost every natural shade.
WEIGHT: Although these extensions do contain a lot of hair, each set of extensions is very lightweight for maximum comfort.
Gram weight per length
12 Inches: 120-130 grams
16 Inches: 150-160 grams
18 Inches: 170-180 grams
20 Inches: 190-200 grams
22 Inches: 210-220 grams
24 Inches: 230-240 grams
Seamless Clip-in Extensions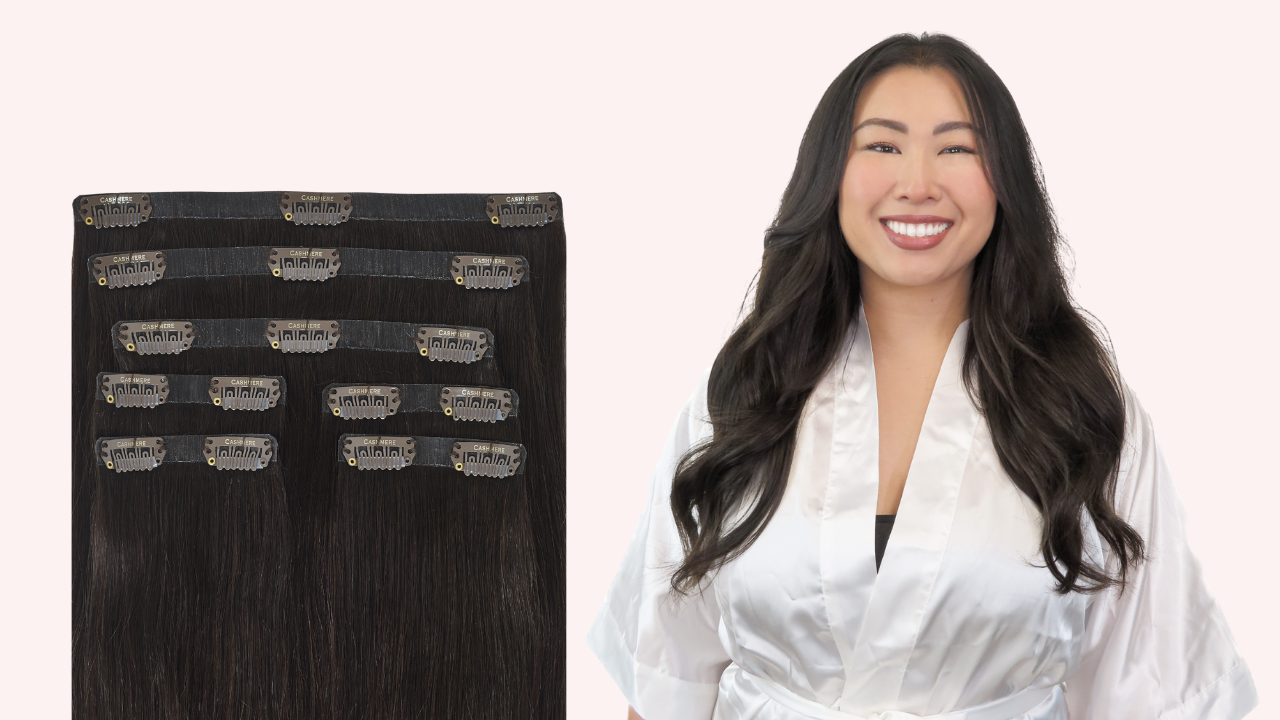 If you have a difficult time concealing traditional clip-in extensions, these luxuriously soft and sleek extensions are the perfect clip-in extensions for you. Cashmere Hair Seamless hair extensions are 50% thinner at the top allowing them to lay flat against the scalp making them so much easier to conceal and virtually undetectable.
TRACKS/CLIPS: The lay-flat design is nearly invisible, discreet, and won't damage your hair. Seamless Remy clip-in hair extensions have comfortable-wear clips that keep your natural hair damage-free, with no bulk, just natural volume, and length.
HAIR: We created these extensions using the very best quality Premium 100% Remy Human European hair for silky soft locks that look just like your own hair, but better!
COLOR: Seamless human hair clip-in hair extensions are designed in the same seven-piece track design as our Classic clip-in extensions. These gorgeous seamless extensions come in our same multi-tonal shades for instant volume and length at a moment's notice.
WEIGHT: Seamless human hair clip-in extensions contain less hair per track than the Classic clip-in hair extensions to ensure that the weight of the extensions is comfortable to wear for long periods of time for those with very fine hair.
Length & Grams:
12 Inches: 130-140 grams
16 Inches: 150-160 grams
18 Inches: 170-180 grams
20 Inches: 170-180 grams
Volumizer One-Piece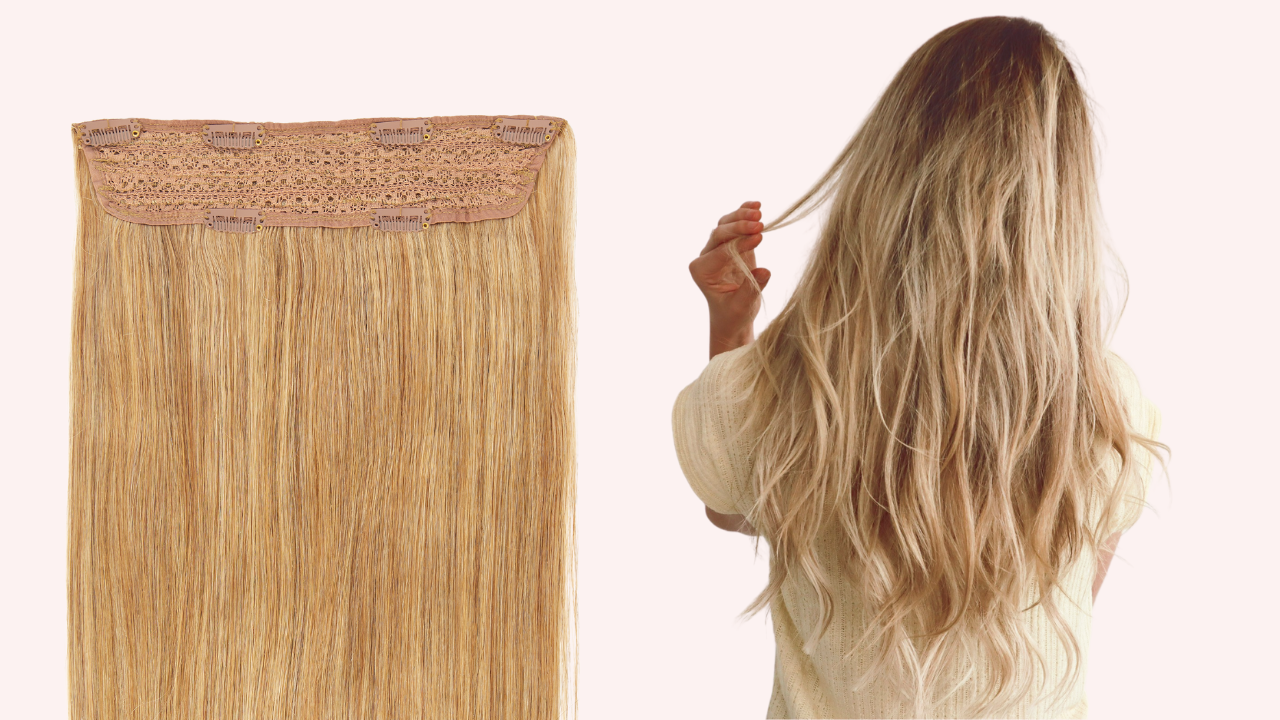 This clip-in One Piece Volumizer is the easiest way to add volume and length to your hair without the struggle. It is similar to the halo design, but instead of an uncomfortable and unstable string that goes over your head, the One Piece can be clipped onto the back of your head. This design keeps your extension secure, discreet, and comfortable.
TRACKS/CLIPS: The new design consists of several wefts sewn into one lace piece, with 6 clips to create balance and a comfortable grip. One Piece comes complete with metal clips attached to the weft with silicone tubing for a secure grip when attached to your natural hair.
HAIR: The hair is +AAA Superior Grade human Remy hair that is full from top to bottom. Because of the design, it is the best clip-in extension for medium to long hair lengths. Longer hair is required to blend and avoid the hair extension "seam" where there is an obvious difference between your hair and the extensions. Your hair should be longer than your shoulders with regular or thin ends with layers. Blunt haircuts will not blend naturally with this hair extension option.
COLOR: This one step wonder extension comes in our same multi-tonal shades for instant volume and length at a moment's notice.
WEIGHT: Having the clips on the bottom really helps to distribute the weight of this piece evenly. It's a lot of 100% Remy Human hair on one track, which makes it super easy to clip in, but it also can be a little bit heavy for some of our thinner haired ladies. Adding these extra clips really helps to distribute that weight a lot more evenly and take some of the pressure off of the top row of clips.
Length: 20" Inches
Width at top: Approx. 8" Inches
Weight: 110 Grams
Ponytail Extension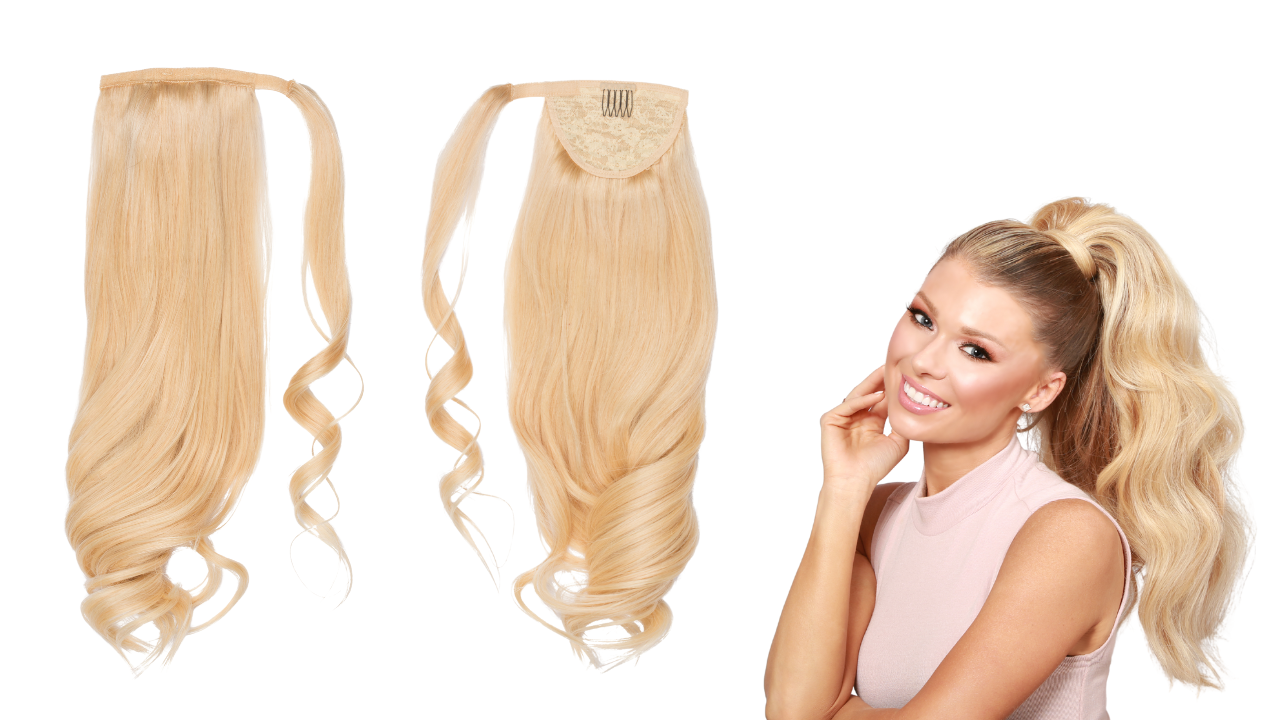 Add just the perfect amp to your pony to show the world you are ready to take on the day. No longer just for bad hair days or a time crunch, the Cashmere Hair high-quality human hair ponytail extensions will transform second-day hair in minutes. It is specifically designed for thin hair, and is totally safe to use! We recommend using a very tight and strong hair tie to secure your own ponytail as tightly as possible, giving the Cashmere Hair Ponytail enough support to hold onto.
TRACK/CLIP: It is designed with a comb that can be placed underneath a hair tie, or behind your ponytail holder. Then a section of hair is designed to wrap around the base of your own ponytail concealing the ponytail holder and the attachment. Velcro the base together then wrap the small section of hair around the base to conceal the attachment, secure with a few bobby pins and you are done!
HAIR: A luxurious Ponytail extension that it's made from 100% high-quality Remy human hair. Other brands typically sell fake hair ponytails which tend to look really fake and obvious. Having a real hair ponytail also allows you to style it with heat in any way that you desire. Our ponytail is designed to completely conceal and cover your own ponytail. It comes in two different lengths, it's a really luscious amount of hair to give you a fuller more beautiful ponytail.
COLOR: In some cases, your hair might be a darker color when pulled up into a ponytail, so we recommend choosing the shade that matches the darker color closer to your roots for the most natural color match.
WEIGHT:
Gram weight per length
• 16 Inches: 70-80 grams
• 20 Inches: 95-105 grams
Why Cashmere Hair Extensions?
Ultimately, all of our extensions were designed with the idea in mind that they need to effortlessly blend into any hair type. We want your extension application process to be a breeze, which is why we made sure to pay attention to every detail in making sure that no matter which extension you are looking at not only will they blend easily, but they won't be damaging to your hair or uncomfortable to wear in everyday settings. Cashmere Hair has some of the best extensions for all hair types, the possibilities are endless here, so don't limit yourself from achieving your hair goals!
Need help choosing the right shade for your hair? Let our color-matching experts recommend a shade for you!
1. Text us photos of your hair to 213-222-3878
2. Email photos 3+ of your hair to photos@cashmerehairextensions.com.
3. To submit photos now, click here.