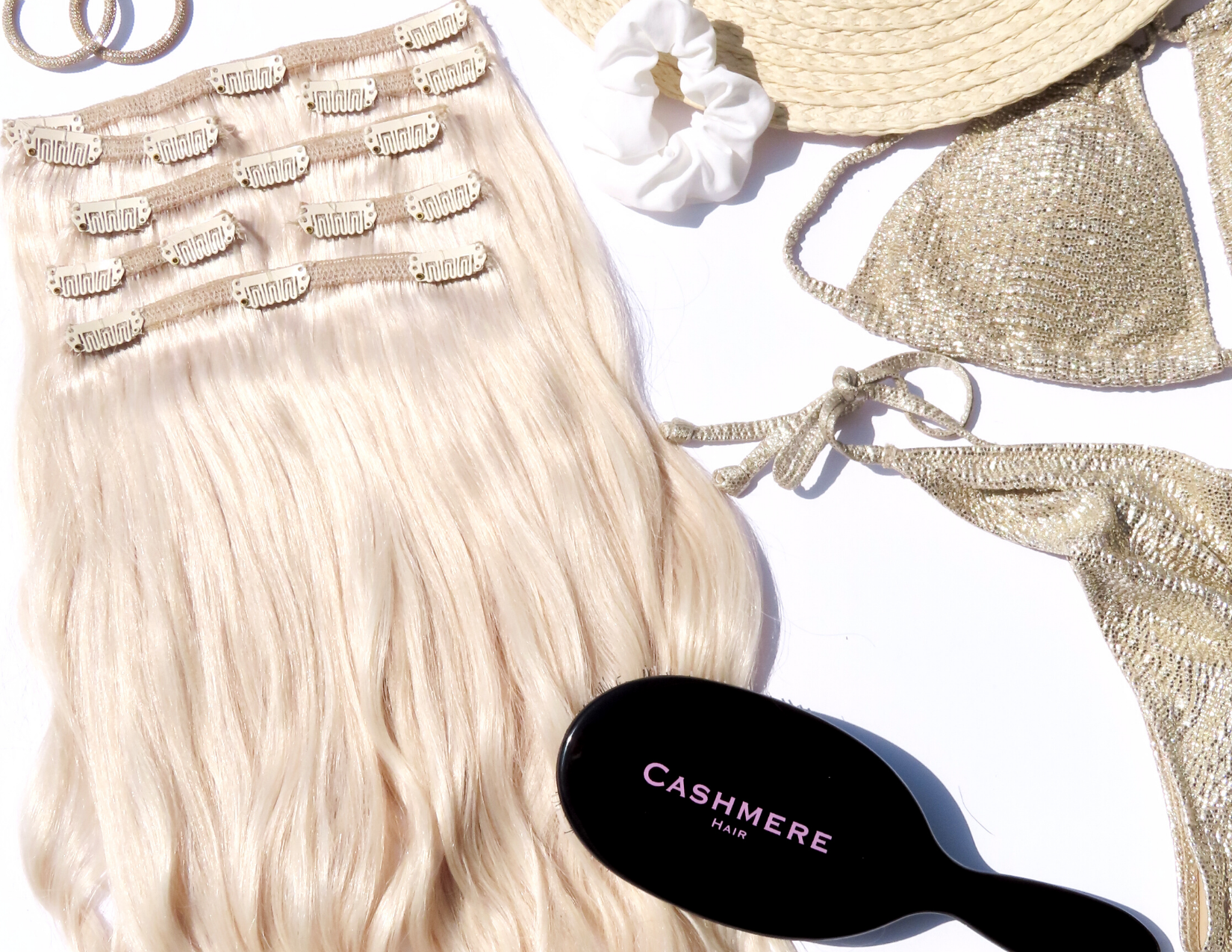 When it comes to beauty, it is safe to say that the majority of us tend to go with the "win, win" products and beauty regimens. So what do we mean when we say a product or service is a "win, win" in the beauty world; or in this particular case, the hair world? A " win, win" product or routine not only allows you to achieve your dream make-up or hairstyle; it allows you to achieve it with ease.
With the mass amount of beauty and hair products on the market, it is can be a challenge to decide what hair care routine is ideal for you. If you are anything like us, achieving your individual hair goals (with ease) is the absolute dream -- which is why we always consult with our fellow salon professionals and utilize their expert hair tips. The good news is; here at Cashmere Hair Extensions, it is our top goal to make your hair dreams a reality. Our luxury, high quality clip in hair extensions instantly add luscious length and gorgeous volume to your natural hair. Clip in hair extensions are the easiest hair extensions to apply and maintain. Clip in extensions are not permanent and provide the freedom to take them on and off whenever you please -- without the need to visit a salon. With comfort, beauty, and lifestyle in mind, Cashmere Hair has the perfect set of hair extensions for everyone -- and every occasion.
SEAMLESS CLIP IN EXTENSIONS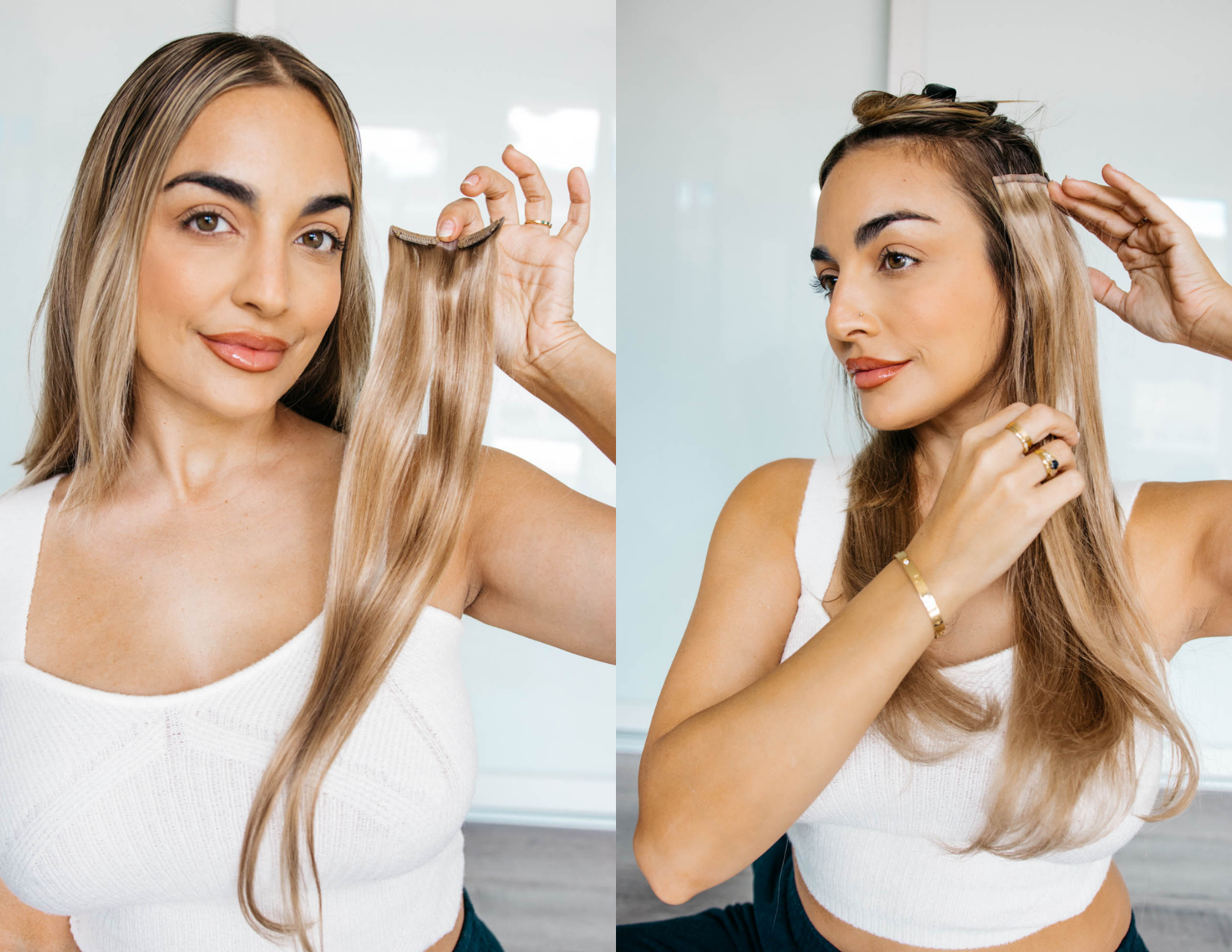 Our Seamless Clip In Extensions are truly something to write home about! We truly couldn't be more proud of our luxury seamless hair extension collection. From the beginning, our seamless hair extensions were designed with comfort and ease in mind -- particularly for our fellow babes with hair on the fine or thin side. Our seamless clip in hair extensions are 50% thinner than our traditional classic clip in hair extensions -- making them the ideal solution for those who have somewhat of a difficult time concealing traditional hair extensions. Although our seamless clip ins were designed for finer types, anyone who is looking for an extra boost of discrete, lightweight length and volume can benefit from our luxurious seamless extensions.
VOLUMIZER ONE PIECE (BETTER THAN A HALO)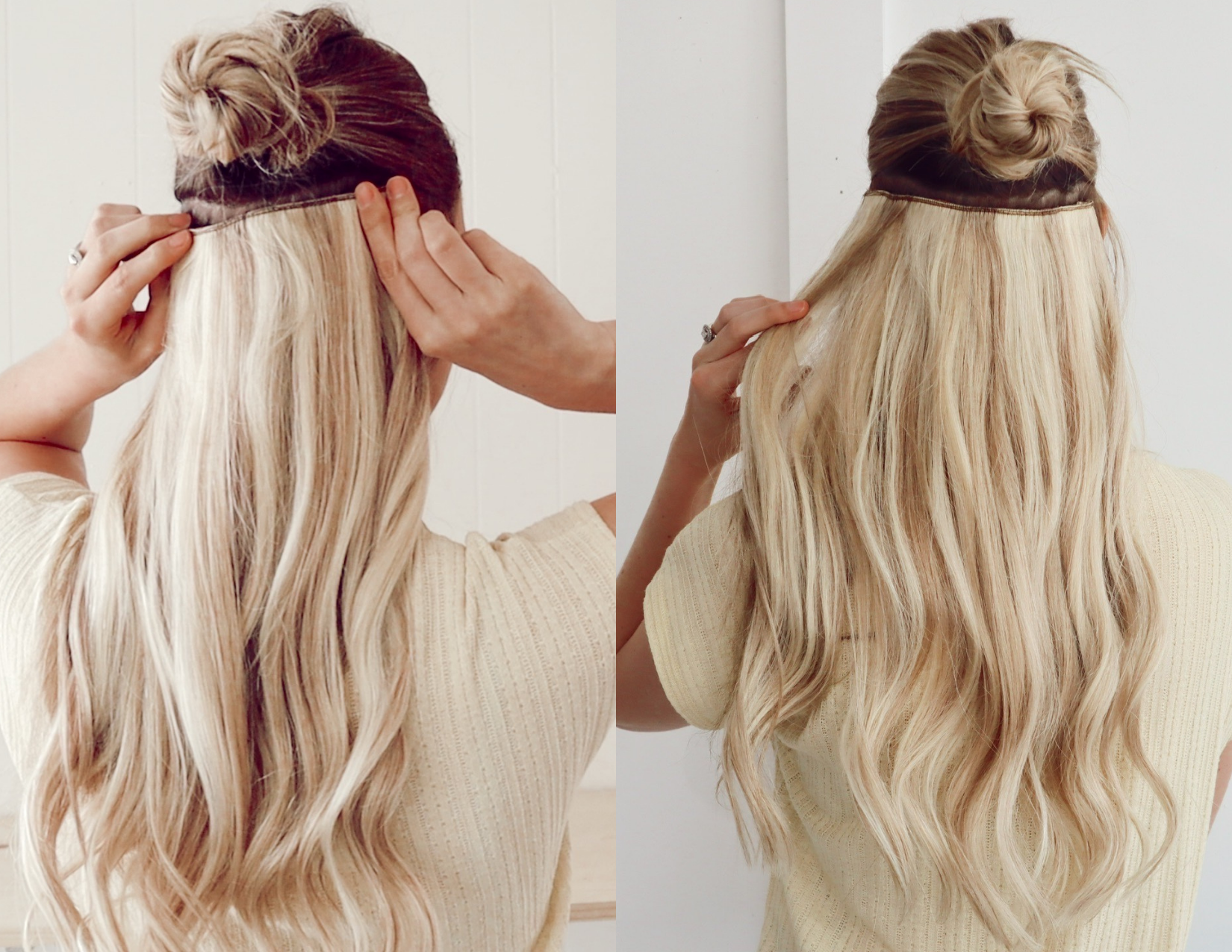 If you haven't met this over-achiever already, say hello to our iconic Volumizer One Piece Extension! Truth be told, the easiest hair extensions to apply are the ones that work best for you. Our luxe one piece hair extension is ideal for the babe with natural medium to long hair who is look for that extra glamorous boost of length and volume. Applying clip in hair extensions has never been easier with our one weft extension. Consider this incredibly hair extension our version of a halo extension -- but better! Say goodbye to the obvious halo extension strings and wires; and say hello to secure, discrete, and voluminous hair!
WRAP PONYTAIL CLIP IN EXTENSION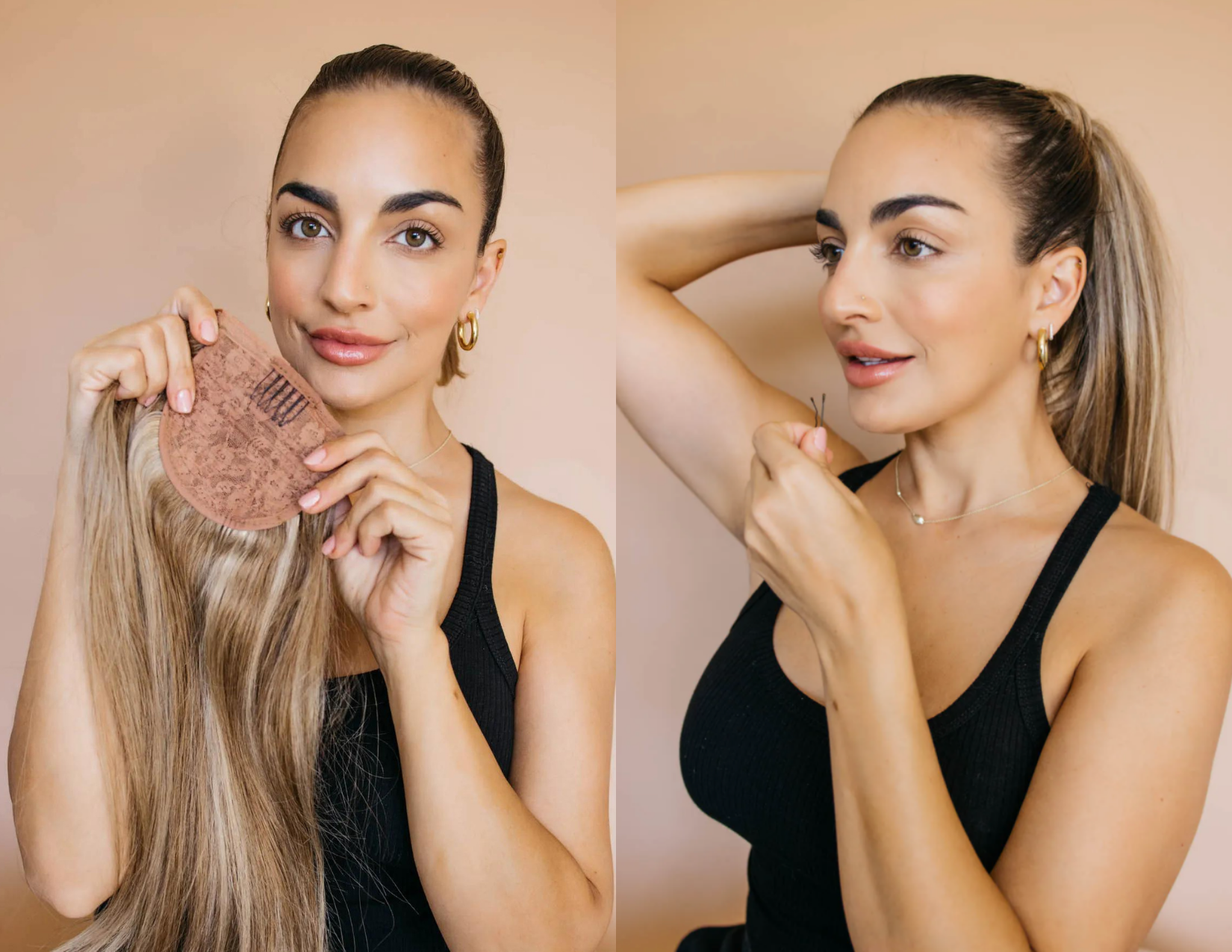 (Now that's a) wrap ponytail extension! Let's be honest: we have all put our hair up in a ponytail expecting to look instantly chic and glammed up...and well...it didn't go as planned. That is where our clip in ponytail hair extension comes to the rescue! Our signature ponytail clip in extension only takes a few minutes to clip and only a few moments to give you the glamorous hairstyle (and confidence) you have always wanted. Our team is so in love with the versatility of our high quality ponytail hair extension. From sleek ponytail hairstyles to voluminous, our incredible clip in ponytail can easily take you from day to night and have you feeling like a total beauty queen all day long.
CLASSIC CLIP IN EXTENSIONS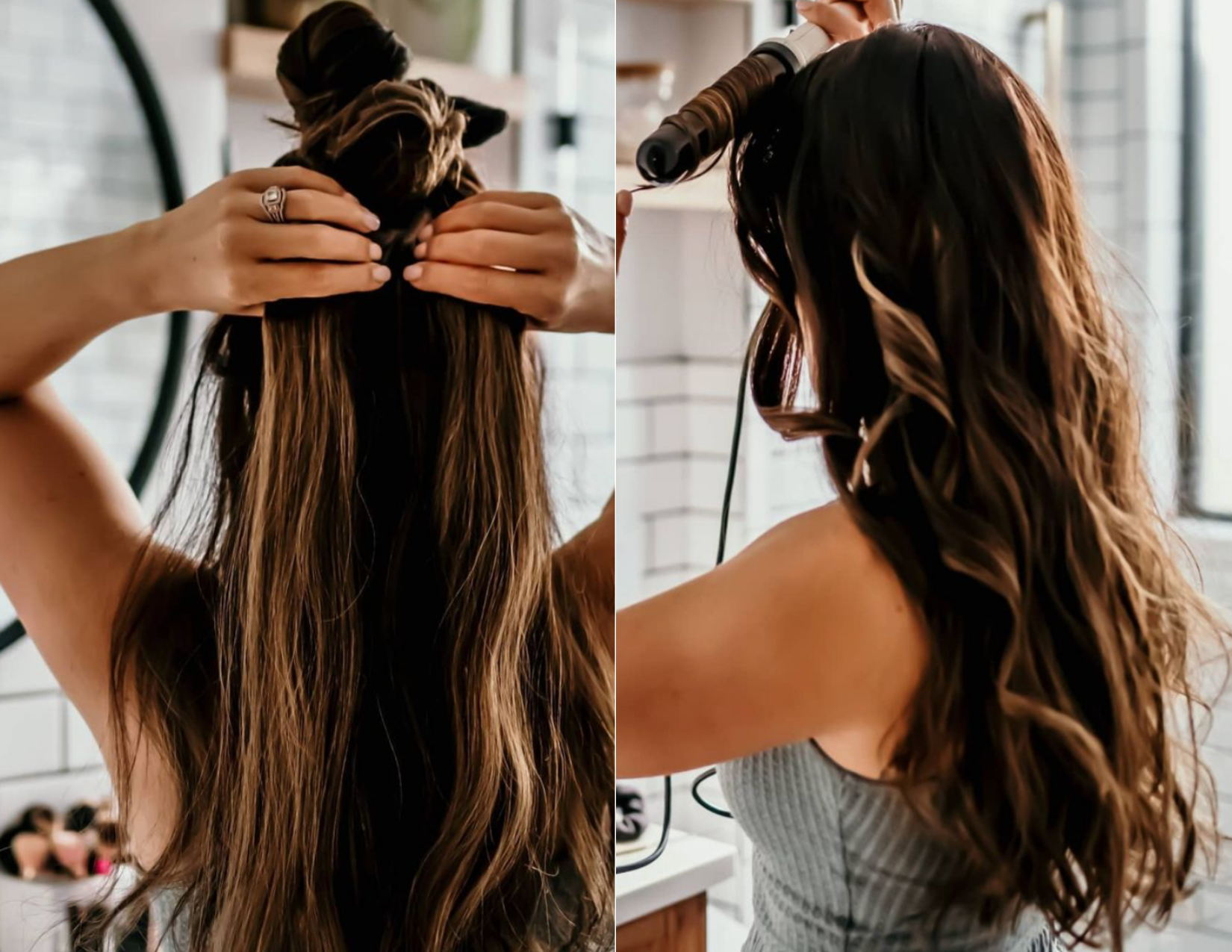 She may be last, but she is certainly not least. Talk about a low maintenance hair routine! Our Classic Clip In Extensions have everything you can ask for in a hair extension set: easy application, maximum volume, and total confidence. Our classic clip in hair extensions are incredible for daily wear or for a special occasion! Our Classic Clip In Extensions are so perfect for the gals that are looking to achieve the princess hair of their dreams -- instantly!
When it comes down to, the easiest hair extensions to apply are the extensions that work best for you, your hair type, and your lifestyle. Although we absolutely love our semi-permanent hair extensions (check out our NEW luxury hand-tied extensions), we will forever be obsessed, impressed, and well-tressed with the ease and the freedom of wearing and maintaining clip in extensions. The ability to take on and off our hair extensions whenever we please truly is the best of both worlds. And that is exactly why we consider our luxury clip in hair extensions a "win, win".