2022 Holiday Gift Guide: The Best Gifts to Give (and Get) This Holiday Season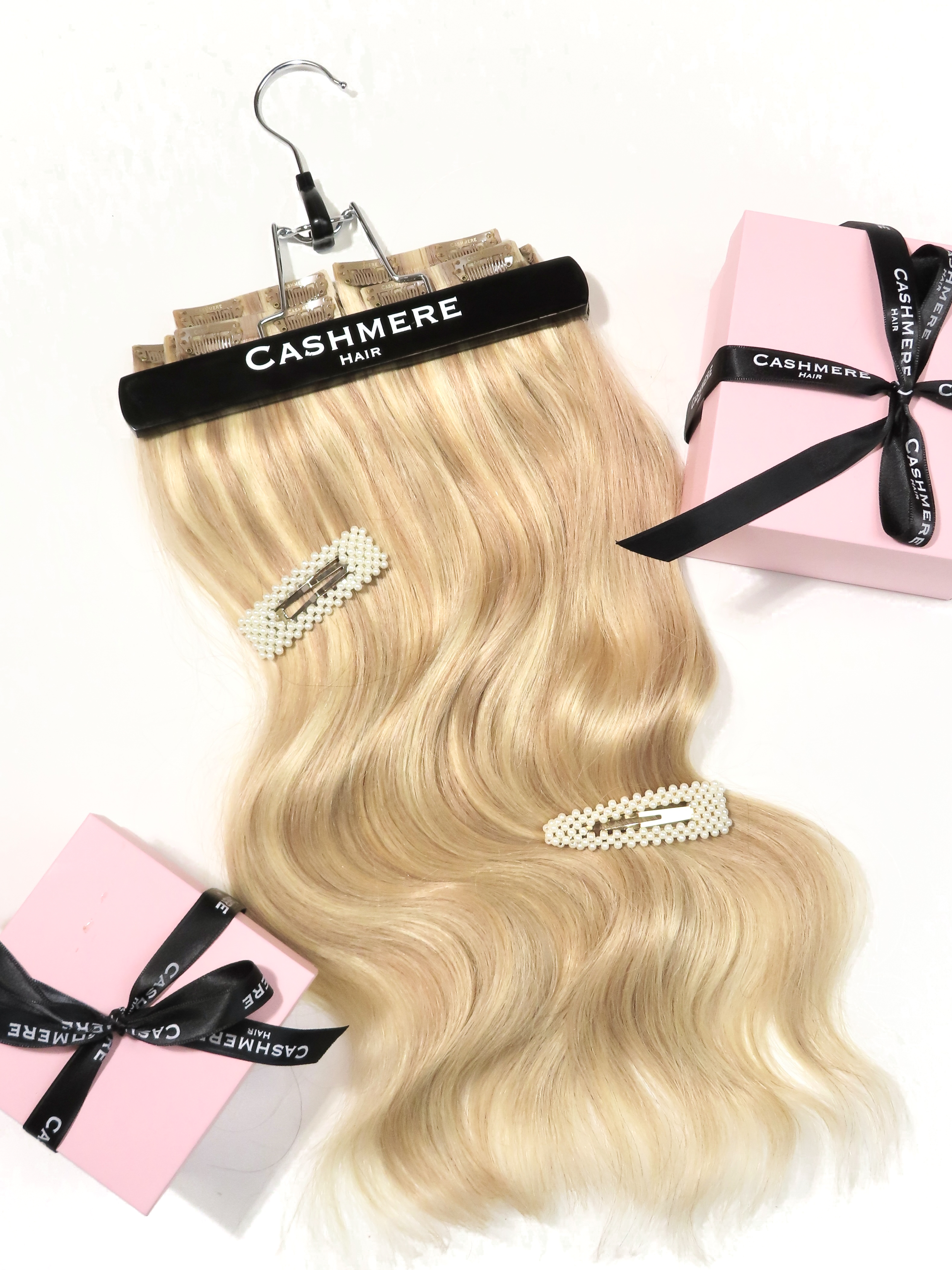 Who else is determined to be the best gift-giver this year?? Well, we've got you covered. We've put together a list of some of our favorite products this year that is guaranteed to WOW your loved ones. Whether you are shopping for your self-care bestie, a makeup mogul, or a curly-headed cutie, these trendy gifts are bound to make them feel the holiday cheer. From luxury clip in hair extensions to chic hair accessories, this year we've handpicked the must-have gift sets of 2022 to fit each of your bestie's unique styles. Keep reading to shop our top picks of the year!
For The Blowout Bombshell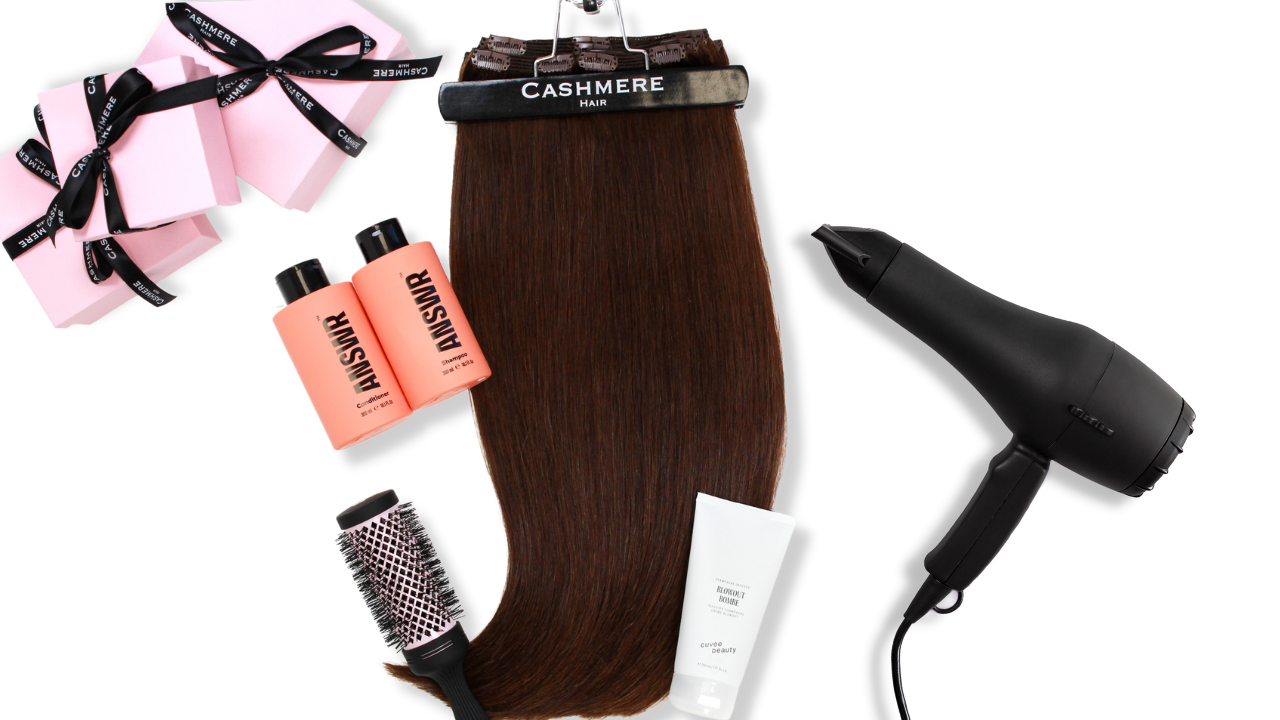 Give the gift of Va Va VOLUME this Christmas with our Classic Clip-ins. Made from 100% Indian Remy Human Hair, our Classic Clip In Extensions provide the maximum length and volume on a minimal amount of clips. To help achieve the perfect blowout add in the ultimate smoothing shampoo and conditioner bundle from Answr Beauty. Infused with pineapple extract, rich in AHA, and Phyto-ceramides from sunflower seeds to help protect and repair damaged hair, it keeps those cuticles in line. Throw in the Blowout Bomb by Cuvee Beauty to fight frizz and prep the hair for the perfect bouncy blowout. The Blowout Bomb helps to protect the hair against heat damage while providing moisture where the hair needs it most.
For The Self Care Connoisseur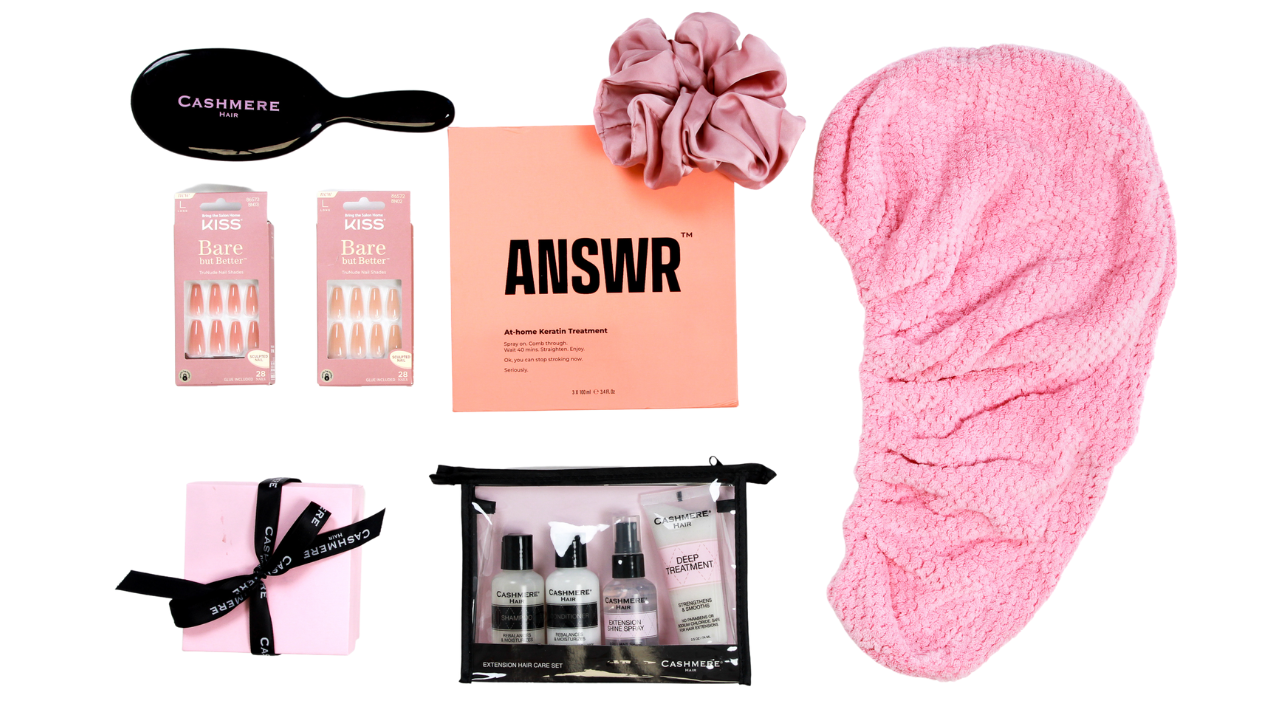 Give the gift of rellaaaaaxxxation during the stressful holiday season with this perfect self-care package. This gift package includes:
CASHMERE HAIR EXTENSIONS HAIR CARE SET: Which includes 2 oz. Extension Shampoo, Extension Conditioner, Extensions Shine Spray, and 2.5 oz Deep Treatment.
Extension Shampoo- Rebalances & Moisturizes with UV & Thermal Protectant while the Silk Amino Acids help clarify, soothe and moisturize the hair without adding weight. The shampoo contains essential nutrients that restore and rebalance the pH level of the hair, leaving it smooth with a healthy luster.
Extension Conditioner- Rebalances & Moisturizes while infused with Silk Protein and Natural Botanical Extracts to rebuild dry, damaged hair in just 60 seconds. Strengthens damaged hair, adds shine, and luster, and revitalizes stressed hair while fighting fly-aways and frizz.
Extension Shine Spray- Brilliant Shine for beautiful extensions! Creates an instant shine on dry or dull hair without weighing it down. Helps to detangle hair extensions and also smooths frizzy fried ends, and dries without a trace to add shine and life back to your extensions. A must-have for blondes!
Deep Treatment for Extensions- Strengthens & Smooths, is super-charged with proteins and extracts, restores moisture, strengthens, stops frizz, and reduces breakage.
CASHMERE HAIR BRUSH: This brush prevents damage and breakage from brushing to prolong the life of your Cashmere Hair Extensions. It is also a great tool to blend your hair with Cashmere Hair. Recommended for all hair types, fine, medium, and thick hair. This is the ideal brush for short to long-length hair and can be used on hair with or without extensions.
ANSWR BEAUTY AT-HOME KERATIN TREATMENT: This iconic at-home alternative to expensive salon keratin treatments is a winner of the 2021 Global Makeup Awards and comes with salon-quality shampoo and conditioner to prolong the effect of the treatment. It's a one easy application at home results in up to three months of perfectly frizz-free hair. The exclusive VeratinTechTM technology, a 100% vegan keratin, combined with gentle acids, helps control frizz, seal cuticles, and balance your hair's pH while restoring softness and shine.
MICROFIBER HAIR TURBAN: Say goodbye to those heavy body towels and hello to the ultimate game changer when it comes to healthy hair. This lightweight microfiber hair turban is designed to absorb way more excess moisture than your average hand/body towel all while fighting breakage and frizz. Making this simple switch with drastically change the health of your hair
SILK SCRUNCHIE: Who doesn't love a good scrunchie? Making the switch to silk scrunchies is vital to your hair health. Silk or satin are great materials for your skin and hair because they help retain moisture and reduce friction which leads to frizz and breakage. Most hair ties can easily get tangled in your hair and can tug and rip out your hair when removed, not to mention it's painful! But silk hair ties will glide out of your hair easily without causing damage.
KISS PRESS ON NAILS: Get a salon-quality mani in the comfort of your own home! These KISS Bare but Better press-ons come in so many shapes and sizes to give you the most natural look that lasts.
For The Makeup Mogul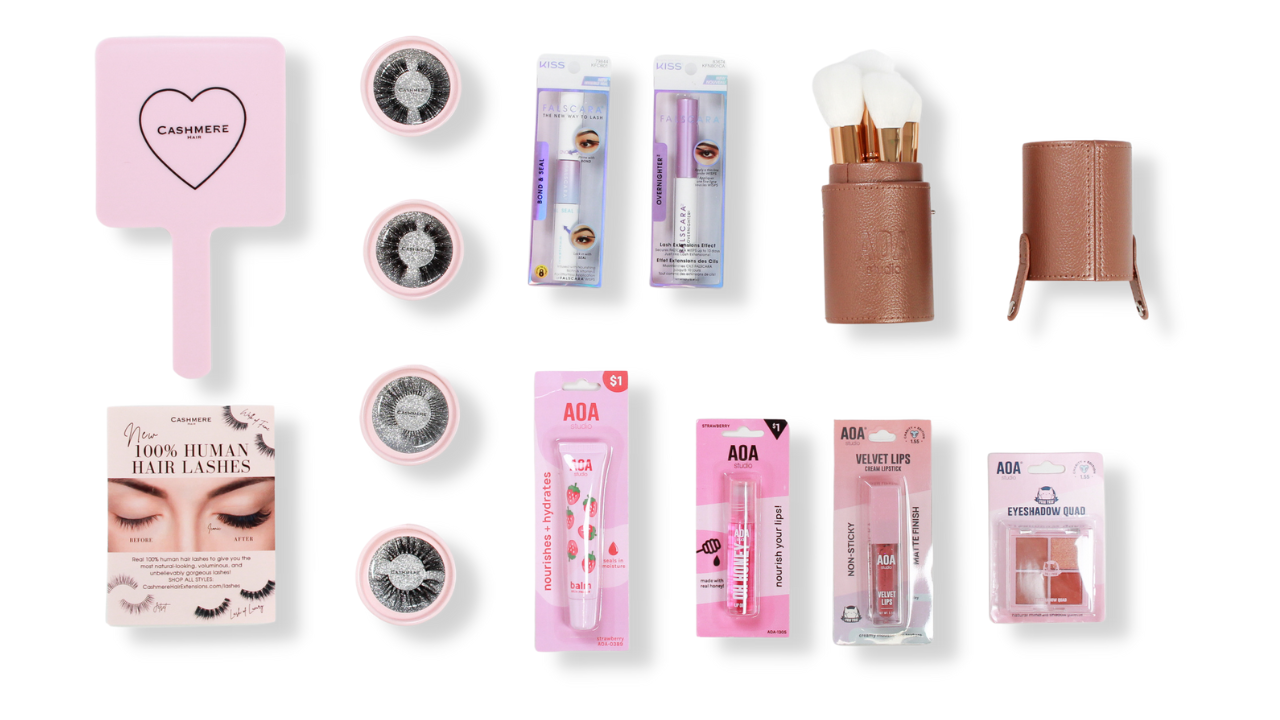 For the beauty queen in your life, I know shopping for their shade can be tough, but you can never go wrong with some lashes and lip products!
SHOP MISS A: Everything under $1? Yes, please! Shop Miss A carries some super cute and very affordable products your makeup lover bestie is sure to love. Some of our favs are the AOA Oh Honey Lip Oil Rollerball, AOA Studio Skin Rescue Balm, Paw Paw Velvet Lips Cream Lipstick, Paw Paw: Eyeshadow Quad and of course, any makeup artist knows you can never have enough brushes. Shop Miss A has the perfect set of brushes that are fit for every step of your makeup routine.
CASHMERE HAIR HUMAN HAIR LASHES: Real 100% human hair lashes from the highest quality human hair to give you gorgeous lashes from Cashmere Hair extensions. Accessorize every makeup look with these gorgeous lashes, and don't forget your clip-in hair extensions too! Cashmere Hair Human Hair Lashes come in an array of sophisticated designs and styles to fit your needs. Our lashes are made of real high-quality human hair to give you the most natural-looking, voluminous, and unbelievably gorgeous lashes!
FALSCARA LASH ADHESIVE: This lash adhesive is all the rave right now. Give your lashes even more of a natural lash extensions look with the comfort of being able to remove them whenever you'd like! This double-sided tube includes a bond to prime & prep lashes, and a seal to seal your lashes in place for all-day wear
CASHMERE HAIR MIRROR: This mirror is a beautiful reflection of you. With its sturdy structure and modern design made of durable plastic in our signature pink, the easy-grip handle & adorable design makes this mirror the chicest way to perfect your look!
For The Curly-Haired Cutie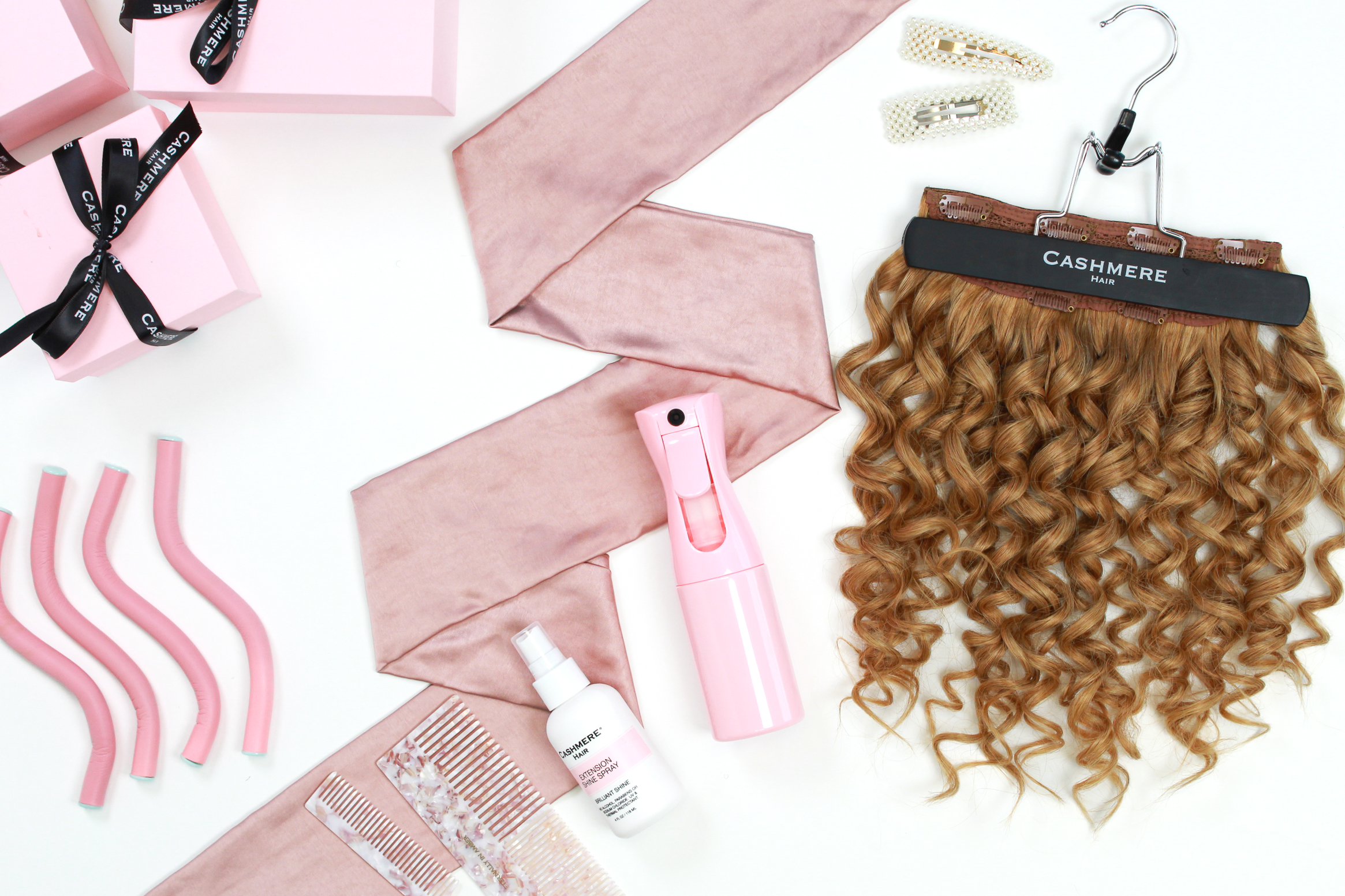 Those luscious curls take a lot of work and any way to help preserve and prolong those bouncy curls is truly a Christmas miracle.
CASHMERE HAIR VOLUMIZER ONE PIECE: This clip-in One Piece Volumizer is the easiest way to add volume and length to your hair without the struggle. It is similar to the halo design, but instead of an uncomfortable and unstable string that goes over your head, the One Piece can be clipped onto the back of your head. This design keeps your extension secure, discreet, and comfortable. It is the perfect solution to adding more fullness and bounce to your head of curls in just one easy step.
CASHMERE HAIR EXTENSION SHINE SPRAY: Our Cashmere Hair Extension Shine Spray is amazing and we highly recommend that you have one in your beauty drawer if you don't have it already! It is great for straight hair as well as curly hair. It adds shine and moisture, and it also works as a heat protectant and leave-in conditioner. It works wonders for in-between uses of your hair extensions as well. We recommend doing the light spritz on your hair extensions, brushing through with the Cashmere hairbrush to detangle, just to kind of give your hair extensions a nice refresh and make them look smooth and soft.
ETERNALLY IN AMBER WIDE TOOTH COMBS: These wide tooth combs are pure perfection. We can't get enough of these gorgeous patterned acetate combs. They come in so many gorgeous colors and unique patterns they are guaranteed to be the conversation piece to your gift. Wide tooth combs are essential to every curly girl for easily detangling and preserving curl patterns.
SILK HAIR SCARF: As mentioned previously, anything silk for your hair is a definite win. These gorgeous hair scarves can be used in so many different ways to achieve tons of cute hairstyles all while preserving the moisture in your curls and preventing frizz and breakage.
CONTINUOUS SPRAY BOTTLE: These spray bottles are the best for all the curly girls out there! The design of the nozzle allows for an even and continuous mist to refresh and redefine curls without having to completely re-wash.
FLEXIBLE CURLING RODS: As mentioned in our Tips Every Curly Girl Should Know Blog Post, flexible curling rods are a great alternative to curling your hair without using any heat! This will give you a really beautiful spiral curl. You can also use these on the clip-in human hair extension if you don't want to use heat on your hair extensions as well. These curling rods do come in different sizes, so if you want a looser curl or you want a tighter curl, you can do that as well. They're relatively inexpensive, you can get them on Amazon and a lot of local pharmacies and beauty supplies have them as well.
For The Accessorizer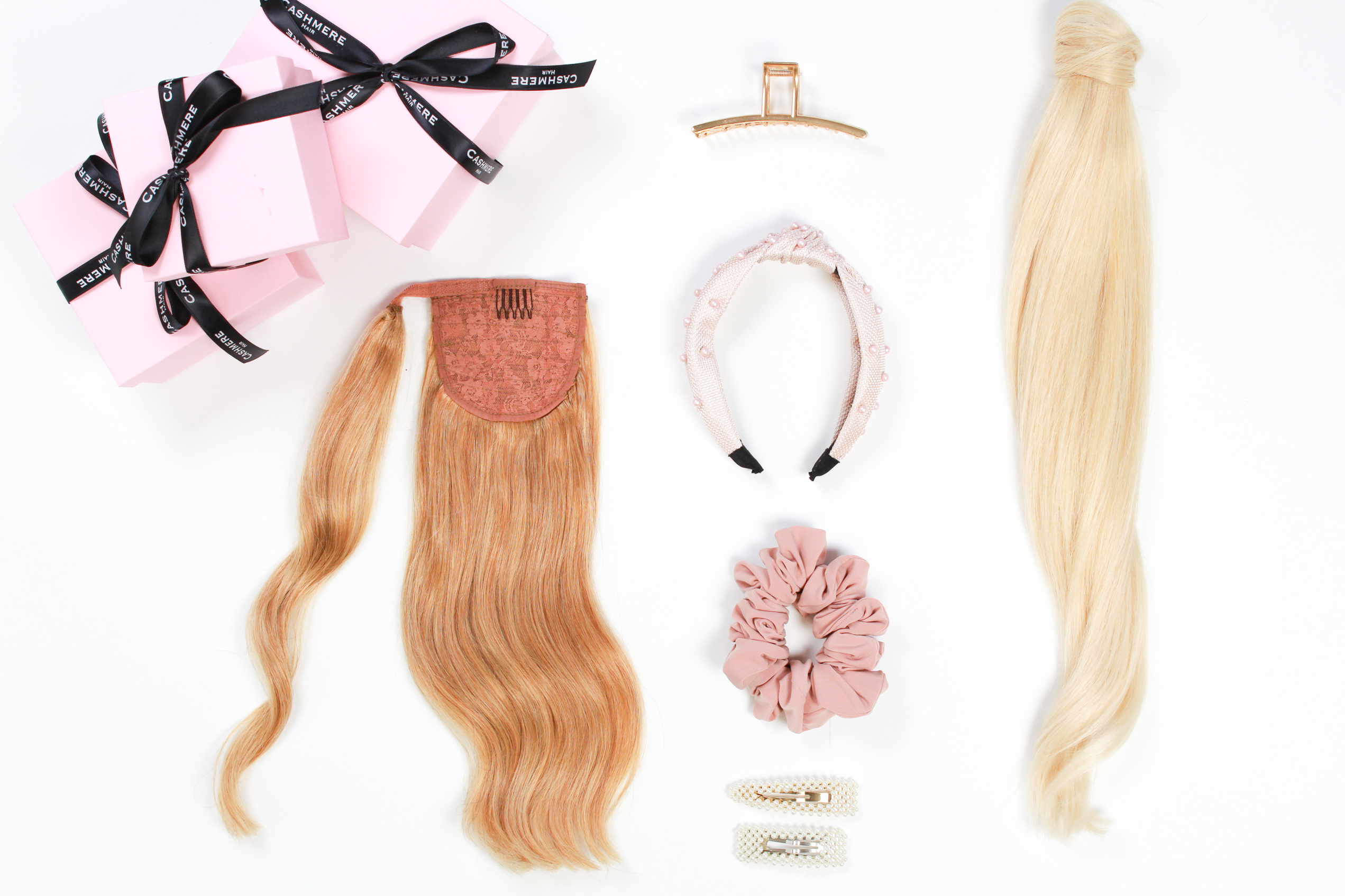 You can never have too many hair accessories! This gift set is perfect for the hairstyle queen in your life to help add a little bit of spice to their hair this holiday season.
CASHMERE HAIR PONYTAIL EXTENSION: Give your ponytail a glow-up with Cashmere Hair's human hair ponytail extensions. No longer just for bad hair days or a time crunch, the Cashmere Hair high-quality human hair ponytail extensions will transform second-day hair in minutes. Always made from 100% real human hair extensions, and made to look like a natural ponytail. Feel like your best self with the easiest, one-piece application ponytail extension, to create the look of a longer, thicker ponytail instantly.
CLAW CLIPS: Claw clips are all the rage these days and are a haircare essential. You can do so many cute and functional hairstyles with them. Put your hair up or opt for a half-up half-down look. They come in so many beautiful shapes and sizes, the possibilities are endless.
HEADBANDS: The simplest way to keep your hair out of your face and make a statement. There are so many cute styles on the market from chunky pearls and jewels, to comb headbands that give you a braided effect, even a thick stretchy headband that went viral in the 90s is making a comeback!
SILK SCRUNCHIES: Who doesn't love a good scrunchie? Making the switch to silk scrunchies is vital to your hair health. Silk or satin are great materials for your skin and hair because they help retain moisture and reduce friction which leads to frizz and breakage. Most hair ties can easily get tangled in your hair and can tug and rip out your hair when removed, not to mention it's painful! But silk hair ties will glide out of your hair easily without causing damage.
MINI CLIPS: Another perfect accessory going absolutely viral right now. From mini colorful butterfly clips to flowers, you can add a ton of little clips into your hair to any hairstyle and add that extra oomph to any look. Even adding one pearl snap clip to one side of your part is a complete hairstyle that to seconds to complete!
Thick Hair, Don't Care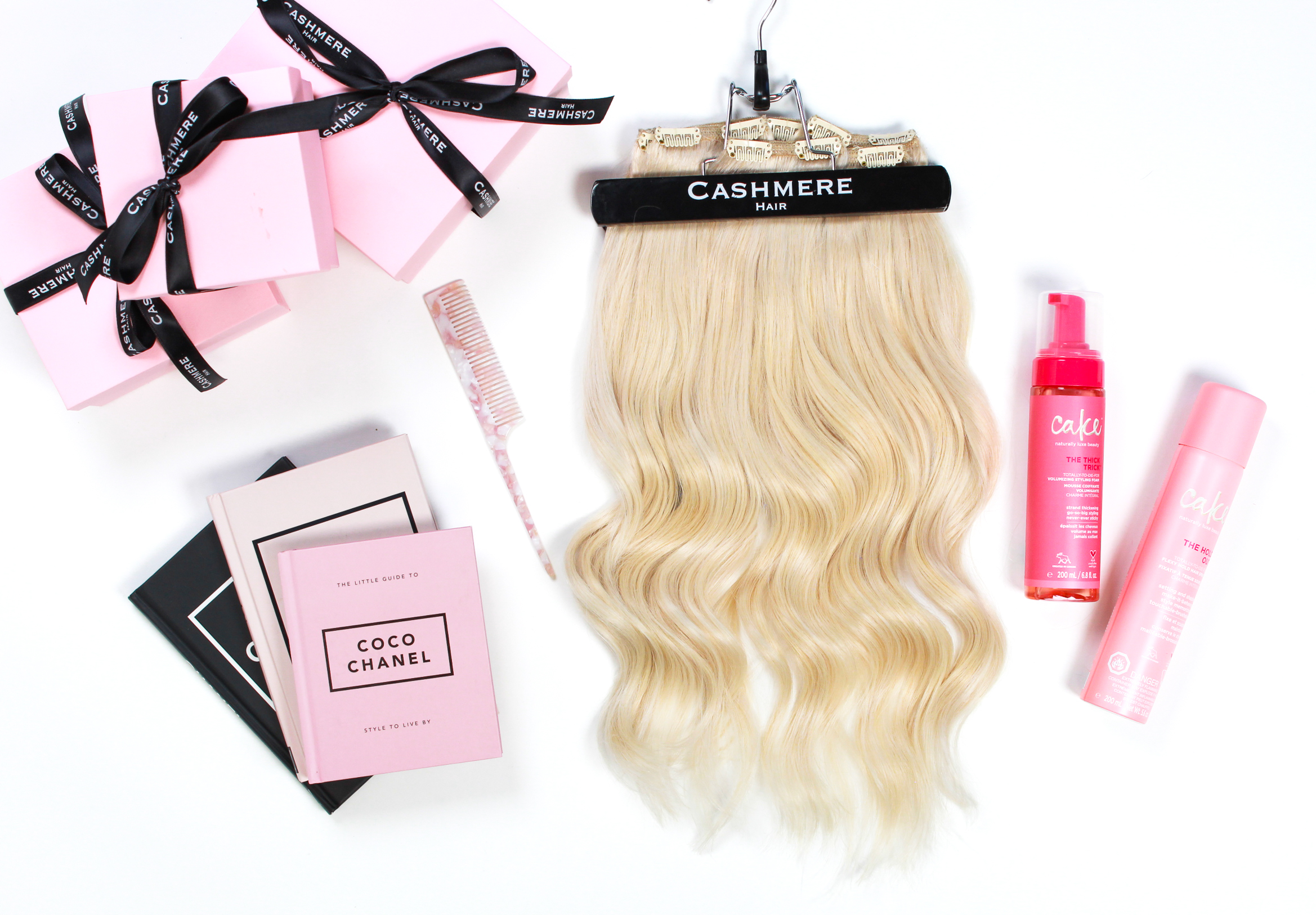 For the special someone that loves all things bigger and better. Gift the gift of thick hair this holiday season with some of our favorite products from Cake Beauty to instantly thicken your natural hair and add in some of our Classic clip in extensions for the ultimate instant thickness
CASHMERE HAIR CLASSIC CLIP-IN EXTENSIONS: Cashmere Hair classic clip-in hair extensions are made from 100% Indian Remy human hair and come in a full-head set. Cashmere clip-ins are made with a flexible, stitched band and have a minimal amount of clips for the most comfortable wear. Cashmere clip-in hair extensions can be clipped in or taken out whenever you want. Best of all, they're totally safe to wear every day and cause zero damage to your natural hair. Use these clip-on extensions to try out a new hairstyle for special events. Heat 'em, style 'em, wear 'em in your favorite style—your favorite Cashmere Hair clip-in extensions are made to last. Plus, as a direct-to-consumer company, we pass our savings on to you. See for yourself why customers love our hair extensions and say they are by far the best clip-in extensions.
CAKE BEAUTY THICK TRICK: This body-boosting styler lifts and plumps for thick + lasting volume with feather-light fullness. Infused with natural extracts and styling polymers, this airy dream foam will smooth and plump for jacked-up styles with refined shine. Never-ever sticky or stiff, this go-so-big blend transforms limp and life-less into lush and thick, without the harsh chemicals.
CAKE BEAUTY THE HOLD OUT: Show your locks who's boss with our flexible holding hair spray. Driven by beautiful natural ingredients, this light-as-air formula controls your style with touchable hold and soft volume. Style and spray to shape your desired look and hold it in place, or gently mist through your hair to add a burst of lasting volume. This natural look brushes out with total ease and maintains a memory of your sweet style even after brushing, without the harsh chemicals. Good hair days are in your control.
TEASING COMB: Throw in a teasing comb as the cherry on top. Add so much volume to your mane by gently back-combing a section underneath the top layer of your hair to add some oomph to your style.
For The Volumizer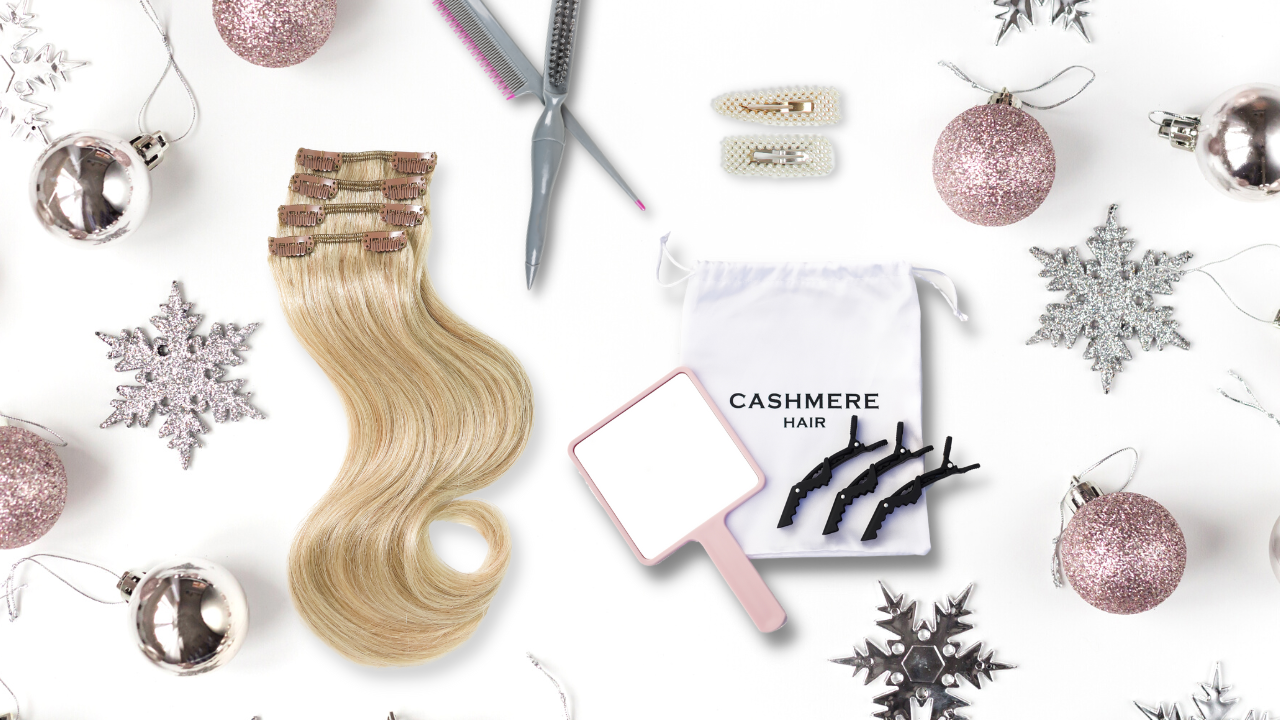 Let's be real here, the pandemic has not been kind to our hair. I've noticed so much hair loss, especially around the front of my face, and my hair has way less volume than normal. This gift set is perfect for someone dealing with postpartum hair loss, post-covid hair loss or maybe even stress.
CASHMERE HAIR FILL-IN EXTENSIONS: The new Fill-In extensions are the perfect solution for filling out thin hair, matching your money piece or highlighted hair, or for a boost of volume to thicken the hair around your face. This set contains 4 tracks to easily apply wherever you need them. If you are looking to fill in the sparse and thinning hair around the front and sides of your hairline, the Fill-In clip-in extensions are for you! Cashmere Hair Fill In hair extensions are best suited for those with thin/medium hair types.
CASHMERE HAIR MIRROR & CLIPS KIT: Getting ready has never been easier. We know that clipping in hair extensions can give your confidence a huge boost, and these accessories make it even easier to perfect your clip-in technique. The adorable signature pink heart logo hand-held mirror and heavy-duty matte black crocodile clips are the perfect complements to your daily clip-in routine.
TEASING COMB & BOAR BRUSH: This power duo is the perfect addition to the set to help achieve ultimate volume. The boar bristles make for an easier attachment to gather most hair to achieve the ultimate tease and sky high volume.
Throw in some cute hair accessories and your volume gift set is complete!
For The Extensions Newbie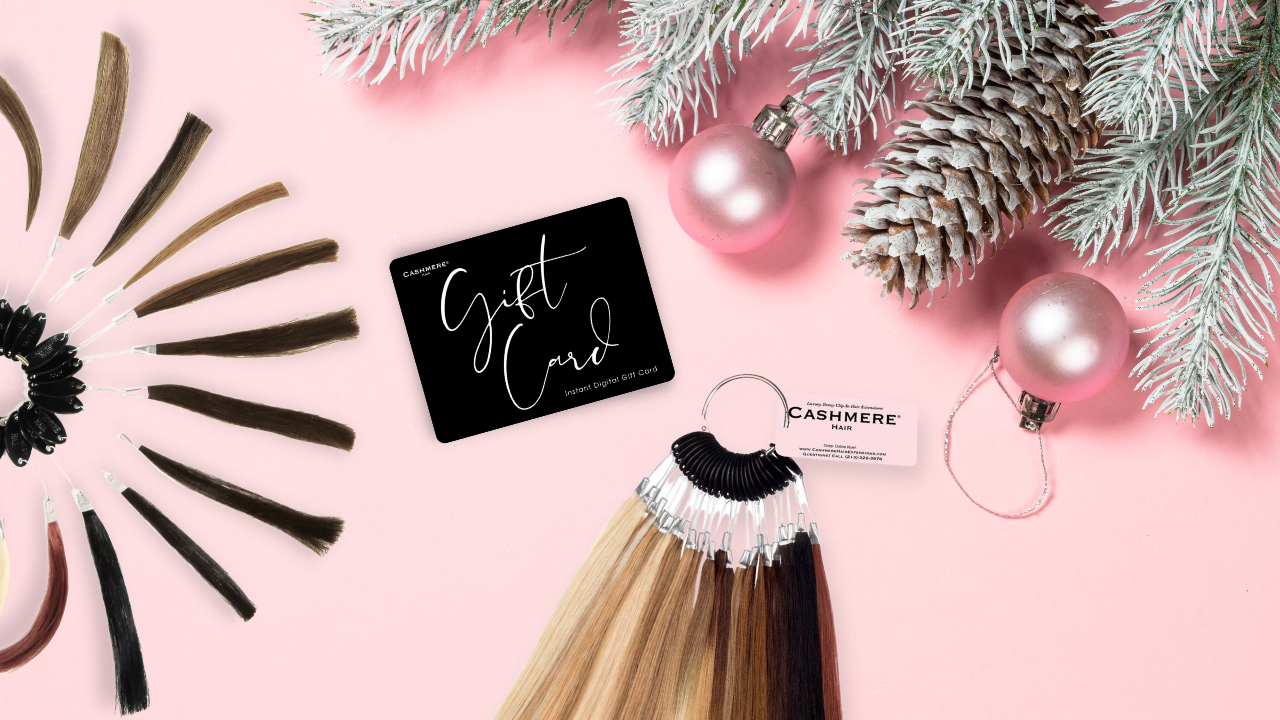 Know someone who's been wanting to try out some extensions but doesn't know where to start or what shade they could be? You can always purchase one of our Cashmere Hair Color Rings in either a Full Swatch with all of our clip-in shades or in just our Blonde, Brunette or Redhead shades. The Cashmere color ring consists of all our current available shades a perfect opportunity for you to use the Color Ring up against your own natural hair to get the perfect match and to see our range of shades. You can also include a Cashmere Hair gift card to go towards a purchase of their first set of extensions!
Cashmere Hair wishes all of you a Merry Christmas and Happy Holidays! XOXO