Is your hair thinning and you are wondering how to combat it? Are you considering hair extensions for thinning hair? In this article we'll cover all the frequently asked questions about thinning hair and hair extensions. We'll cover questions such as, what are the best hair extensions to use for your hair type? Can hair extensions clip in properly on fine and short hair? What are the very best clip in hair extensions and for hair that's thinning? If you're struggling with this new hair situation or maybe it's been a struggle for a while, rest assured beautiful. We've got your back. Sharing all the tips and tricks for achieving the volume you've been hoping for.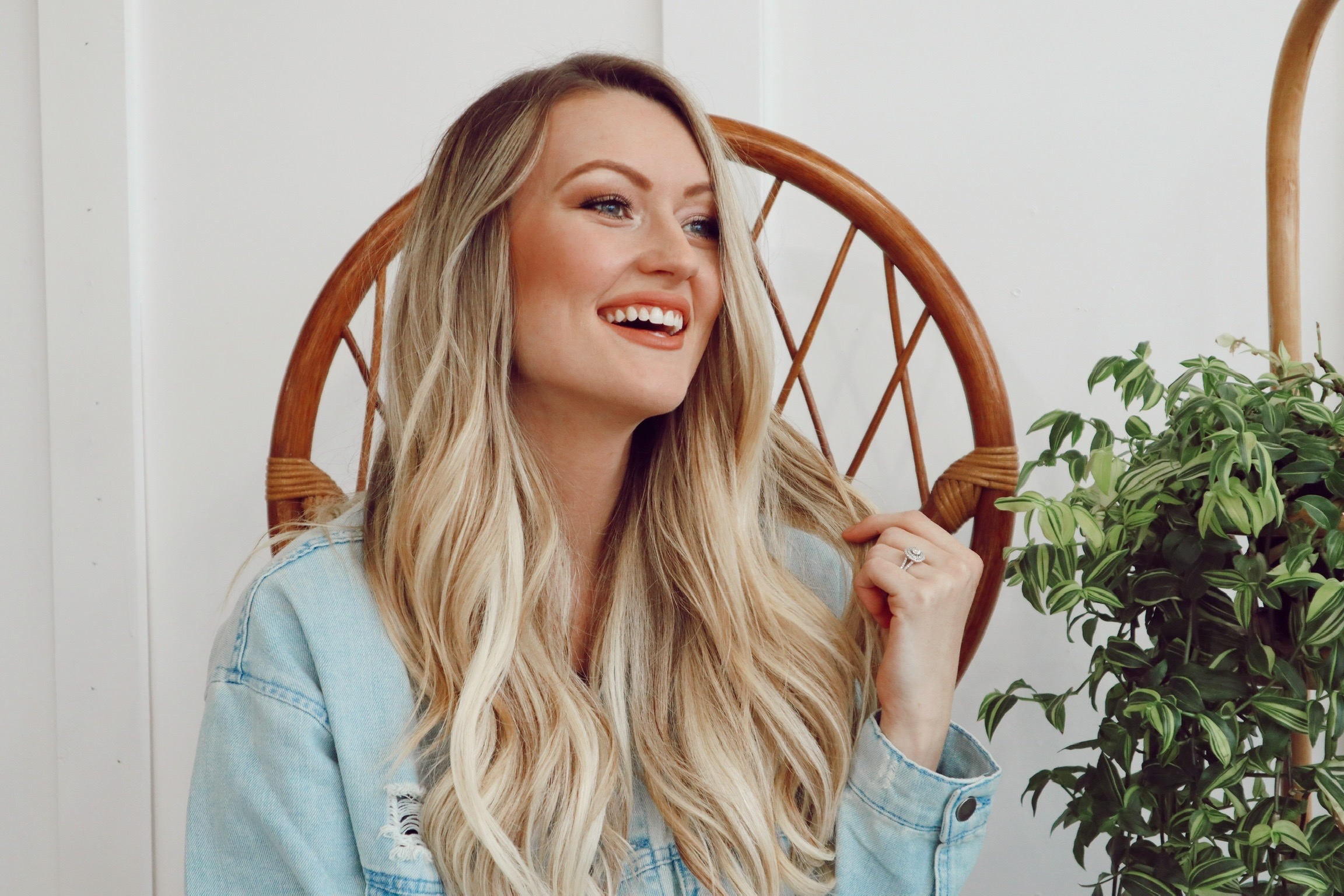 3 Reasons To Get Hair Extensions If Your Hair Is Thinning
1. Added volume/length
A common frustration with thinning hair is that you aren't able to do the hairstyles you once were able to. Maybe the ponytail doesn't look as full as it once did, the curls aren't as voluminous, or the length has been slowly diminishing. We know, especially as women, this can really be discouraging. When using hair extensions for short hair, you will achieve instant added volume and length within a matter of seconds.
2. Non Permanent
An amazing perk of using clip in hair extensions versus other methods of extensions is that they are non-permanent. Unlike tape-ins, sewn in, beaded, or other methods of hair extensions, clip in extensions are they when you want them and gone when you don't. It's amazing to be able to take out the extensions while being cozied up at home, and also being able to rinse your hair fully in the shower! Clip in extensions are for the gal who doesn't want to commit to frequent salon maintenance yet wants the fullness that extensions are able to provide.
3. Increased Confidence
Thinning hair can be detrimental to self-image and confidence. We believe hair extensions can be a powerful tool to allow you to feel like yourself again (and maybe even give you more volume than you've ever had before!) We believe in women feeling their best - and if that means using the best hair extensions on the market to get that boost of empowerment, by all means, we are cheering you on!
Are Extensions Bad For Thinning Hair?
The short answer? It's complicated. Cashmere's answer? No!
If you are wondering if hair extensions are bad for thinning hair, here's what you need to know. Different methods of extensions can be very damaging to the hair. Some types of hair extensions are very heavy and weigh down the hair. This may not be a bad thing if your hair is thicker and the strands are medium/thick textured. However, this can be very bad news for someone who is already struggling with thinning hair.
What you will want to look for in searching for hair extensions for thinning hair is hair that is well dispersed, and as light as possible without compromising quality/thickness of the hair extensions. You won't want to get a one piece style extension as this will be too heavy for thinning hair. Aim for as light as possible and well dispersed throughout the head to evenly distribute extensions throughout the scalp.

How Can I Hide My Scalp With Thin Hair?
If you hair is really thinning especially in the crown area, this can be really hard and frustrating to manage. A few tips would be: backcombing the hair around the crown to give it added volume and this will help to create some texture near the scalp to occupy more room, therefore closing the gaps you can see of the scalp. If you are wanting more volume near the crown, you can actually place one of the Cashmere Seamless Clip In Extensions smaller wefts near the crown and backcomb the hair sitting on top of it to hide the extensions. This will give volume to the hair while also making it thicker. Getting the right color match will be key in this process. To get a customized color match from the Cashmere hair team, click here.

How Can I Thicken My Hair Extensions?
For thinning hair, you may only need a couple of wefts from the Cashmere Hair Extensions. Depending on if you are simply trying to fill in places or if you're wanting full volume and length, will determine how many wefts you'll want to use out of the pack. One way to thicken the extensions is to double stack the wefts, meaning clip one weft on top of the other. This will provide double the volume - though use caution if you're struggling with fine/broken/thinning hair as this will be added weight to the scalp.
Another way to thicken the extensions is to lightly back comb them. You'll want to try to avoid using too much product on the extensions, but giving them a light back comb will definitely add some volume. If you can't resist the hairspray or are really wanting to ensure that volume stays throughout the day or night, not to worry. Simply wash out the product when you can and they'll be nice and soft once again.
The Best Extensions For Fine Hair
So we mentioned wanting to find the lightest hair extensions possible.... well, here they are! The Cashmere Seamless Clip In Hair Extensions! The reason these are so beneficial for anyone but especially gals on the thinner hair side - is that the wefts themselves are nearly paper thin. Since they are binded by an adhesive rather than sewn, the weft is so thin which means less weight. They still have the same amount of hair as our classic extensions set, just a different style weft. The clips are also extremely light weight and also have added grip so that there won't be any hassle with re-adjusting your clips throughout the day.
They are not only lighter on the scalp, but they are virtually undetectable since they lay so flat to the scalp. Making them the perfect choice for women struggling with fine hair, these are your new best friends!
We hope you found this to be helpful information if you or a friend are struggling with finding extensions for thin hair! Reach out to our team for a customized color match, or to find the right extensions for you!